Sir Ranulph Fiennes & Kenton Cool: 'Rock-climbing is always hard when you lack fingers, but Ran is technically incompetent, too'
The explorer and the Alpine climber met when they tackled the north face of the Eiger together
Adam Jacques
Saturday 29 August 2015 01:02 Comments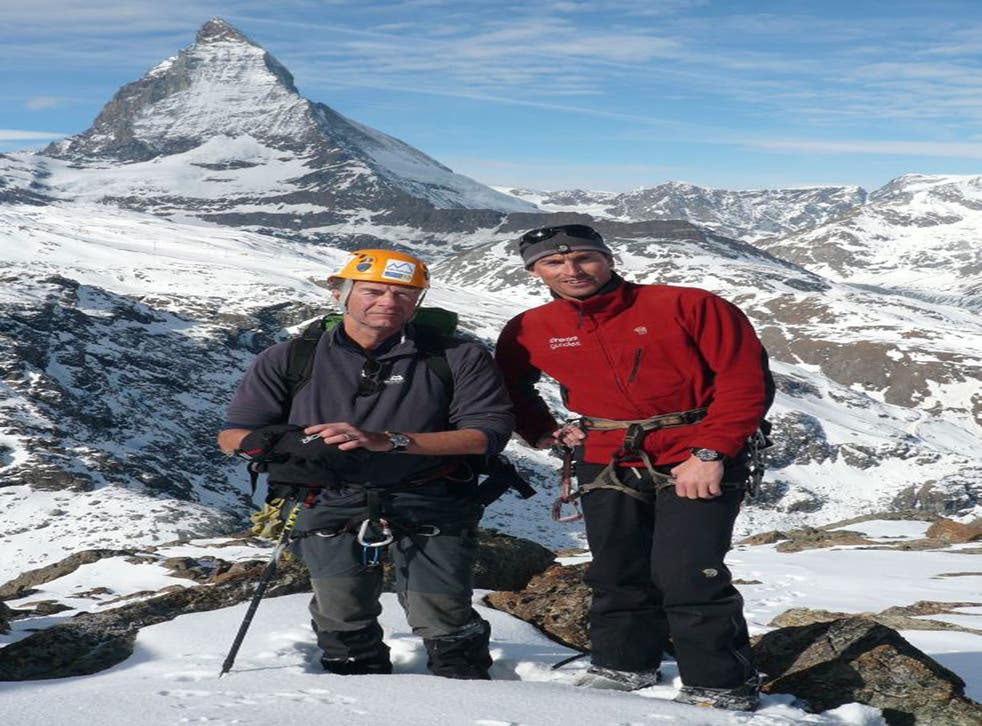 Sir Ranulph Fiennes, 71
The first man to reach both North and South Poles, Fiennes (left in picture) has led more than 20 major expeditions around the world over 50 years. He became the oldest Brit to climb Everest, at 65, in 2009. He lives on a farm in Shropshire with his second wife and their daughter
My wife of 38 years, Jenny, died of cancer in 2003, and I got in a bad way. I felt the only way to pull out of that negative situation was to do something that penetrated the numbness: climbing. I have a stupid and irrational fear of heights – and I thought that the best way to lose my fear of vertigo was to climb Everest.
Kenton was one of four Alpine mountainside instructors on a preparatory course I joined. I knew he was the first Briton to scale Everest five times, so I was in awe of him, and his group seemed to be having more fun than anyone else's.
We got talking and he told me Everest was not that scary in terms of exposure to vertigo, and said there was a much better test: climbing the north face of the Eiger…
We trained for the Eiger by ice-climbing in Chamonix, and I learnt to climb frozen waterfalls. Missing part of my fingers made it even more amazing that Kenton was prepared to take me on. I'm a touch absent-minded so the potential for disaster was alarming: a mistake could easily kill the other person.
With horizontal expeditions, I'm the boss and at the sign of any commotion I'll say, "Shut your mouth!" But he'd often scream at me for doing things such as leaving my helmet on the ground the wrong way up. And on the final climb up the Eiger itself [in 2007], I got tirades for leaving criminal amounts of slack on the rope. So I had to programme myself not to find it a problem to be shouted at by him.
After the Eiger, we attempted Everest. We failed twice [in 2005, after Fiennes suffered a heart attack, and 2008, due to exhaustion], and it would have been embarrassing not to make it a third time. I also had a number of [Marie Curie] nurses I wanted to put through training [from fundraising], so I felt joy at finally getting to the top [in 2009].
We talk about how different things are now we've each had children. He didn't have a child when he last climbed a mountain, and I used to risk more than I should; having a daughter [in 2006] put a different aspect on it. I recently got an email from my wife, when I was doing the [150-mile] Marathon des Sables. It said: "Enough is enough: Elizabeth wants her daddy back, not a corpse."
Over 40 years of selecting people for polar expeditions, I've learnt to look for nice people who won't succumb when that weak voice comes into your head telling you to give up because your toes have gone black. Kenton has that warmth, and that strength. Now I see him as a good friend. Recently we gave a talk together in Edinburgh, then went for pizza and a few beers: if you've been with someone like Kenton in raw circumstances, and then find each other in normal circumstances, it suddenly feels quite laughable!
Kenton Cool, 42
One of Britain's leading Alpine climbers, Cool has successfully climbed Mount Everest 11 times. In 2013, he became the first to traverse the three Himalayan peaks of Nuptse, Everest and Lhotse in a single expedition. He lives in Mont-Saxonnex in France and Gloucestershire with his wife and two children
Back in 2004, in the Alps, I was working as a trainee guide when Ran rocked up: I was told he had to do our mountaineering course before he could attempt Everest. I wanted to guide Ran, as he was a childhood hero and I'd read his books. But as the youngest and newest, I didn't get to guide him. I had my own two clients, but I made sure we stuck to his group as much as could over the week, making sure our speeds were the same. And I made sure my group was alongside his when we had dinner in the hut: I stuck to him like a limpet.
We got on well from the word go: I wanted to hear his stories and he was pumping me for information about Everest. He was what I'd hoped him to be: handsome, tall and broad with these great, gnarled-up hands.
His sister was dying, so he had to go home. I drove him to Geneva airport, and for three hours in the car it was like being with an old friend: I was having girlfriend issues and he was advising me, while he was upset about his sister. We formed a bond, but after I dropped him off, I didn't expect to see him again.
Fast-forward six months and I was due to meet a mutual friend of ours in Chamonix – and to my surprise in walked Ranulph, too. He said, "I'd like you to train me so I can climb the north face of Everest." It spurred five years of us working closely together.
He became a friend as well as a father figure. Technically, Ran is a baron, so once I remember – tongue-in-cheek – saying maybe he could adopt me so I could become a baron, too. He laughed and said, "Oh yes, I think I'll call you Baron von Cool," which he's called me ever since. We have a jovial relationship even though I give him such a hard time; secretly he loves it. Very few have that relationship with him, as so many bow down to him a bit.
Rock-climbing is always going to be hard when you lack fingers, but Ran is technically incompetent, too: he drops jackets and torches and I can tell him how to put a harness on 100 times and he'll not get it right. I'd chastise him for being clumsy, but he'd just laugh it off.
He has a resilient manner that no one in my generation has. When we were out on a brutally cold day, at -18C, no one else was climbing apart from us. He stopped, face white with cold, and I said, "Ran – your face is white!" He just blew on his hands, warmed his face and with a big grin said, "There we go, baron!" His energy is infectious.
'One Man's Everest' by Kenton Cool (£20, Preface) is out now
Register for free to continue reading
Registration is a free and easy way to support our truly independent journalism
By registering, you will also enjoy limited access to Premium articles, exclusive newsletters, commenting, and virtual events with our leading journalists
Already have an account? sign in
Join our new commenting forum
Join thought-provoking conversations, follow other Independent readers and see their replies