Sir Richard Leese interview: Devo Manc - city dreams of a northern renaissance
Sir Richard Leese, the leader of Manchester City Council for 18 years, tells James Ashton why he wants up to two-thirds of public spending to be locally controlled
James Ashton
Sunday 19 October 2014 23:07 Comments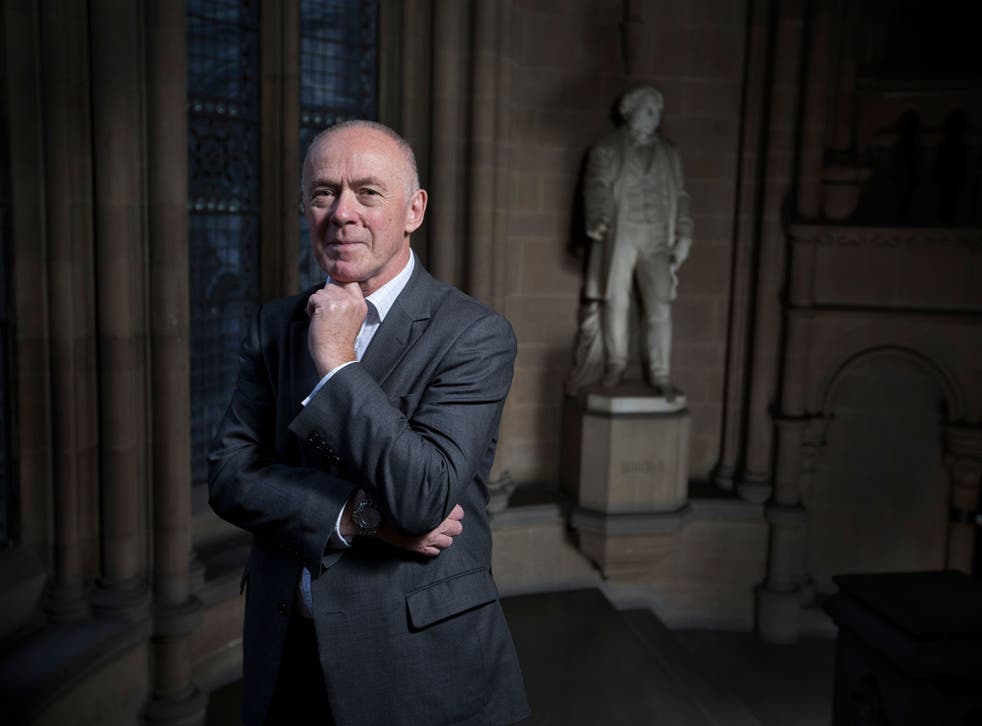 Call it serendipity. Sir Richard Leese might have ended up on the other side of the Pennines when he returned to Britain as a young man from a teaching stint in Minnesota.
"We knew we wanted to move north so basically we picked a line which was sort of Leeds to Manchester," the leader of Manchester City Council recounts over strong cups of tea in his chambers. "My partner got an interview for a job in Oldham or Rochdale so I applied on that basis for jobs in the area. She didn't get it, but I got a job in Manchester."
It is hard now to associate Mansfield-born Leese with any other city. Thirty years a Labour councillor, 18 of them as council leader, he was part of the team – with council chief executive Sir Howard Bernstein – that reimagined the centre of Manchester after the IRA bomb ripped through it in 1996.
Now the city of industrial, musical and footballing revolutions might be about to add a political uprising to its proud record.
In the debate over English devolution, all eyes are on Greater Manchester. Suddenly "devo Manc" – the north-west England take on Scotland's independence compromise "devo max" – has entered the vernacular. The region has a population of 2.7m and an economy bigger than Wales. Can diverting more spending decisions – perhaps over locally-raised business rates and property taxes – drive a northern renaissance?
"Devolution isn't 'here's a pot of money, get on with it'," Leese says. "Rightly, there are going to be parties standing for election with national priorities. What we talking about is a new relationship between national and local."
You could argue that Greater Manchester has been preparing for this moment ever since the county council was abolished in 1986. Its eight borough councils plus Leese's city council and Salford carried on working together on regional issues through the Association of Greater Manchester Authorities. More than a decade ago they put their heads together to come up with an economic strategy for the region.
In 2011, the Greater Manchester Combined Authority (GMCA) was born, an umbrella body through which housing, regeneration and planning resources are pooled. That's just the start.
"We are in discussion with government about far greater levels of devolution of power and resources. We are talking about the skills budget being controlled here, we are talking about the work programme or whatever its successor is being controlled here, talking about the integration of health and social care and the potential for re-regulating public transport."
It's quite a laundry list from Leese, 63, who is no table-thumping local politician, but thoughtful and reserved, with close-cropped hair, white-checked shirt and cufflinks with a large "M" on them.
"It probably means that we are talking about two-thirds of public spending in Greater Manchester largely locally controlled," he adds.
There is more. Greater Manchester has already struck a deal for some tax proceeds to be rebated to pay for infrastructure investment. And it is campaigning with London for fiscal devolution, putting tax-raising powers in areas such as business rates and property alongside new spending powers. Leese is wary of linking the two too closely because one is far more complicated to bring about.
"What I would like to see is that devolution of power and resources happening very quickly indeed, but fiscal devolution is probably a two-parliament job." How quickly? "We could start doing that from 1 April next year. Take skills: basically there could be ministerial decision to devolve skills funding to Greater Manchester at stroke of a pen, it doesn't require legislation."
It isn't a grab for everything. He acknowledges that in some areas devolution means higher costs. But there are some areas he would like national government to be sworn off, giving the example of the city's Metrolink tram network, whose extension was canned by Alistair Darling as Chancellor, later resumed and is still being built today.
All of these changes mean the GMCA would change too, by "talking seriously" about adding an 11th directly elected member "who is going to be leading that politically full-time rather than the arrangement we have at the moment of 10 leaders doing it as part of their role".
That sounds very like the election of a Manchester mayor. Is that a role Leese could see himself filling? He sighs.
"There is always a desire to reduce these things to individuals. Whether or not I saw myself filling the role is actually completely irrelevant as to whether we need the role or not… it doesn't even exist at the moment and because it will require primary legislation it is unlikely to exist for a minimum two years, more probably three or four years. I haven't a clue what I might want to be doing in three to four years."
Born and raised in Mansfield, Leese was a teacher in Coventry before going abroad, spending time as a youth worker and educational researcher when he settled in Manchester. He took an unpaid leave of absence to look after his first child, decided he didn't want to go back and got into politics instead. Does that make him more new man than New Labour? Leese isn't a fan of either term.
"Labour politics in Manchester has always had a very strong libertarian streak within it, including around equal opportunities – that is perhaps one of the reason I have enjoyed it."
He says his politics are easy to understand. "As an unabashed socialist I am concerned with the distribution of wealth, but if you don't create any in the first place it is a bit of an empty discussion."
His elevation to council leader was followed four weeks later by the IRA bomb. No one was killed, but a third of the city's central shopping and office space was destroyed. You might suggest that some of Manchester's success in regenerating itself is down to Sir Alex Ferguson-type longevity – for both Leese and Bernstein – except both are Manchester City fans and might not like the analogy.
They are thinking long term again. The 10 councils already own Manchester Airport and have committed to a 15-year scheme to build an "airport city" that will add office space, retail and a logistics hub on an adjacent site.
Separately, in response to George Osborne's call to create a "northern powerhouse", the One North report compiled by Manchester, Leeds, Sheffield, Liverpool and Newcastle proposed a £15bn, 15-year road and rail investment plan that would connect with HS2 and shrink journey times.
"At the moment if someone works in Leeds and move to Manchester you pretty much have to move house, it's a nightmare commute," says Leese. "If you get those sorts of journey times, you don't – you effectively end up with a common labour force."
It's a long way off. By then even Leese, a great driving force for the North, admits that he will finally have taken a back seat.
Register for free to continue reading
Registration is a free and easy way to support our truly independent journalism
By registering, you will also enjoy limited access to Premium articles, exclusive newsletters, commenting, and virtual events with our leading journalists
Already have an account? sign in
Join our new commenting forum
Join thought-provoking conversations, follow other Independent readers and see their replies