Stan Lee: Creator of the Hulk and Spider-Man is a £4bn Marvel
Even at 89, the man behind the phenomenally successful comic book and film franchises isn't slowing down – and, in a rare interview, he says he can't wait to meet his fans in London later this month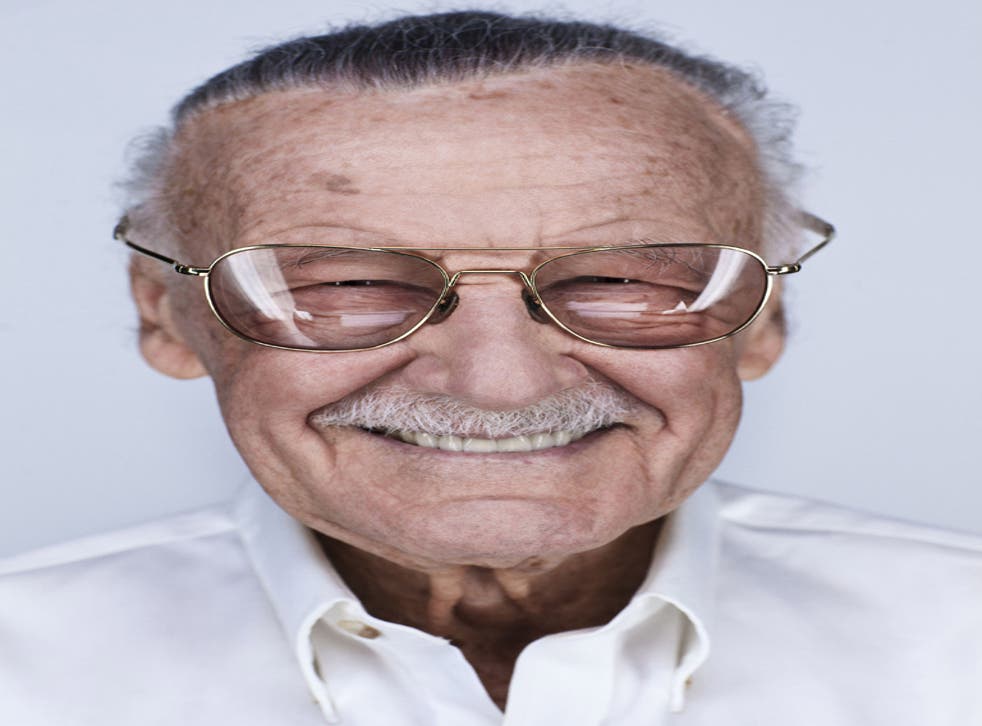 The title "living legend" is bandied about too easily. Very few people actually have a legitimate claim to the title: Stan Lee is one of them. In a writing career that spans 70 years, Lee has co-created characters including Spider-Man, the Hulk, Iron Man, the X-Men, Daredevil, Thor and the Fantastic Four. In effect, he is Marvel Comics, the publisher that saved the comics industry in the 1960s.
But it is in Hollywood that he has had the most profound effect. The combined gross for Marvel movies based on these characters is more than £4bn over the past decade. So with news that Stan "the Man" is to headline a comics convention in the UK – his first such visit for nearly 40 years – fans of the genre are in a frenzy of excitement.
Lee himself is more than a little het up over his visit to the London Super Comic Con (LSCC) on 25-26 February: "I love London. My wife is English, and years ago we used to go there all the time. When I received the offer I figured: 'Wow! A chance to go back to London? I can't say no.'"
Those at the LSCC will hear Lee speak about his career, and talking to him I get the sense that he is brimming with enthusiasm for the trip. "I'll be taking photographs with fans, and signing autographs with fans, and talking to them. I'm looking forward to it." Nevertheless, one gets the impression that behind the humour and enthusiasm lies a shrewd, literate intellectual.
Comic book conventions are looked down on by much of the mainstream arts world as the dominion of geeks and nerds. But Lee will have none of it, stressing that such events are no different from any other kind of gathering of like-minded souls: "They are important because so many people enjoy comics, and it gives them a chance to get together, to talk about the things they enjoy in the comic books, and to meet the people who do the comic books. It's just like people who enjoy soccer getting to meet the soccer players, or people who like movies getting to meet screen stars. In fact, so many comic book conventions now even have movie stars as guests because comics and movies are becoming almost part of the same family."
This crossover between industries has widened the appeal of the conventions, with an ever-increasing number of comic readers coming to the medium via big-budget movies.
The Hollywood hype machine has already cranked into gear for the upcoming summer blockbuster The Avengers, which draws together many of Lee's co-creations from established multibillion-dollar film franchises. And unlike many writers, Lee is thrilled by any adaptation of his work; he enjoys screenwriters' changes as well as the similarities to original plot lines. "I think it'll be great, and wait until you see my cameo in it. It's very funny. The future of the superhero looks pretty good; it just depends on whether the people who write the stories, draw the pictures and do the movies do a good enough job. If they keep doing good stories, people love superhero stories. That's why they're so popular in the movies. But they have to be good. Luckily I think Marvel does very good superhero movies."
The box office takings speak for themselves. The Kenneth Branagh directed Thor took £280m; The Incredible Hulk £200m; the Iron Man films £700m and Captain America: The First Avenger £230m. They all point to another huge hit as they feed into the Avengers film. And that is without the huge successes of the X-Men and Spider-Man franchises.
Incredibly, all these characters – aside from Captain America – were created by Lee and his star artists, Jack Kirby, Steve Ditko and Don Heck within a period of three years in the early Sixties.
Lee is at pains, though, to stress that the success of comics isn't only about movies and entertainment; he has used his success and influence over the decades to support literacy initiatives in the US, promoting culture, the arts, and education alongside the superheroes.
"Comics are about the only things that a young person will read voluntarily," Lee says. "You put a few comic books on a table, put a youngster next to the table and there's no way he or she won't pick up those books and start thumbing through them. Now what happens is, unless you can read you can't really enjoy the comic book to the fullest because it's the reading that makes you understand the story. So young people read the comic books and the more they read them, the more they develop a facility at reading. They become better readers, the more they read. And once you become a good reader, you never just read comic books but you go out and read other things too. A whole world opens up to you – although you usually continue to like the comic books."
While jovial and spry, Lee, at 89 years of age, is no spring chicken: he can't say whether this might be his last trip to the UK. "I don't know. I don't travel as much as I did because I am so busy. We have a new company that I started called POW! Entertainment. And, of course, I'm sure you've already figured out that POW stands for Purveyors of Wonder. I keep so busy with working on movies, on television shows, and digital entertainment, and of course, on comic books, that I don't have much time to travel unless it's an offer I can't refuse, as the one from London was."
There's no thought of retirement. Lee admits to being as addicted to work as he was at the age of 16, starting out at Timely Comics, the publisher that later became Marvel. "Oh I love it, I love it. I couldn't imagine doing anything else. Each day when I come to work, it's a new exciting day: I never know what'll come up. I never know exactly what I'll be doing, what I'll have to do, who I'll be meeting. Oh yes, it's fun."
Most writers are lucky to come up with one or two brilliant characters in their career. He is proud of all of his. "I don't really have any favourites because they're like my own children. I love every one. If I had to pick a favourite it would probably be Spider-Man because he's really the most famous and the most well known around the world, and I guess more people are interested in him than any of the others."
He is not writing for Marvel any more, though he remains chairman emeritus and is still very much the face of the company. With POW! Entertainment, he has shifted his focus to the advances in digital entertainment as well as publishing his own comics, including a new line coming this year for young children.
But doesn't he miss writing his most famous creations? "If I had the time I'd like to write all of them," he says. The Spider-Man newspaper strip which has run continuously since 1977 is still written by Lee. For now, though, his mind is firmly focused on the immediate future and his return to London. Lee is keen to remind me that his wife, Joan, is "a Geordie from Newcastle upon Tyne".
He's open to the notion that UK culture has influenced his writing. "Everything I've ever read and seen, I guess, has influenced me, and I've read so many British books, and I've seen so many British comics.
"You know, most human beings are like sponges – we soak up whatever we see and hear and read, whether it's English. French, Chinese, American or whatever. A little bit of whatever we read and see always stays in our brain somewhere.
"You could be having lunch with a friend who'd say some things that would start making your imagination go rolling or you could see something in the street that makes you think of something. The nice thing is, inspiration is all over – you just look around for it."
Ever the showman, he's already warming up his British fans. "I love them. Without fans, you got nothing. It's the fans who make things successful and so exciting. When you know you're writing something for people who enjoy reading it, it makes it so much more fun and so much more exciting for you."
Curriculum vitae: Adventures of a comic-book hero
1922 Stanley Lieber is born in New York City, to Romanian-Jewish immigrant parents.
1939 Graduates from high school early and, among many part-time jobs, becomes an assistant at Timely Comics, later Marvel.
1941 Moves quickly from writing filler material for comics to writing his own titles under the name Stan Lee, and becomes interim editor at the age of 19. Remains editor until 1972 when he becomes publisher.
1942 Joins the US army and is given the classification of "playwright", writing manuals and training films for the troops.
1947 Marries Joan Boocock, from Newcastle.
1961 Tired of comics during the 50s, he is on the brink of quitting until Joan encourages him to write comics he'd like to read. Co-creates the Fantastic Four, followed swiftly by the Hulk, X-Men, Thor and Spider-Man.
1981 Moves to California to oversee Marvel's TV and later movie interests.
2001 Sets up POW! Entertainment.
2011 Stan Lee Foundation founded to support literacy, education and the arts.
Register for free to continue reading
Registration is a free and easy way to support our truly independent journalism
By registering, you will also enjoy limited access to Premium articles, exclusive newsletters, commenting, and virtual events with our leading journalists
Already have an account? sign in
Register for free to continue reading
Registration is a free and easy way to support our truly independent journalism
By registering, you will also enjoy limited access to Premium articles, exclusive newsletters, commenting, and virtual events with our leading journalists
Already have an account? sign in
Join our new commenting forum
Join thought-provoking conversations, follow other Independent readers and see their replies