Stella Creasy - the Labour MP who has taken on the internet trolls and payday lenders
Can she take over her own party?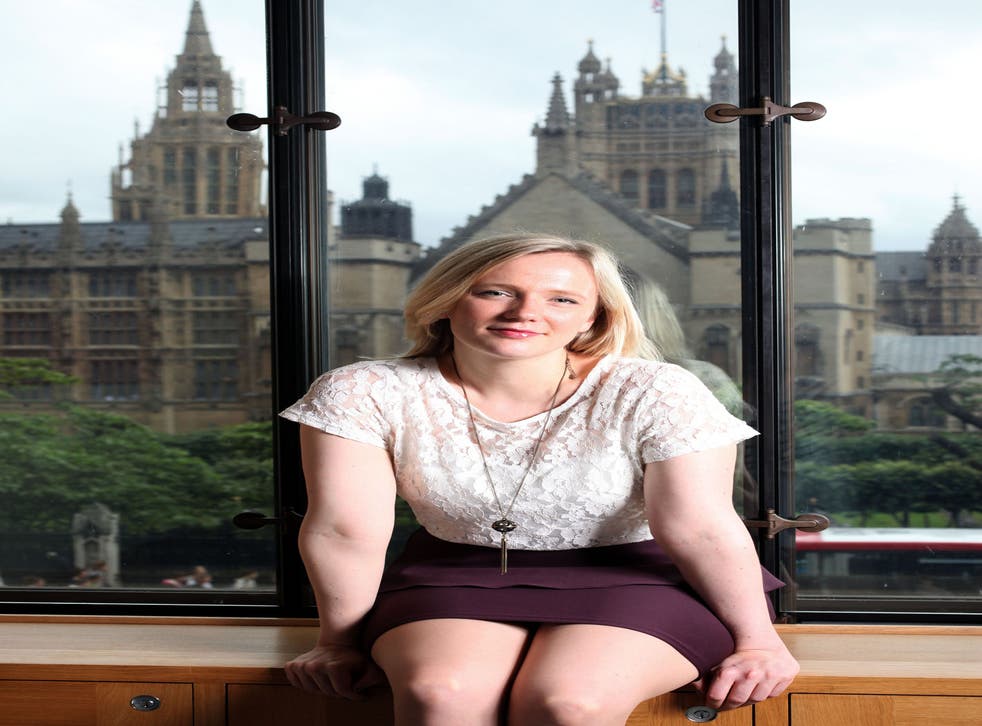 If the measure of a politician's success is the number of times their name appears in the papers, then Labour's Stella Creasy is not just a high flyer, she is stellar. A quick check on an incomplete database throws up mentions of her name in more than 1,000 newspaper articles in the past six months, more than for any other Labour MP of her generation.
Her name does not crop up only in the British press. In the past few weeks, she has been mentioned in publications as far afield as The Washington Post, The New York Times, Toronto Star, Australia's Sunday Telegraph, the Hindustan Times, and the Times of Oman, among others.
She has been tipped several times – usually by women journalists, but not always – as a future Labour leader and therefore a prime minister in waiting. Other accolades that have come her way include The Spectator magazine's 2011 Campaigner of the Year. A year ago, in August 2012, the right-wing Taxpayers' Alliance named her its "Pin Up of the Month" – a compliment directed not at her gender but at her stated views on economics.
It is an extraordinary achievement for an MP of only three years' standing, with the not very impressive job title of shadow Home Office minister with responsibility for crime prevention. But then the publicity she attracts has nothing to do with her formal position in the Labour Party. It arises out of her driving ambition, compelling manner, her talent for picking up on issues that catch the public imagination, and the mindless rage that a confident, opinionated woman politician invokes in a particular type of male.
She is formidable, despite the youthful looks that once caused the Tory MP Andrew Robothan to tell her not to use a lift reserved for MPs, because he assumed she was someone's personal assistant. Westminster-based journalists were given a foretaste of her strong personality before she was an MP, when she was head of campaigns for the Scout movement, and various charities had combined to organise a protest outside the Commons against a planned adjustment to the tax laws. They were joined by the Labour MP Martin Salter – no shrinking violet, even by Parliament's standards – but when journalists approached him for a comment, he insisted that he could not say anything "until Stella gets here". MPs are not usually so in awe of people in the voluntary sector.
The latest deluge of publicity surrounding her began when she spoke out in defence of Caroline Criado-Perez, who had been subjected to rape and death threats on Twitter after campaigning to have Jane Austen's image included on new banknotes. When Creasy intervened, the trolls turned their fury on her. The messages she received included a creepy picture of a masked man wielding a huge knife, with the words, "I'm gonna be the first thing u see when u wake up."
On principle, Creasy reports threats of this kind to the police, believing that internet trolls who break the law should face the consequences. But as a compulsive Twitter user, with over 37,000 followers, she also draws a lot of flak that is within the law, even if it is unpleasant, some of which is best answered with humour. The man who called her a "dumb, blonde bitch" on Twitter received the witty riposte: "That's dumb Dr blonde bitch to you actually."
Creasy, who is 36, really is entitled to call herself "Dr". From a Colchester grammar school, she went to Magdalene College, Cambridge, to study social and political sciences, then obtained a PhD in social psychology from the London School of Economics.
In her teens, she developed two obsessions – politics and indie music. She once advertised a job in her Commons office with the rider "knowledge of mid- and late-90s indie music beneficial". Her favourite band are the Wedding Present, and her favourite political party is Labour, which she joined at 15. Before taking up the job with the Scout movement, she worked at different times in the offices of three Labour MPs and for a think tank. She was also a councillor and Mayor of Waltham Forest council, before being selected off an all-women shortlist for the safe Labour seat of Walthamstow, in north-east London. Both her father, Philip, an opera singer, and her mother, Corinna, a teacher, are Labour supporters. When she was young, they moved from Manchester to Colchester, where Labour voters are thin on the ground. "There was a point when I was convinced that myself, my mum and dad and Billy Bragg were the only socialists in Essex," she told the magazine Total Politics.
Soon after her arrival in the Commons, she launched a highly publicised campaign against payday loan companies charging high interest rates. Her "sharkstoppers" campaign produced the first round of Twitter abuse aimed at her, notably from a user calling himself @DanielSargant1, who accused her of being "nuts", a "self-serving egomaniac" and "a raving self-publicist". The payday loan firm Wonga had to apologise after it was established that this Twitter feed was run off one of its computers – a sure sign she was having an impact.
Early in her parliamentary career, she ventured into economic policy, giving an interview to The Guardian in which she advocated what is called a zero base policy, under which every item of public expenditure has to be justified. "Wasting money is not progressive," she argued. "When the poorest people in our country pay the most tax, the value for money agenda is a progressive agenda."
Inside politics, it is not considered good form for new MPs to tell their leaders what party policy ought to be, but fortunately for her, the shadow Chancellor Ed Balls had reached the same conclusion.
Her record has made her a media star, but it is a very big leap to go from there to being a credible candidate in some future leadership contest. A leader-in-waiting needs a solid political base and allies in Parliament and outside, but in political circles, Stella Creasy is viewed as a bit of a loner. A powerful sponsor is also a useful asset, but she backed the wrong Miliband in the 2010 leadership election, and there are at least three women MPs from the talented 2010 intake – Rachel Reeves, Liz Kendall, and Gloria De Piero – and possibly others whom Ed Miliband rates more highly than Creasy.
Privately, those close to the party leader complain that she is "not a team player", and in her campaigns against "legal loan sharks" and internet trolls, she picked easy targets irrelevant to the main task of persuading the public that Labour can be trusted to run the government. It may well be that the next Labour leader will be a woman, and the ambitious Stella Creasy may be among the runners, but winning will require all the determination and guile she has shown in taking on the money lenders and the trolls, and then some.
A Life In Brief
Born: Stella Judith Creasy, 1 January 1977, Sutton Coldfield, West Midlands.
Family: Lives in Walthamstow with her long-term partner.
Education: Colchester County High School for Girls; Magdalene College, Cambridge; LSE.
Career: Deputy director at the non-profit organisation Involve, and head of campaigns at the Scout Association. Waltham Forest Council 2002-06; Labour MP for Walthamstow from 2010.
She says: "To challenge, call out, parody or criticise someone is to practise freedom of speech. To threaten them with rape is not."
They say: "I don't envy the people who are harassing her. Stella is incredibly principled and won't back down from her beliefs." Edward Andersson of Involve
Join our new commenting forum
Join thought-provoking conversations, follow other Independent readers and see their replies