The Independent's journalism is supported by our readers. When you purchase through links on our site, we may earn commission.
Steven Finn: Fired up for a year that will shape his career
England's pace bowler knows next 12 months are 'huge' as his side take on Australia in back-to-back Ashes series, and he's confident he can play his part with ball... and bat
Richard Edwards
Thursday 18 April 2013 00:12 Comments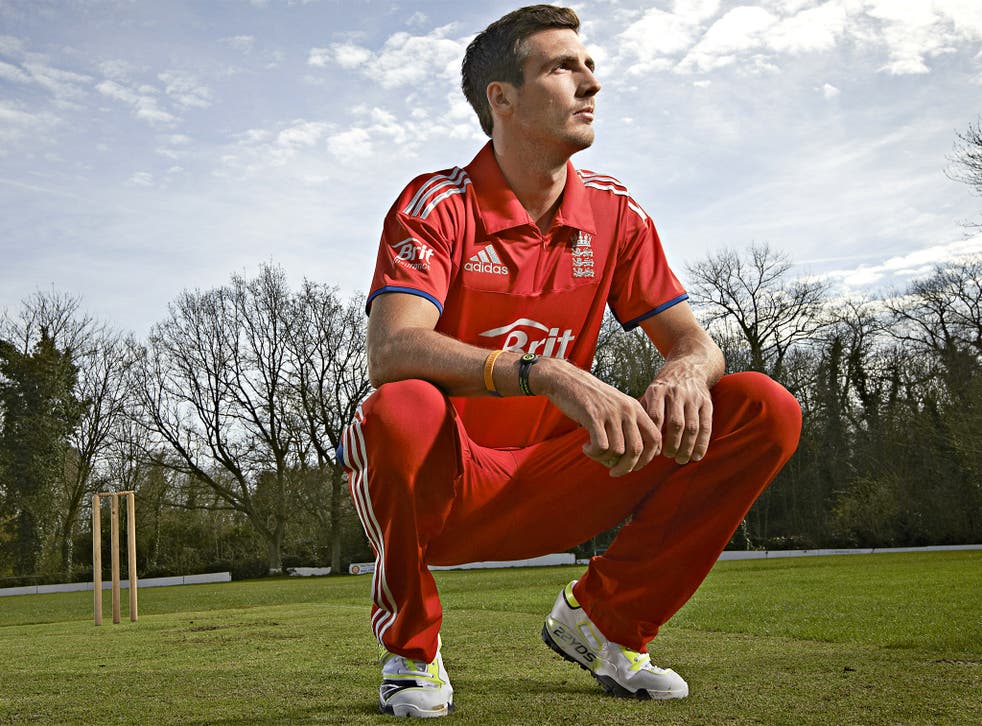 Steven Finn opened his season for Middlesex at Lord's with an impressive haul of four wickets, but the giant pace bowler is well aware that, despite the challenges posed by Derbyshire over the next three days, it's action in the international arena over the next 12 months that could define his career.
With a Test series against New Zealand followed by back-to-back Ashes series against Australia, an ICC Champions Trophy on home soil and then the 2014 Twenty20 World Cup, it promises to be a massive year for England's quickest bowler.
With a successful winter behind him, with both ball and, more surprisingly, bat, Finn goes into this crucial period with his reputation as one of world cricket's brightest young talents assured.
He knows, though, that that will count for nothing unless he continues to show the kind of form that brought him so much success in India and New Zealand.
"The next 12 months doesn't get any bigger really," he says. "It's a huge year for us in both Test and one-day cricket. I really can't wait for it to start. I was happy with it [the winter]. It started with the Twenty20 World Cup, when I was the leading wicket-taker [for England].
"I think I bowled well and kept the runs tight which is important. I was slightly disappointed not to play more of a part in India, to get injured before and after that one Test I played was disappointing but I felt I got my rhythm back in the one-day series over there and then the New Zealand trip, as a whole, was also a success."
Finn took 10 wickets in England's drawn series with the Kiwis but equalled his best Test bowling figures of 6 for 125 in the final Test of the series in Auckland.
It was his heroics with the bat in the first Test in Wellington (pictured above), however, which will live longest in the memory as Finn battled for 286 minutes to record his highest first-class score. "Batting is something that I've worked very, very hard on, behind the scenes when no one sees," says Finn. "To play such an important innings in that Test match was great to really repay that work.
"I had certainly never batted for that long before but it was one of those situations when you don't really think, all you're bothered about is watching the ball and trying to play each ball on its merits. I loved it and I enjoyed it, I would like to think I could do it again at some stage."
The Kiwis were certainly sick of the sight of Finn's relentlessly straight bat by the time his 203-ball vigil had come to an end and England will hope that he can repeat the feat if called upon against the Aussies this summer.
It's his performances with the ball that Finn will be judged on this summer, though, and England will need the Middlesex man to provide a cutting edge that was perhaps lacking in some of his Test performances in New Zealand.
With Chris Tremlett approaching full fitness and with Graham Onions having begun the season with a bang, Finn is all too aware that he faces a battle to keep his place in England's bowling line-up, despite boasting a strike rate of under 50 – a figure that places him among the very best in world cricket.
"Hopefully I can have a part to play but there's a lot of hard work that has to go in before that," says Finn. "I'm going to have to bowl well for Middlesex in these games over the next few weeks in order to get my chance in that New Zealand Test series.
"I don't think I did myself any harm over the winter, I think my learning curve is going in an upward fashion. There are a few things I'm working on and that competition for places is keeping everyone on their toes. I'm not sure where I am in the pecking order but I know if I'm not performing then there's a chance that other people will come in."
While England's fast bowlers are fit and raring to go, Australia are crossing their fingers that their injury-prone attack will be ready to board the plane and then survive what promises to be a physically demanding summer.
Their 4-0 series defeat in India means England will go into the Ashes as strong favourites but Finn believes there's no room for complacency. "The Australians have had a tricky winter I suppose but that's by-the-by, that's none of our business," he says.
"All we have to worry about when they turn up is that we're as well prepared as we can be and that we're ready to take on Australia in the Ashes.
"What goes on behind the scenes with them and what goes on out on the pitch doesn't matter. When it comes to 11 o'clock on that first day at Trent Bridge, what happens before then doesn't matter at all.
"They'll want to prepare for the series in the manner that they see fit and I'm sure when they arrive in England they'll be as ready as they can be to try and win back the Ashes."
Before that first match in Nottingham, there's every chance that Jimmy Anderson will have become the first English bowler since Ian Botham to break through the 300-wicket barrier.
With 80 Test scalps already under his belt and plenty of Test cricket in front of him, there's every chance that the 24-year-old Finn will one day join Anderson in that select band.
"Jimmy started his international career at a similar time to me, age-wise, and to be able to have someone like him to get feedback and learn from is brilliant," he says. "He has been a really big help in making me a better bowler. I'm still 220 wickets away from where he is so I'll take it in smaller chunks than that."
That may be the case but there is every chance that Finn could take a giant step forward this summer.
Steven Finn was launching the new England one-day international and Test match cricket kits, supplied by adidas. Visit adidas.com to purchase yours or join the conversation @adidasUK
Register for free to continue reading
Registration is a free and easy way to support our truly independent journalism
By registering, you will also enjoy limited access to Premium articles, exclusive newsletters, commenting, and virtual events with our leading journalists
Already have an account? sign in
Join our new commenting forum
Join thought-provoking conversations, follow other Independent readers and see their replies