Stevie Wonder: Blind faith
Who knows how far the singer's relationship with Barack Obama will go?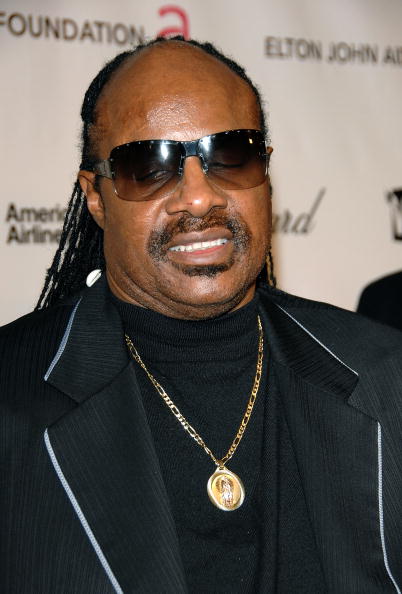 It takes a person of unusual candour to confess, late in his career, that his mother helped him to write one of his most successful songs. Two weeks ago, on an early-morning TV show, Stevie Wonder explained how he was at home one day in 1969 (aged 19) when inspiration struck. As was his habit, he began with a melody line in search of a lyric. "And she was downstairs," he recalled, "and she said, 'You should write, like, about something – "Ooh baby, I'm yours. I'm signed, sealed, delivered, I'm yours" kind of thing like that.'"
Instead of giving his mum a look of pity, Wonder used the line, had a monster hit with it in 1970, and still reaps the dividends. He's still a mommy's boy. It was her death in 2006 that prompted him to go back on the road, and will bring the Motown superman to play three concerts in the UK in September. It will be his first European tour for 10 years.
He has been part of the musical landscape for 45 years in a variety of incarnations: as infant phenomenon, teen sensation, crooner, multi-instrumentalist, corn-row-haired sage, producer, arranger, duettist and spokesman on black rights. He has also become perhaps the most famous blind person in the world.
Websites are devoted to jokes about his disability ("What did Stevie Wonder say when he was given a cheese grater for Christmas? He said, 'Man, that was the most violent book I ever read.'") People born too late to know of his heyday in the 1960s and 70s know him as the famous blind black guy. Now the jokes take on a new dimension: politics.
In March 2002, The Washington Post reported from a presidential gala at the Ford Theater, where George Bush sat in the front row – and gave Wonder a cheery wave when he appeared on stage. The story of the President waving at a blind man delighted the nation. Did Wonder mind? Evidently not. Six years later, he appeared beside another presidential figure and made a little joke about blindness. He was in Los Angeles in February, appearing at a rally in support of Barack Obama. Michelle Obama took Wonder's arm to escort him on stage, but they both publicly stumbled on the stairs. "I was so busy looking at the next First Lady," Wonder told the crowd, "that I lost my way."
Who knows how far this relationship will go? When (and if) America's first black president takes his seat in Pennsylvania Avenue, how will he deploy his court of high-profile black acolytes? Obama and Wonder are friends; the latter has supported the former at several rallies. Obama says Wonder is his wife's favourite performer.
Announcing his European tour last month, Wonder said of Obama, "He's a combination of JFK and Martin Luther King. With that [combination] he can't lose." But if he wins, will there be a role in his administration – national songwriter? Poet laureate? Only a cynic would speculate that the rise of Obama lies behind Wonder's return to touring.
He says he was inspired by a dream after his mother's death. His impulse, it seems, is gratitude. "I want to thank everyone for the contribution you've made over my life," he told the press conference. "Had it not been for you, I would never have had the chance to get the support for my music." One's response is: don't mention it. Happy to have helped make such an extraordinary career.
He was born Steveland Hardaway Judkins in May 1950 in Saginaw, Michigan. Because he was premature, the blood vessels at the back of his eyes hadn't yet reached the front, and their aborted growth caused the retinas to detach. The family moved to Detroit when he was four. He started playing the piano at seven, taught himself the harmonica, drums and bass, and sang in the church choir. At 11, he was introduced to Ronnie White of the Miracles who, a little stunned by his talent, brought him to Berry Gordy, the Motown mogul, who signed him up instantly. Stevie's surname proved a problem until Clarence Paul, a songwriter, suggested "Wonder", reasoning that, "We can't keep introducing him as 'The Eighth Wonder of the World.'"
Paul became his producer all through his teens. Wonder's early records had terrible titles such as "I Call It Pretty Music, but the Old People Call It the Blues", and didn't trouble the charts. But Wonder got a chance to display his multi-instrumental brilliance in the company's Motor Town Revue. In 1963, part of a live recording of the Revue was cut as a single. It was "Fingerprints – Part 2" featuring Little Stevie Wonder on vocals, bongos and harmonica, with a juvenile Marvin Gaye playing drums. The hyperactive blind kid was an instant smash hit: the song went to No 1 in the pop and R&B charts.
The Motown bosses held their breath while their protégé's voice broke, but the maturer 15-year-old who resumed recording in 1965 had a proper Motown delivery – but it was too deep for anyone to call him "Little" any more. He became a classic product of the Gordy factory: the label's executives chose what songs he'd sing, and alternated undemanding new soul songs with cover versions of pop standards. His "Uptight (Everything's Alright)" was a hit worldwide. He covered Dylan's "Blowing in the Wind" and began writing his own songs: Smokey Robinson's "Tears of a Clown" was one of his triumphs.
He hit his stride from 1965 to 1970: "I Was Made to Love Her", "For Once in My Life", "My Cherie Amour," "Yester-Me, Yester-You, Yesterday", "Signed, Sealed, Delivered, I'm Yours" were all hits. But Wonder was tiring of Motown's stranglehold over its talents, and Gordy's determination to keep absolute control over what they wrote and performed. So Stevie Wonder did something astonishing. He allowed his contract to expire and left Motown on his 21st birthday. There followed his most creative period, when he paid for the recording of two albums, on which he played all the instruments himself (including the synthesiser, seldom seen in black music), and brought a new seriousness to his lyrics.
Little Stevie had grown up. His songs now dealt with race issues and spiritual growth. He started his own publishing company, Black Bull Music, and went back to Motown, to offer Gordy a deal; they could release the records, if Wonder kept total control over his own output, and the publishing rights. He got his way. Music of My Mind came out in March 1972, a concept album rather than a collection of songs, and the first of five albums (all of them now regarded as classics) in five years: the others were Talking Book, Innervisions, Fulfillingness First Finale and Songs in the Key of Life.
Talking Book brought the world the irresistibly funky "Superstition". Wonder performed it on Sesame Street – a brilliant storm of noise with its chunking guitars and snarling horns, and Wonder singing through his huge trademark grin, waggling his head from side to side in ecstacy. He was on the biggest roll of his life. He had become the most important exponent (and innovator) of black music. He married Syreeta, his fellow Motown star, who had sung backing vocals on "Signed, Sealed...". He was asked to open for the Rolling Stones on their world-conquering 1972 tour. A series of singles topped the charts: "You Are the Sunshine of My Life", "Higher Ground", "Living for the City", "Golden Lady", "All in Love Is Fair".
Innervisions and Fulfillingness won Best Album Grammys in consecutive years, 1974 and 1975, and Songs... picked up another in 1977. He was unstoppable. Nobody, it seemed, could mix rhythm and blues, soul, funk and schmaltzy pop in one album the way Wonder could. And the music endured: Innervisions later came in at No 23 in Rolling Stone magazine's 500 greatest albums of all time and Songs in the Key of Life at No 56.
After that, things were never quite the same. Three years went by without a musical squeak, while he worked on a mostly instrumental double album soundtrack to a documentary called The Secret Life of Plants. The title was deadly, the music spiritless and the reviews bordered on the homicidal. Though he recovered with some popular singles from his next album – the platinum-selling Hotter than July – some of the old passion had clearly evaporated. Ironically the most successful single of his career emerged during this creative trough: "I Just Called to Say I Love You" was on the soundtrack he wrote for The Woman in Red.
To watch the video of the legendary Wonder singing this dull ballad, with a telephone receiver clamped to his ear all the way through, was painful: no wonder the song was derided by Jack Black, playing the vitriolic record-shop tyrant in High Fidelity. Equally galling was his duet with Paul McCartney on "Ebony and Ivory", a cloyingly simplistic plea for blacks and whites to live in peace (like piano keys, yeah?).
Wonder went on making records through the 1980s and 1990s but his public appearances tended to be those of a beloved éminence grise of music and black rights. In the early 1980s, he campaigned to have Martin Luther King's birthday, 15 January, celebrated as an annual public holiday; President Reagan said yes, and the first Martin Luther King Day, in 1986, was marked with a concert (starring Stevie Wonder). He has collaborated with scores of artists from Bruce Springsteen to Andrea Bocelli, played harmonica on scores of soundtracks and accompanied Aretha Franklin singing "The Star-Spangled Banner" at the Super Bowl in 2006.
He has become a monument, a titanic figure in popular music over four decades. A large, ebullient, charismatic man of 58 – several years younger than the Dylans, Jaggers and McCartneys with whom he defined the sound of the 1960s – he is routinely cited as a major influence by Sting, Michael Jackson, Kanye West, Mariah Carey, Mary J Blige, Jamiroquai and the Red Hot Chili Peppers. His return to public performance will be the occasion of celebration and dancing in the streets, as his British public recalls precisely what it used to do, to the mellow backdrop of Talking Book and Innervisions.
A Life in Brief
Born Steveland Judkins, 13 May 1950, Saginaw, Michigan.
Early life Born prematurely, which resulted in his blindness. A fine harmonica, drum and piano player by the age of 10, but it was his voice that got him signed to Motown a year later. As Little Stevie Wonder, he had his first major hit, 'Fingertips (Part 2)', in 1963 at the age of 13.
Career A string of hits in the late 1960s made him a star. In the 1970s, released the run of five classic albums, including Talking Book and Songs in the Key of Life, that cemented his status as a major artist. Critical acclaim less forthcoming thereafter, but Wonder continued to be immensely popular, selling more than 150 million albums worldwide. Went on tour in September 2007 for the first time in 10 years; currently working on a gospel album dedicated to his mother.
He says "For the most part, I feel really comfortable with what I've given to the people. I want to give it to them again."
They Say "If I had one musical hero, it would have to be Stevie Wonder." Barack Obama, US presidential candidate
Join our commenting forum
Join thought-provoking conversations, follow other Independent readers and see their replies