Thandie Newton: The actor on being an outsider, female empowerment, and the internet's obsession with her feet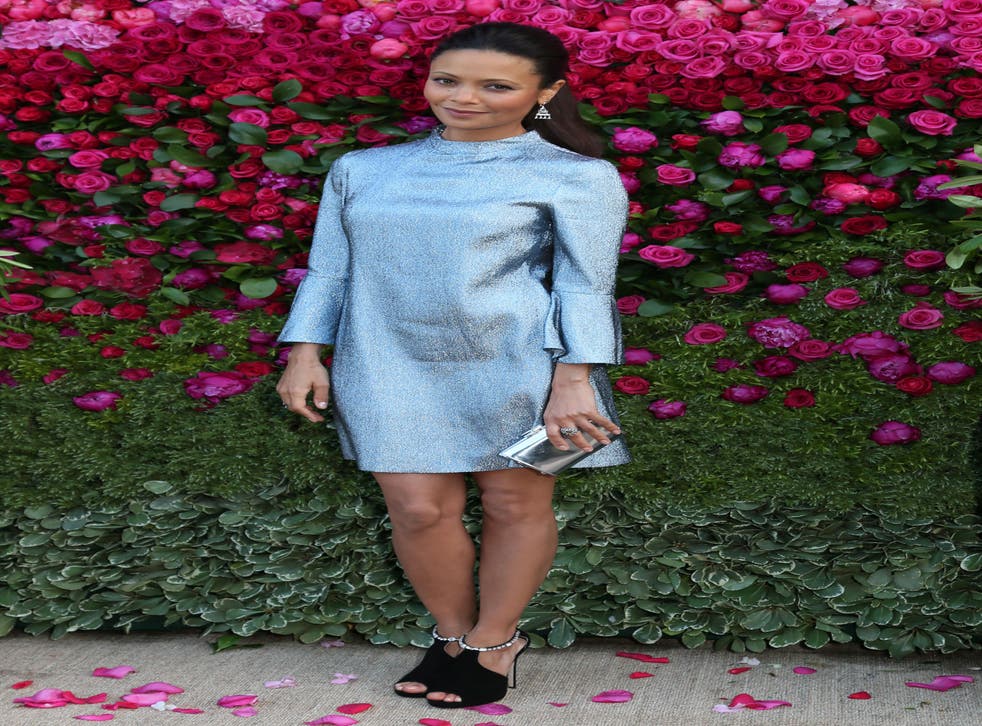 Did you know that if you Google your name, the second auto-suggestion is 'Thandie Newton feet'?
I do know that! If you saw my feet today and saw the shoes I'm wearing, you'd know why. I'm not entirely sure, but I think there's a whole foot fetish thing online. I haven't looked further than that, because it slightly worries me.
You have a sub-section on Wikifeet...
Well, they're obviously serving people like you. It's very odd, but perhaps this is for another conversation.
So tell me about the campaign you're working on?
The Global Fund was set up to try to eradicate Aids, malaria and TB. They realised the public sector was invested, but needed the help of the private sector. RED was created to make that happen... to show big brands their place within the story of humanity. I went to Ghana to a hospital where they are giving antiretroviral drugs to pregnant women to create an HIV-free generation. Very often, it's difficult for these companies to know what to do. It takes an organisation like RED and the Global Fund to show them that. Then they're so thrilled to do it.
Some people argue that these big brands can be part of the problem...
I'd love to see what they're doing. Rather than focusing on problems, I want to focus on the good things. This is an urgent situation. I think because we might not be seeing lots of HIV sufferers in the UK, we can think it isn't a problem. It is a huge problem, but it's also a huge success story in that we're making big advances.
You've spoken about being "the black atheist kid in a white Catholic school run by nuns". Did that outsiderness help you as an actor?
It allowed me to completely immerse myself in other characters, but at the same time realise how similar we all are. Pain feels the same to every single human being. No one is privileged enough not to feel difficulties. It's a humbling thing to realise we all go through the same problems. But my unique difficulties have led me to feel fulfilled and rewarded and that there's more work to be done, always.
Your daughters are named after Ellen Ripley in Alien and the vocalist Nico. What's the story?
I really celebrate pop culture. It's the synthesis of everything. I was pregnant when I watched Aliens. Sigourney Weaver's character was feminine but empowered. She was kicking alien arse with a baby under her arm. Then Nico, for a girl, I think is gorgeous. It's so typically us to give our daughter a name which is the name of many, many boys in Europe. It's about not letting her feel 'less than' in the gender competition. Both my husband and I are constantly trying to look at the underside of things.
Nico is of course famous for working with The Velvet Underground. What's your favourite of their songs?
"Satellite of Love".
That's Lou Reed...
Oh, shit. "Sweet Jane", is that Velvet Underground?
Just a thought: perhaps you could sell your used socks on eBay to raise money for RED?
I don't think the socks would do it. I think it's the fleshy feet that are really tantalising.
Biography
Thandie Newton, 41, is a British actor who has appeared in 'Crash', 'Mission Impossible II' and 'The Pursuit of Happyness'. She recently visited Ghana with (Galaxy)RED chocolate; 5p from the sale of each bar goes to The Global Fund to help mothers have HIV-free babies. She lives in London with her husband and three children
Join our new commenting forum
Join thought-provoking conversations, follow other Independent readers and see their replies