Thandie Newton and Kay Montano: 'Beauty should be about attitude'
The actress and the make-up artist are challenging traditional definitions of attractiveness and pooling the knowledge of women worldwide. Gillian Orr meets Thandie Newton and Kay Montano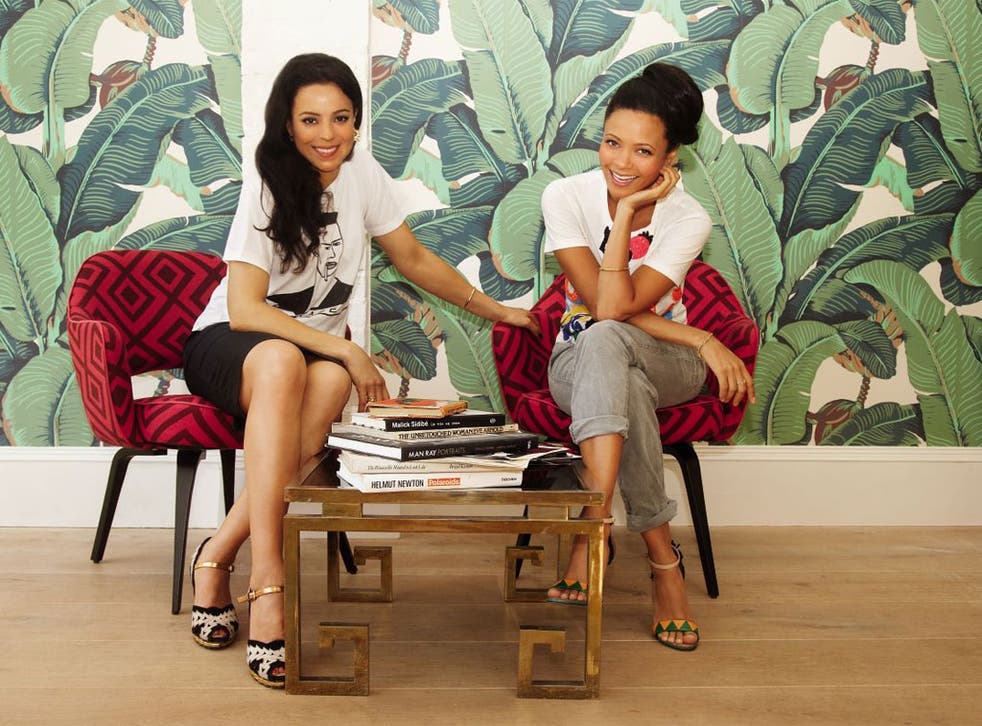 The day that actress Thandie Newton first worked with make-up artist Kay Montano eight years ago was not only the beginning of a firm friendship, but a turning point in how Newton would approach beauty.
"Crash had just come out and was a huge success, and I was asked to do my first feature for British Vogue," Newton recalls, when we all meet in Montano's west London home. "I'd worked with hundreds of make-up artists, but what was so new and exciting about working with Kay was that for the very first time she celebrated my skin colour in the way she used the make-up. She brought out the richness of my skin tone and its depth. What usually happens is that make-up artists will use lighter tones for my skin colour; they'll use matte products and too much powder. But Kay was all about letting it shine out and I had never looked better."
That initial meeting led to their working together on numerous magazine shoots and red carpet moments, including the night Newton won the best supporting actress Bafta for Crash in 2006. Now they have used their years of industry experience to collaborate on a new beauty blog, ThandieKay, which will not only offer make-up tips and tutorials but, they hope, contribute to the conversation about beauty and diversity.
They came up with the idea for the blog last year while walking together. Shortly afterwards, Montano interviewed Newton for her blog about her decision to stop using relaxers in her hair. Having watched together the 2009 Chris Rock documentary Good Hair about the way African-American women style their hair and the use of relaxers (which contain a controversial compound called lye) to straighten hair, Newton opted for her natural curls for the first time in over a decade. The blog post about Newton's "incredibly personal journey" and her relationship with her hair resonated with hundreds of readers.
"Women were messaging me and thanking me, as if I'd done something for them personally," says Montano. "And all I'd done was be the most authentic that I'd ever been. I can't tell you how incredible it was. It meant more to me than any Vogue cover."
While Newton and Montano are both mixed-raced women, born and raised in Britain, they had extremely different upbringings and experiences, which they hope to share with future readers.
As the only mixed-race girl growing up in a small town in Cornwall (Newton's mother is from Zimbabwe), Newton always felt she was different. "I certainly didn't fit in. It was with a negative slant. Where I grew up I was seen as black, black, black, and 'other'. Going to Zimbabwe on rare trips to see my family, I had this incredible keening for the place I thought I belonged. But on one trip, when I was seven, this Zimbabwean boy said to me, 'Go back to England where you belong. You're white.' I remember having this complete identity crisis. I thought, 'Where am I supposed to be? I'm too black for England; I'm too white here.'"
Now Newton, 40, credits her uneasy upbringing as the reason she got such good grades at school (she went on to study anthropology at Cambridge), and for fuelling her creativity: "My strengths came from wanting to get out of my situation. But the thing that has absolutely changed my perception of everything was the realisation that out of adversity, the most beautiful liberation comes."
Montano, 46, grew up in west London, where diversity was celebrated. "It was an incredible place to grow up as a mixed-race woman," she says. "Because I didn't ever think that it was at all strange. The idea of otherness was unifying." She started work at 16, and within a year she was doing make-up for the cover of The Face and working for other magazines such as i-D. "That was my training ground. I never went to a college that told me how to put make-up on, or how you shouldn't put make-up on. I never grew up thinking there was a right or wrong way to approach make-up or beauty. It should be about feeling good about yourself and about attitude."
Huge success for many years was followed by great loneliness and a restlessness, as Montano travelled the globe relentlessly for work. When the two women finally met, they were inspired by each other: in Montano's case, to try something new and to pass up some big job offers in order to be fulfilled creatively; Newton celebrated her individuality. To keep working together was an obvious step. Travelling extensively, they had an insight into cultures all over the world. "Speaking to many women from around the globe, what I've realised more than anything is how similar we all are," says Newton.
The pair hopes that ThandieKay will be a unifying project appealing to all women regardless of age, skin colour or nationality. There will Q&As with figures such as Nigerian author Chimamanda Ngozi Adichie. And while the interview is based on beauty, the answers reveal far more than the colour of a favourite lipstick.
"We're not going for the stereotypical beautiful people, although to us they're the most beautiful," insists Newton. "Here are people in successful positions that you think are unattainable, making themselves completely available and vulnerable. But you can when you're talking about beauty and self-image. You can make yourself really vulnerable, because you're talking about something that seems quite arbitrary but is actually one of the most powerful mechanisms for expressing yourself, for establishing who you are."
They are also keen to explore the history of make-up in the blog. "As an anthropologist, I'm fascinated by different make-up trends and we often have no idea about the origin of those things: kohl eyeliner, or the reddest red lipstick, a certain kind of hair-do," points out Newton. "How about having a walk down memory lane to where they originated? Sometimes other people around the world are grooving on the same thing, maybe for completely different reasons. It's about honouring different cultures because everyone is always borrowing from each other."
Another objective of the blog is to provide an alternative to what's already available. As mixed-race women, neither feels that they are represented adequately in the world of beauty. "There are products for everybody," says Newton, "but you don't see those images equally to the images that are more well-known. There is a suggestion that there's a certain type of look that is more desirable. I find that frustrating."
Environment, they suggest, is key to how you feel about yourself. "Children grow up thinking that their bodies are lovely; then they learn to think their skin or their nose or their hair isn't right," insists Montano. "That doesn't come naturally to any human being. You learn that stuff."
They believe a greater visibility of other gauges of beauty can encourage self-acceptance. They point to Newton's selection as the face of Olay skin cream, a trusted, ubiquitous product, as a hugely encouraging event (she has been an Olay "ambassador" since 2010). "The idea that they choose a girl who's half African to sell it, with no mention of it," says Montano. "That does way more than any march, any sort of debate."
Newton and Montano have entirely self-funded their project, and there is no sponsorship, advertising or corporate branding, allowing them creative control, as well as reassuring readers that there is no ulterior motive. They are excited, too, about the opportunities afforded by social media, and although Newton has only just joined Twitter, Montano is a long-time fan and an ardent user of Twitter, Instagram, Pinterest and Tumblr. "I'm obsessed with social media," Montano enthuses. "It means you can create your own media, and I think for women especially, that's very liberating."
Most of all, the pair just want to start a conversation. "How wild and progressive is it to use beauty as a medium to explore unifying ideas, create a community and abolish otherness?" explains Montano.
"Do not define yourself by the colour of your skin, your age, or your gender. Our society is obsessed with telling us what makes us different from each other. Who is that working for? I'll tell you who that's working for: people and companies that benefit from our misery. It's not working for us as individuals."
"We want to look at how we define beauty, and to try and reimagine what that term means," continues Newton. "Beauty is a feeling and a sensation much more than an actual. We hope that when you log on to ThandieKay you'll very quickly know that however you look and whoever you are, you're invited to the party."
thandiekay.com launches on 16 Sept
Register for free to continue reading
Registration is a free and easy way to support our truly independent journalism
By registering, you will also enjoy limited access to Premium articles, exclusive newsletters, commenting, and virtual events with our leading journalists
Already have an account? sign in
Register for free to continue reading
Registration is a free and easy way to support our truly independent journalism
By registering, you will also enjoy limited access to Premium articles, exclusive newsletters, commenting, and virtual events with our leading journalists
Already have an account? sign in
Join our new commenting forum
Join thought-provoking conversations, follow other Independent readers and see their replies