The Big Question: Why does Alain Robert climb the world's tallest buildings, and how does he do it?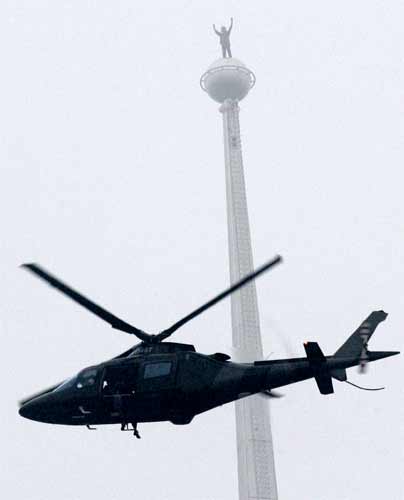 Why are we asking this now?
Because the climber nicknamed "Spiderman" has just scaled the 88-storey, 452-metre (1,483ft) Petronas Towers in Kuala Lumpur, the third tallest building in the world. Robert, who ended up in police handcuffs, almost disappeared into the smog above the Malaysian capital on Tuesday in the latest of the escapades that have made the 47-year-old Frenchman the greatest daredevil of modern times.
What's his 'previous'?
In a 14-year career as an "urban solo freestyle" climber, Robert has scaled most of the world's highest landmarks, including the Eiffel Tower, One Canada Square in Canary Wharf and the Empire State Building. This week's climb was Robert's third attempt at conquering the Petronas towers, having been thwarted by security guards in 1997 and 2007. His skyscraper count will soon hit 100.
Why buildings rather than mountains?
Robert was a gifted rock climber, honing his skills as a young boy on the rocks around his home in the south of France. Soon abandoning the safety devices employed by most climbers, he found freedom – and an addictive frisson – in solo ascents without rope. In 1993, he completed a record-breaking climb in France's Verdon Gorge. When he was invited to Chicago a year later to shoot a climbing film with a twist, he never looked back. "The city of Chicago had just opened a door to a whole new universe," he wrote in his autobiography, With Bare Hands, "a range of mountains of steel and glass".
How hard is this kind of climbing?
Hard enough to require the strength to perform pull-ups with a single finger (Robert can do three in a row). Wearing climbing shoes and with chalk on his hands for a better grip, Robert seeks out hand-holds in window ledges and other protrusions, lifting his wiry frame with feline fluidity. Some buildings are easier than others – Robert barely broke into a sweat when he climbed the Lloyd's of London building during April's G20 protests. "It's easy and not that tall," he said the day after the climb. But smoother, taller buildings are tougher. "Skyscrapers look repetitive but that puts huge strain on the body, says the British free climber, Leo Houlding. "The smooth surfaces can be dirty and slippery especially in polluted cities."
How dangerous is it?
Very. It's a testament to his skill that Robert has fallen only once in an urban setting. Fortunately the slip came as he perched on traffic lights for a photo shoot. He needed 40 stitches then but had far more serious accidents in his rock climbing days. In 1982, he fell 15 metres on to rock, breaking both arms, his pelvis, and nose. He fell into a coma for five days and was told he would never climb again. He did, of course, and has since come closest to death during an attempt on La Grande Arche de la Défense on the western outskirts of Paris. Heat exhaustion near the top left him dizzy and he had to be rescued from the building's mirror-like walls.
Is what he does legal?
Not usually, and that's part of the appeal for Robert. "We are living in a world where everything is based on security," he says. "Sometimes doing the forbidden can be nice." He could face a six-month sentence for his latest climb and has been banned from, and arrested in, more cities than he can remember. His image as a celebrity outlaw has even been known to seduce the authorities. When he climbed the Lisbon Bridge, police let him off with a £100 fine after a few games of poker.
Is there anyone else like him?
Nobody in the tiny urban solo freestyle community challenges Robert. He is most frequently compared to another French daredevil fascinated by twin towers. Philippe Petit – whose audacious tightrope walk between the twin towers of New York's World Trade Centre was the subject of the Oscar-winning documentary, Man on Wire – shares Robert's love of spectacle and his catch-me-if-you-can puckishness. "In that very French sort of way he has turned something extreme into an art form," says Leo Houlding. Robert dismisses as "bullshit" the suggestion that he and Petit share what he calls a "French craziness gene" but he will admit to being a showman. "Whenever I climb I have to also entertain," he says.
How does Robert earn a living?
When he's not being banged up and fined, Robert gets paid. Such is his profile, some developers race to get their skyscrapers "christened" by the Spiderman (who often obliges by wearing the comic character's costume). In 2003, he climbed the National Bank of Abu Dhabi above a crowd of 100,000 spectators. In the same year he climbed the Lloyd's of London building for the first time – on that occasion to promote the Sky Movies premiere of Spider-Man (he was paid a reported $18,000). Robert won't reveal what he earns but a Channel 4 documentary broadcast last year showed him doing chores in his modest home in Languedoc.
Why the campaign banners?
Robert unfurled a Malaysian flag after his most recent climb but in recent years he has combined derring-do with political and environmental activism. Last year, a banner he hung from the walls of the New York Times building read "Global warming kills more people than 9/11 every week". Other causes have included Aids and global poverty. "I see myself as a climber and an activist," he says. "As a public figure I know I can deliver a message because when I climb, the media follow."
How is Robert regarded in the climbing community?
"Robert has a different reputation because he shows off in that French circus sort of way," Leo Houlding says. "That's unusual in the climbing scene, where some would say he's an arrogant showman who has sold out by doing corporate stunts. But to me he's inspirational. He is an accomplished rock climber and is definitely respected for his 'head' – he is capable of performing without a rope to a very high level." By elevating climbing from specialist magazines to the front pages, Robert believes he is promoting his sport as much as his images and causes. "Most people can't engage with rock climbing so you rarely see it," he says. "When I climb a building people talk about it."
What next?
Anyone living in the shadow of Burj Dubai, the world's tallest building at 818 metres (2,684ft), should keep an eye on the sky come December, when the 162-storey skyscraper is due to be opened. Robert says he completed a recce up to 700m last November. "It's kind of difficult," he says. "It's much higher than anything else." Robert's not wrong – you could stick One Canada Square, Britain's tallest building, on top of Taipei 101, the world's second tallest building, and still have room for Nelson's Column before you matched the Burj in height. But few would doubt Robert, who is as adept at conquering fear as he his skyscrapers. "When I'm climbing I'm so focussed there is no space in my mind for being afraid," he says.
Is Alain Robert the greatest daredevil in history?
Yes...
* He combines the theatre of the tightrope-walking legend Charles Blondin with the anarchic adventurism of 'Man on Wire' Philippe Petit
* What could be more dangerous than climbing to 700 metres without ropes?
* He shares a nickname with one of the greatest superheroes in comics
No...
* His motivations seem confused. Does he do it for his causes, for the money, or to satisfy his own ego?
* While they inspire awe, Robert's climbs, which take a long time, rarely make good television
* He has sold out by performing numerous corporate and promotional climbs
Join our commenting forum
Join thought-provoking conversations, follow other Independent readers and see their replies