The quiet diplomat: Catherine Ashton - recognised and admired in all the world's troubled countries, yet ridiculed at home
No British politician in living memory has risen so high as Baroness Ashton while attracting so little attention on the way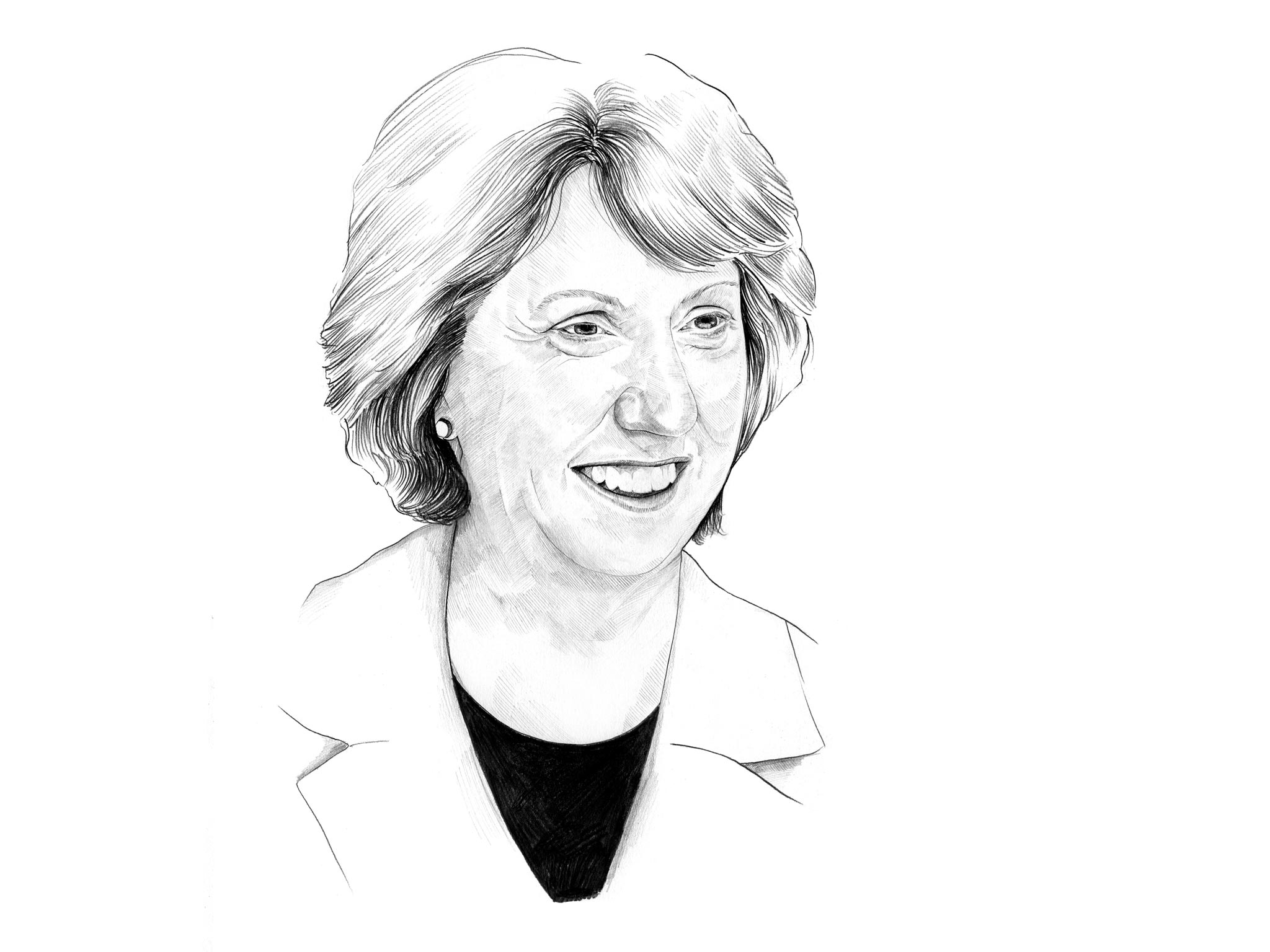 Catherine Ashton has taken such care to avoid unnecessary publicity during almost five years as the EU High Representative on Foreign Policy that she will have hated the two recent mishaps that have brought her unwanted attention.
First there was the revelation that the policy she is pursuing in Ukraine – which is the EU's policy, not hers – has not got Washington's unqualified support, to put it mildly. This was made clear after somebody, possibly a Russian spook, tapped a telephone conversation between Victoria Nuland, the Assistant Secretary of State, and the US ambassador in Ukraine, and put it out on social media. Nuland is heard laying down what Washington wants, adding that if the EU does not like it, "fuck the EU".
Days later, there was another embarrassment when a recording of another private telephone conversation was posted on Facebook. It was Catherine Ashton, being briefed from Kiev by Estonia's foreign minister, Urmas Paet, who gave a very different version of the shooting of unarmed demonstrators in Kiev from the one heard on Western media. Paet said he had heard that the snipers responsible for the killings were not soldiers loyal to President Viktor Yanukovych, as the Western media supposed, but opponents seeking to hasten his overthrow by ramping up the crisis. There has been no supporting evidence for that claim, but after the bugged phone call was posted on Facebook it was given widespread airing in Russia. True to form, Baroness Ashton said nothing, leaving it to her official spokesman to say she did not comment on leaks or phone intercepts.
No British politician in living memory has risen so high as Baroness Ashton while attracting so little attention on the way. She came from a northern working-class background, worked for the Campaign for Nuclear Disarmament for several years after graduation, and then found a sequence of jobs in what could be called quangoland. Having been awarded a life peerage in 1999, she built herself a reputation as a quietly competent junior minister, across several departments, rising to the Cabinet as leader of the House of Lords in 2007.
A year later, Peter Mandelson unexpectedly threw in his job as EU Trade Commissioner after his old enemy, Gordon Brown, had buried the hatchet and offered him a job in the Cabinet. That created a vacancy in Brussels, for which Brown nominated Cathy Ashton – a seemingly unsuitable choice, because she had no experience of brokering international trade deals. Other EU governments took the view that Brown was entitled to his nominee, and her appointment was confirmed. Within a few months, she had negotiated the removal of all trade barriers with South Korea, and a successful end to the long, torturous negotiations over opening the EU market to fruit grown in South America.
None of this attracted much attention. In the UK, in particular, the much more interesting question was whether Tony Blair would be the first holder of the post of president of the European Council, created under the Lisbon treaty, which had its bitter opponents in the UK. Brown was prepared to back Blair, but other EU leaders did not want such a big name filling the new role and opted for the mild Belgian Herman van Rompuy. To avoid the appearance that he had been humiliated, Brown then fought for the other new job, that of the EU's "foreign minister," to be British. A day or two before the appointment, The Independent's correspondent in Brussels, Vanessa Mock, invited the ridicule by speculating that the job might go to Cathy Ashton.
To general astonishment, it did. When the appointment was announced in Brussels, in November 2009, the High Representative was presented with an enormous bunch of flowers, almost as large as she was, and the first sight she presented to onlookers in her new role was of her staggering through the hall under the weight of this massive bouquet, hemmed in by a scrum of cameras and reporters.
For months, so far as the media was concerned, she all but disappeared, giving no interviews or press conferences as she pieced together a new department, the External Action Service. This opened for business in January 2011, with a staff of 1,525, and in time more than trebled in size, with offices in more than 100 capitals. She also had to formulate a foreign policy acceptable to all 28 of the EU national governments.
It was widely assumed that she would be as hopeless as she was invisible. This was particularly true in the UK, where Eurosceptics objected to the fact that her job existed at all, and she was seen as a creature of the increasingly unpopular Brown, and there was a former EU commissioner methodically briefing that she was not up to the job. In February 2011, a survey by a lobbying company of the perceived performance of EU commissioners ranked her the worst of the lot. Last April, when she applied for a 4 per cent increase in her department's £433m annual budget, the Tory MP Douglas Carswell told the Daily Mail: "She is a national embarrassment. The organisation she heads is monumentally useless."
But as she began putting in appearances in some of the world's worst trouble spots, her quiet diplomacy seemed to work. Travelling at some risk into the turmoil in Egypt last July, she was the first outsider to visit President Morsi since he had been held by the military.
She took on the centuries-old feud between Albanians and Serbs, and patiently brokered the first ever talks between the heads of governments of Serbia and Kosovo, which resulted in an agreement. It was that achievement that prompted Marc Ginsberg, a former US ambassador to Morocco, to describe Ashton as "the second iron lady". It also earned her a nomination for the 2014 Nobel Peace Prize.
On Facebook, there is even a "Catherine Ashton for Nobel Peace Prize" page, with 32 likes. It was set up last November not for what she achieved in the Balkans, but as a tribute to her as "the peacemaker between Iran and America". She chaired the multiparty talks in Geneva that resulted in an agreement over Iran's nuclear industry.
As she settled into the job, her journalist husband, Peter Kellner, who is president of the YouGov polling organisation, noticed that when he travelled with his wife anywhere outside the UK, she was recognised and treated with respect, although back in the UK, the public did not know who she was.
"She was always effective behind the scenes from the beginning, but it didn't show in public for a long time," a Brussels official said this week. "She kept her head down deliberately, especially in the media. She was accused of having too low a profile, but if she had put her head above the parapet, she would have been shot.
"It's an impossible job, trying to serve 28 masters. There are bound to be many occasions when they have different interests. Being the first head of the new EU diplomatic service would have been a difficult job for anyone, but it has finally found its feet."
Her time in Brussels will be up this year, and she will be able to return to the place she vacated in the House of Lords in 2009 as someone who was given an impossible task for which she was ill-qualified, and made something of it after all.
Life In Brief
Born: Catherine Ashton, 20 March 1956, in Upholland, Lancashire.
Family: Married to Peter Kellner, president of polling company YouGov. She has two children and three stepchildren.
Education: Graduated from London University with a degree in economics
Career: Joined the staff of the Campaign for Nuclear Disarmament from university, later becoming a management consultant, freelance policy adviser and director of Business in the Community, one of the Prince of Wales's pet charities. Tony Blair made her a Labour peer in 1999, and she was promoted to the Cabinet as Leader of the House of Lords by Gordon Brown in 2007. Named EU Trade Commissioner in 2008 and appointed EU High Representative in November 2009.
She says: "I'm really proud that a Brit has this job, and it's no accident that it's a Brit because a decision was made that Britain should play a big role."
They say: "When I see Cathy I know that I'll be able to take a deep breath and say 'oh my gosh can you believe that?' or 'did you see what happened there?'" Hillary Clinton
Join our commenting forum
Join thought-provoking conversations, follow other Independent readers and see their replies