Tom Lewis: 'If golf doesn't turn out to be my life, I'm going to struggle'
The 20-year-old, who lit up this year's Open, gave up on school a long time ago, so sure is he of succeeding when he turns pro next week. But first for Walker Cup glory, he tells James Corrigan
James Corrigan
Wednesday 07 September 2011 00:00 Comments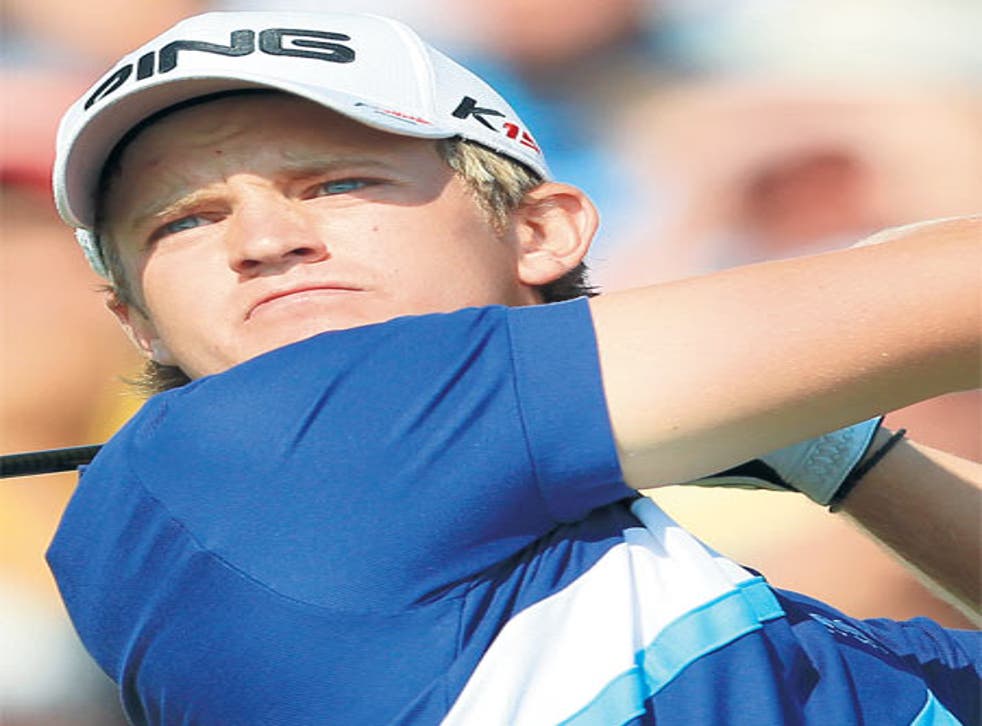 Tom Lewis has been waiting for this week his entire life. As a young boy with dyslexia in a schoolroom which held no interest, he would sit there dreaming of the time he would beat the Americans for Great Britain and Ireland. And then, how the very next day he would turn pro and beat the rest for himself.
Nigel Edwards will be relieved to hear that, for Lewis, this weekend at Royal Aberdeen will be a case of "all or nothing". But then, the Walker Cup captain will know this has long been the young Englishman's soundtrack. In the run-up to this year's Open Championship, Edwards told anyone who would care to listen to watch out for Lewis. "Tom will make a splash at Sandwich," he promised.
As it proved, Sandwich was soon drenched in Tom. His opening 65 was the lowest score ever shot by an amateur in 151 years of the Open, meaning he became the first player from the non-paid ranks to lead the Championship in five decades. The spotlight which had been fixed on Rory McIlroy suddenly darted across the stage to another boy wonder. Lewis was ready for it. In fact, he had half been expecting it.
"I knew I'd play well that first day," said the 20-year-old. "And I was pleased how I came across afterwards and what it did for my profile, which will be really useful when I turn pro. But I felt angry with the way I played the last three rounds. The way I saw it was that if I'd shot three level pars I would have been in a play-off with Darren Clarke."
For Lewis the Silver Medal lining was of scant consolation. "I was happy to finish leading amateur as it would have been embarrassing if I hadn't," he said. "But deep down it didn't matter to me. My attitude was: 'If I'm not going to win the Open, then I'm not that bothered'. After my Saturday round, my dad was waiting for me on the range, but I didn't show up. I knew at that stage I wasn't going to win, so I felt it was all a waste of time. I didn't want to be there, I felt like I had blown it. That's the way I am and I hope I stay that way."
So much for the wide-eyed lad tiptoeing in awe through wonderland. Lewis's "all or nothing" philosophy plainly has no place for solace or sentiment. The game plan has always been brutally simple and the emergence of his learning disability only made it yet more uncomplicated. "Of course I've never known anything different," he said. "I can't read certain words and I can't spell. So what? It doesn't mean anything to me. I've always wanted to play golf for a living, so school was never going to be a big part of my life.
"Yeah, I tried my best, but I didn't see the point of it. I didn't go to a school designed to cope with someone with dyslexia. There was nobody there to help me – but, to be honest, I didn't want help. I was just looking forward to leaving at 16. A lot of people talk about having a back-up, but to my mind if you are talking about a back-up your concentration is not fully on what you want. I've only got one goal. And if golf doesn't turn out to be my life I'm going to struggle."
Yet despite his dyslexia and his lack of interest there was the chance to further his education. The majority of those who will line up with and against him at the Walker Cup are on University scholarships and the talent-hunters focus on the scorecards rather than the exam marks. "I was asked if I wanted to go to US college and was told not to worry about my schoolwork – they would do it for me," said Lewis. "But I didn't want to do that. If I was going to do it, I was going to do it properly. I wasn't going to sit in class and let someone else do my work. What's the point of that?"
Lewis is his own man. He proved that at the Open when his coach advised him to turn professional immediately following the major. His coach just happens to be Pete Cowen, who oversees the likes of Clarke, Lee Westwood, Graeme McDowell and Louis Oosthuizen, and as a plain-speaking Yorkshireman has become accustomed to his advice being heeded. "Pete's very experienced and said he knew I was ready to make the leap," said Lewis. "I did feel ready. It's been a long process but I'm ready to compete against those guys. But I always said I'd play Walker Cup and decided to stick to the plan. I'll turn pro on Monday and will then have seven events to earn my Tour card."
Lewis will sign up with the management giants IMG. He has already received an invitation to make his competitive bow at the Austrian Open in two weeks' time and after that at the Dunhill Links at St Andrews. Granted, Lewis has decided to Walker before he can run, but he appreciates the urgency with which this starting gun will blast.
"It's funny, but if someone came up and offered me a Tour card I'm sure I would play well enough to retain it," he said. "But the hardest thing is actually getting that card. For me, with all the expectation and attention, qualifying school would be a big ask. The best opportunity may be to play really well in the seven starts I'm allowed through invites and earn enough to finish high enough on this season's money list. That's what I'm hoping and I can do it. Rory did it."
McIlroy is not the worst template as Lewis attempts to win the required £200,000-plus in less than three months. Just like the Ulster prodigy, Lewis begins his career with everything in place. IMG has contracts on the table and a good man on
his bag. Colin Byrne has caddied for Retief Goosen, Edoardo Molinari and Paul Lawrie and was actually favourite on one bookies' list to replace Steve Williams as Tiger Woods' bagman. It says plenty about Lewis's potential that the erudite Irishman has agreed – unless, of course, Woods or another heavyweight comes calling – to hold Lewis's clubs and, very probably, his hand as well. "Colin is exactly what I need," said Lewis. "He's experienced and could help me through some of the tough times. And if I put myself up there, he could pull me through better than the others."
For all his confidence, Lewis accepts he will be leaping into the unknown. Yes, he has already almost won his first professional title, but he wasn't playing for the money when beaten by Peter O'Malley in a play-off at the New South Wales Open earlier this year. Now the priorities change and the pounds and pence take on critical significance. "Every rookie says they won't think about the money, but it will obviously be in the back of your mind," he said. "That's the way golf is. To players like Rory the prize-money is irrelevant, but it should be the other way around. Because the players who need the money shouldn't think about it, but do think about it."
Lewis admits to thinking about it long enough to know how he will spend his first cheques. "My mum and dad are in debt so I will need to clear that first," he said. Bryan and Lynda Lewis invested so much into their son's progression. Bryan tried his hand on Tour himself for a few years in the Eighties, but returned to teaching pro status at Gosling Driving Range in the family's hometown of Welwyn Garden City. He has guided Tom as far as he can, enrolling Cowen to hasten the advancement. The clock ticks ever quicker now.
"It is exciting that it's so close, but my focus this week will be purely on the Walker Cup," said Lewis. "The Americans are a great team with great players and might have the advantage. But Royal Aberdeen will suit us. If we play well enough we'll win and if we don't we won't. It's a fine line in golf. All or nothing, really."
Register for free to continue reading
Registration is a free and easy way to support our truly independent journalism
By registering, you will also enjoy limited access to Premium articles, exclusive newsletters, commenting, and virtual events with our leading journalists
Already have an account? sign in
Join our new commenting forum
Join thought-provoking conversations, follow other Independent readers and see their replies