Why does Tom Drury remain the greatest writer you've never heard of?
His debut was considered one of the finest novels of the past 50 years, and he is every bit the equal of his contemporaries, Jonathan Franzen, Dave Eggers and David Foster Wallace
James Kidd
Friday 17 April 2015 14:41 Comments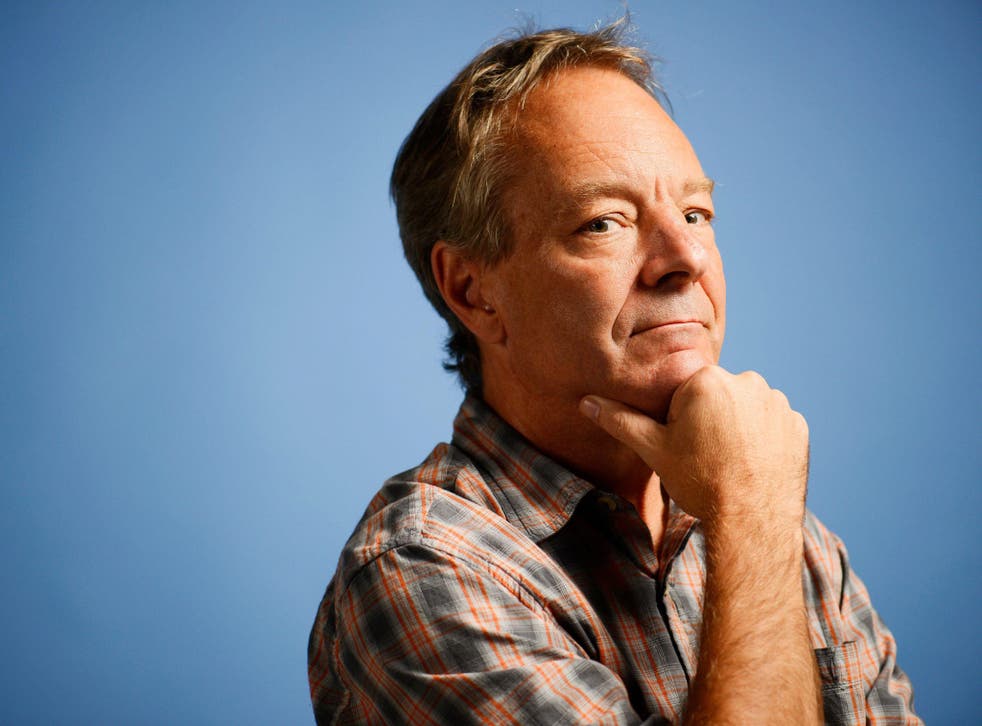 'It's funny to have the book coming out. It was written quite some time back. I have all these questions like, where did all this come from? It's hard to remember how you felt when you were writing something like that. The saving grace that has kept me connected with it is that I have now written three Grouse County books about the same characters."
Twenty-one years ago the American writer Tom Drury published his debut novel, The End of Vandalism. Set in a fictionalised version of rural Iowa, where Drury himself grew up, this conversational epic of the everyday is populated by sheriffs, farmers, drifters and eccentric retirees who gather at blood drives, dances and town meetings. Drama in a Drury novel takes place in talk rather than action. "I love the way that people speak," he says. "Sometimes when I didn't know what was going to happen next, I would bring in a new character and see what they said."
Heavily serialised in the The New Yorker – an accolade in itself – The End of Vandalism suggested that Drury was ready to take his place in an extraordinary generation of American novelists that would include Jonathan Franzen, Dave Eggers and David Foster Wallace, who published their own masterpieces in roughly the same period. But while The Corrections, A Heartbreaking Work of Staggering Genius and Infinite Jest made international literary superstars of their creators, The End of Vandalism, stubbornly, did not.
Drury wrote five further novels, including two more set in The End of Vandalism's Grouse County: Hunts in Dreams and Pacific. Franzen called Drury a "big-time American talent". But the big time remained at arm's length. Reviewing a new edition of "this astonishing, beautiful book" last month, the Independent's Sam Jordison cried: "How can it not have been published in the UK until now?"
In one sense, his anonymity is a literary tragedy. When read today, The End of Vandalism convinces, with meandering, deadpan humility, as one of the past half-century's finest novels. But don't just take my word for Drury's talent. In 2002, American GQ named Drury's as one of the best 50 works of fiction of the past 50 years. Drury is justly hailed as a great comic talent, but The End of Vandalism also contains one of the most heartbreaking prose passages in modern memory (it begins around page 250 of the new edition, should you wish to seek it out).
Books highlights of 2015

Show all 6
On the other hand, Drury's relative critical lowliness creates its own alluring mystique. A cult figure, he is becoming the cool name to drop by those in the know. He is the new Richard Yates, John "Stoner" Williams, or [insert name of great American novelist joyfully discovered by a new generation].
For David Shelley, chief executive of Little, Brown Book Group and editor of JK Rowling among others, Drury is a "genius", albeit an uncommercial one. Shelley published Drury's second novel, The Black Brook, in 2000, when he ran publishing house Allison and Busby. "To this day it's one of the books I'm proudest of. We had a couple of incredible – really incredible – reviews, but for some reason it sold very poorly – in the hundreds of copies." When I ask what the problem was, Shelley says, "I wonder if it is because the pleasure in Drury's writing is cumulative. It can't be summed up in a neat selling line. You really have to read the book all the way through to appreciate his genius."
Shelley has a point. By contrast to, say, Foster Wallace's pyrotechnical prose, The End of Vandalism doesn't so much thrust as insinuate its greatness upon you. As Drury himself puts it: "There is some question like, why is this bucket in the yard and who does it belong to? There are lots of references to dowel rods. Rural places tend to have a lot of lumber lying round, and 'dowel rod' has always struck me as kind of humorous."
Its intimate tone, too, seems unfashionably modest. "Rather than writing about international events, I write about individual lives," explains the author. "There is elation and sadness, death and birth, love and jealousy, co-operation and betrayal. All the great emotional transactions that happen wherever people come together."
Yet Drury may not be the book world's best-kept secret for much longer, thanks to the sort of strange conglomeration of events that occasionally makes overnight stars of long-neglected artists. The astute independent publisher Old Street Press is releasing his first two Grouse County novels, The End of Vandalism and its sequel Hunts in Dreams. And Drury's reputation looks set to be further enhanced by a film version of his novel The Driftless Area, which he himself adapted for the screen. The impressive cast includes Zooey Deschanel, Anton Yelchin, Frank Langella and Ciaran Hinds.
When I suggest that 2015 might at long last be his year, Drury sounds weary and not a little wary. "Awesome," he replies, laconically. "If you stay around long enough, one is constantly being discovered. For 20 years, people have been discovering The End of Vandalism. Whatever readership you're going to find, you start to find it."
If this slow burn towards success has about it something distinctly Druryean – or is that Druryesque – then it is comforting to find similar unobtrusive charm embodied by Drury himself. We meet in London, the day after The End of Vandalism's relaunch. He is in Europe until May, courtesy of Berlin's American Academy, where he is a Writing Fellow. The ostensible reason for his visit is his next novel – a retelling of the Faust story.
Dressed in jeans and baseball shirt, Drury proves informal both in couture and conversation. His soft drawl wanders through sentences with the desultory ease of his early prose. Here he is on the autobiographical elements of his work: "If all the scenes of your life were visuals on a piece of glass and the glass broke and the pieces fell on the ground and you said, 'This looks good next to that' – that's what writing fiction is about to me. It is a mosaic of things you have seen or heard or simply dreamt up. I tend to trust those things which are anchored in my memory, which have been there for a long time."
The most stubborn anchor for Drury is his upbringing in rural Iowa. Born in 1956, he grew up in Swaledale – population 220. "I remember an absence of people my own age there. Until you could drive, you were limited to what you could do with siblings. Riding bikes, playing in the yard. Some sports, but not a great deal. Some kids got to go to the next town and swim in the pool, and some didn't. People would go away to have fun and you were left to find ways to keep busy."
Isolation – a mainstay of Drury's fiction – was a fact of life in Swaledale. "Practically everything lay outside my experience," he says, doing a fine impression of one of his own characters. Culture provided a first glimpse of different lives beyond his hometown. Drury grows positively misty-eyed when he recalls the weekly arrival of the roving Bookmobile. "Here's the government, which you really didn't see much in any form, saying books are so important we are going to send a truck full of them so people can look at them. It's how I read my first Raymond Carver short story when I was 13 or 14."
Drury left town a few years later to study journalism at the University of Iowa. His departure was supported with jobs as far afield as Connecticut and New York. He was writing fiction throughout this period, but didn't take it seriously until he studied creative writing with the revered novelist Robert Coover, at Brown University. "I was writing fairly straightforward, serious short stories as I thought that was what you were supposed to do. [Coover] challenged me when I was leaving the programme: 'What else can you do?' I hadn't really found my voice yet."
Ironically, given the peripatetic nature of his adult life, Drury found his voice by returning home, in his imagination at least. A primary theme of The End of Vandalism is the very exodus from rural Iowa in which he himself participated. During his childhood, Swaledale had "a gas station, hair salon, grocery, grain elevator, hardware store, two taverns, three churches, eventually a library. Now there's an auto mechanic, a church and the library. The old hardware store is used to store doors."
This social and cultural erosion is visible in the novel's fine details. Drury is not one for extensive analysis on or off the page. "It's hard for me to speak about what's going on sociologically, because I really don't know. The fewer farms there are, the fewer people there are to buy stuff. People tend to go into the larger places, and the small places tend to go away."
He is not much more voluble when talk turns to current events. "I really don't like to get into politics," he sighs. "Like most people, I was optimistic when Obama was elected. I continued to be optimistic when he was re-elected, just because of what the alternative would have been." He cites 2013's nationwide federal government shutdown as offering a bleak insight into his nation's bureaucracy. "Our politics basically prove that the whole thing can grind to a halt. It's just antithetical to the idea of sending out the Bookmobile in 1967."
Last year, Drury made a return to Iowa, leaving Brooklyn and settling in Mason City, the nearest metropolis to Swaledale. Whether this affects future Grouse County novels remains to be seen. First, Drury has a Faustian devil to fictionalise for his current work in progress. To hear him describe it, this is a Beelzebub after his own heart: "I have never written about Mephistopheles. Whenever I have tried to make a character bad, they end up being good in some way."
If 2015 ends as promisingly as it has begun, Drury might just prove that nice guys don't always finish last, no matter how often this occurs in his own work. Not that Drury is holding his breath for global domination. "If you become a creative writer with the idea that you are going to make a whole lot of money, then maybe this isn't the best choice for you," he says. "I don't really think in terms of making something that is going to be bought everywhere, because I don't read those things. My writing is a process in which I try my best to make good sentences, and a sequence of events that is compelling and believable."
'The End of Vandalism' is published by Old Street Press, priced £12
The End of Vandalism
Early in 'The End of Vandalism', Sheriff Dan Norman is called to a water tower that has been occupied by three young 'vandals'. Dan has already met with an evangelist trying to convert him and found a baby abandoned in a shopping cart with the sign: 'My name is Quinn.' Packing Quinn into a box, he drives to Pinville to confront the protesters…
The water tower was by the tracks in Pinville. It was the old silver kind with a red bonnet, a ladder, and an encircling walkway that provided a good platform to stand on while writing graffiti. A small crowd had gathered in the grass around the base. Someone had come by with a box of tomatoes, and many of the people were chewing on tomatoes and staring up at the water tower. Ed Aiken came over to the passenger side of the cruiser when Dan pulled up. Ed was a thin man, and the one thing you would say about him day to day was that he rarely seemed to get a decent shave. Right now, he had a little flag of toilet paper flying under his chin as he opened the cruiser door. The baby started to cry again. "Aw," said Ed, "let me hold the little darling." He lifted the baby from its box, the blue shirt trailing like a blanket. "Do you like your Uncle Ed?" he said. "Say, sure you do."
Dan took a turn at the bullhorn without any luck, and then he climbed the water tower. A cage made of hoops protected the ladder, but it seemed that if you slipped and fell, the main function of the hoops would be to shear off your head on the way down, and Dan felt a vacuum in his lower parts as he climbed. He watched the people eating tomatoes, and when he could no longer make out the individual tomatoes, he stopped looking down. The culprits were three boys in sleeveless blackT-shirts and jeans with the knees torn out. Their set-up was professional, with hats, rags, a bucket of red paint, a tray, some turpentine, and a roller screwed on to a stick. In jagged, running letters they had written "Armageddon" and "TinaRules".
"Who's Tina?" said Dan.
"Tina of Talking Heads," said Errol Thomas.
"What are you thinking of, coming up here in daylight on a Saturday afternoon?" said Dan. "Did you imagine for a second that you wouldn't get caught?"
"We want people to know," said Albert Robeshaw.
"We want people to wake up," said Dane Marquardt. He cupped his hands and yelled "Wake up!" at the people on the ground. "Look at them, they're so insignificant."
"We're in a band," said Errol Thomas.
"I would've guessed that," said Dan.
The boys packed all their stuff into a gunnysack, and they and Dan headed down the ladder. On the ground, Ed Aiken was holding Quinn over his shoulder, patting him, pivoting slowly.
"How is he?" said Dan. Ed raised his eyebrows and whispered, "Just dropping off."
Register for free to continue reading
Registration is a free and easy way to support our truly independent journalism
By registering, you will also enjoy limited access to Premium articles, exclusive newsletters, commenting, and virtual events with our leading journalists
Already have an account? sign in
Join our new commenting forum
Join thought-provoking conversations, follow other Independent readers and see their replies