Wilko Johnson: Hero or Villain?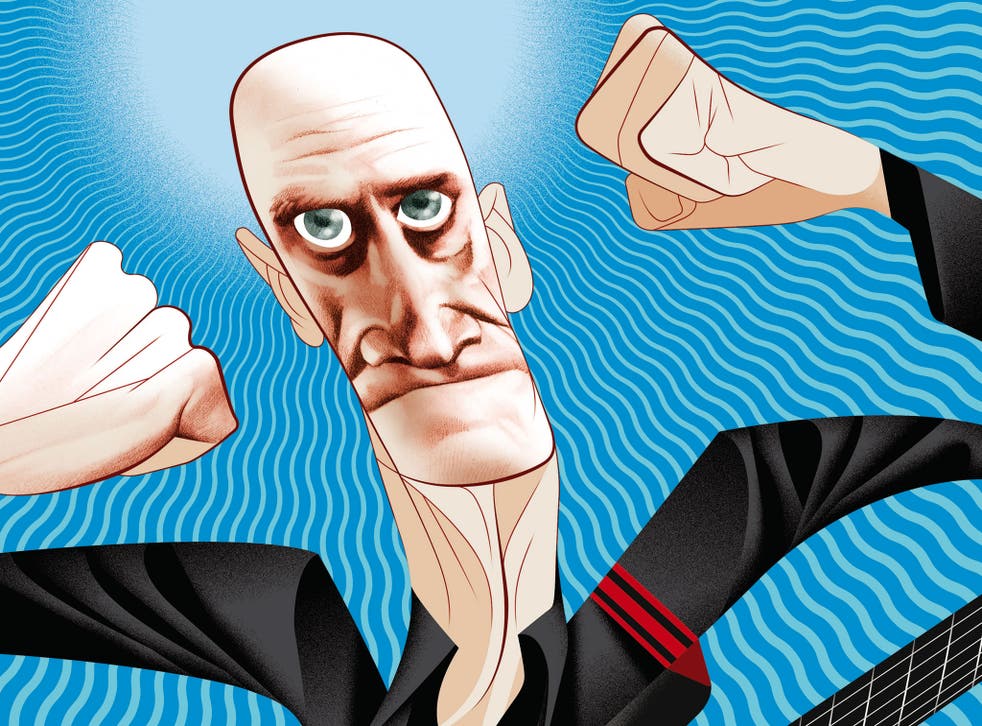 Britain is realising it has another national treasure: Wilko Johnson, the goggle-eyed guitar hero of Dr Feelgood. Earlier this month, 65-year-old Johnson announced his diagnosis with terminal pancreatic cancer and, with impish logic, his farewell tour in February and March. Then, on Radio 4 on Friday, he shrugged off his prognosis in his unmistakable Essex twang with the statement that he felt "vividly alive … it probably takes [imminent death] to knock a bit of sense into our heads."
A few years ago, Johnson was in danger of being consigned to a chapter of British rock history – a chapter which detailed the surprise success 40 years ago of Dr Feelgood's sparse R&B, and noted how John Lydon and Paul Weller lapped up Johnson's mesmerisingly choppy, on-the-move live guitar and lead singer Lee Brilleaux's white-suited yowl (watch the YouTube live clips from the 1970s of "Roxette" and "She Does It Right"). In the years that followed Johnson's departure from the band in 1977, he gigged on, but only a hard core of loyal fans were enjoying the awesome sight of Wilko Johnson in full rock-out.
Then came Julien Temple's Oil City Confidential. This 2009 film examined the cult of Dr Feelgood, suggesting they were quintessentially English bluesmen from the Thames Delta, mounting raids on the metropolis from their Canvey Island redoubt. The star was Johnson – part axe god, part philosopher-poet, part Essex suburbanite. The moptop was gone, but Johnson's unmistakable energy fizzed out of the screen. Last year, an autobiography and an EMI box set of Dr Feelgood were released. And now this. Johnson is acquainted with cancer – it killed both his wife and Brilleaux.
So let's leave the last word here to the man himself: "I'm a feather for each wind that blows," he said on the radio, quoting Shakespeare, "and the wind is blowing me this way now … This position I'm in is strange. I do feel fit and yet I know that death is upon me. I've had a fantastic life, when I think of the things that have happened to me. Anybody that asks for more would just be being greedy. Don't want to be greedy."
Register for free to continue reading
Registration is a free and easy way to support our truly independent journalism
By registering, you will also enjoy limited access to Premium articles, exclusive newsletters, commenting, and virtual events with our leading journalists
Already have an account? sign in
Register for free to continue reading
Registration is a free and easy way to support our truly independent journalism
By registering, you will also enjoy limited access to Premium articles, exclusive newsletters, commenting, and virtual events with our leading journalists
Already have an account? sign in
Join our new commenting forum
Join thought-provoking conversations, follow other Independent readers and see their replies