Radiohead drummer Philip Selway interview: Star on his new solo album and how being in a band can make you 'narcissistic'
Selway had originally wanted to become a singer-songwriter, but after falling into drumming and with Radiohead taking off, he put songwriting to one side - for decades
Nick Duerden
Friday 10 October 2014 21:30 Comments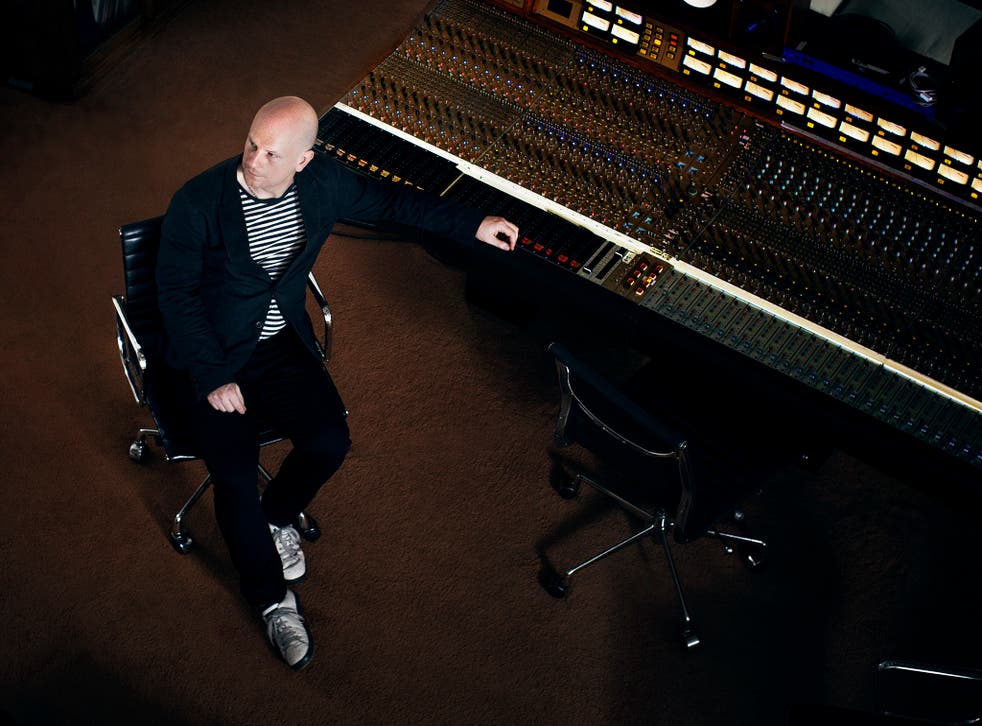 The only member of Radiohead currently prepared to face the fourth estate is sitting opposite me in a London hotel, drinking a £6 flat white, and doing his best to smile in a convivial manner.
Philip Selway, that band's drummer, is a very nice man, polite and accommodating, and in possession of a brow seemingly incapable of throwing a frown. But, still, he is a member of Radiohead, whose default setting is furtive and awkward. Throwing frowns is pretty much all they do.
Selway is only facing me today at all because he has recently recorded his second solo album, Weatherhouse, of which he is rightfully proud. "I want to do the record justice," he says. "A lot of work has gone into it."
Three years on from his tiptoeing debut, Familial, an emotionally bare album largely revolving around the relationship between fathers and sons (he has three, aged 15, 13, and 11), Weatherhouse possesses a fuller sound and broader palette. At times it echoes Radiohead, albeit a more straightforward version and thus largely free from sonic bleeps and malarial twitches. Instead, Selway mines a gentle air of pervasive melancholy throughout.
"Ah, yes," the 47-year-old says, hand aloft as if in defence, "I think you can read the lyrics and come away thinking I am more troubled than I actually am."
I tell him that I had come to just that conclusion: that the man is troubled. One track, "Ghosts", which sounds not unlike Radiohead's "Exit Music (For a Film)", describes the horror of night terrors. Selway experienced these last year, brought on by a respiratory "thing" that made breathing, particularly at night, difficult. The lyrical refrain to "Around Again" ("We're on a knife edge all the time/ And it's you tearing me apart") will never have it confused for a love song, while the closing "Turning It Inside Out" is also riven with misery. "Sometimes I could leave it all behind," he sings, "step off and find a place to make a brand new life."
It is difficult not to conclude from this that either his marriage, or his place in Radiohead, is at stake. Which is it?
He almost smiles. "Well, that is an entirely fair question to ask of someone who puts this sort of material out there, I suppose," he says. A slight tremor disturbs his right cheek. He says nothing further, so I prod.
"Um, it's a cover-all. In terms of my specific, day-to-day life, it is removed, but in relationships I've been in – possibly work stuff…" He trails off. "And of course general observations."
From this, one might surmise that it is as hard to be a part of Radiohead as they can sometimes be to listen to.
Philip Selway had originally wanted to become a singer-songwriter, not drummer. Drumming was something he fell into. He did it well, his band took off, and he put his own songwriting efforts to one side – for decades.
"You make choices," he shrugs. "One choice could be to make the best music you can at a particular point – in a band, say. And so you do that. Within Radiohead, there is a lyrical voice that is very much Thom's, and that is how it should be. But then you can reach a point where you have other choices, and so you follow those for a while instead."
The first time he did this was in 2011, during a Radiohead hiatus. He wanted to see whether he had the confidence, and the voice, to carry off a solo project, and do it justice. He felt he did that with Familial, and so when the band took another break at the end of 2012, he was eager to repeat the experience.
He wasn't the only one: guitarist Jonny Greenwood wrote film scores, and Thom Yorke has just released his own solo album, a week before Selway's. While Yorke's Tomorrow's Modern Boxes is typically obscure, Selway's thrums with emotion. This shouldn't surprise: the man has always been in touch with emotions, his and other people's.
For 20 years, he worked for The Samaritans, 17 as a listening volunteer, three as ambassador. That he managed to continue volunteering while Radiohead were becoming the most fêted band of their generation, and he and his wife Cait were raising a young family, is remarkable, and perhaps unique for a man in his position. But it was also entirely necessary, he insists, for his sanity.
"Being in a band, you can become quite narcissistic, convinced you're the centre of the universe. To be able to step out of that, to put yourself aside and hopefully help someone else… well, it's no bad thing."
If discussing the themes of his album renders him awkward, it is nevertheless clear he's proud of it. I ask if he has played it to his band members? Did he seek their advice?
"Advice, no, but approval, certainly. You can't help but want approval. Even if you make music that is not to somebody's particular taste, you at least want them to acknowledge the quality to it."
Selway won't be touring the record until early next year, due to Radiohead's own recording schedules. The band have been in the studio a month now, working on new material. I ask him how it's going. Early days, he says, but does not elaborate. And so I ask whether being in Radiohead is ever fun. From the outside looking in, one might not expect it to be.
He is quiet for some time. "Well, it stretches you, certainly," he concedes, "and it can be an intense experience. The bar is set high, which is demanding, but then it needs to be. But, yes, there are joyous moments, too." Really? "Absolutely. Our last tour was hugely joyful."
And now? He frowns. It is questions like these, perhaps, that prompt the band to avoid the press in the first place. But, ever courteous, he endeavours to answer.
"We had the inevitable first-day-back-at-school nerves initially, and so right now we are just getting used to being around each other again," he says.
'Weatherhouse' by Philip Selway is out now on Bella Union
Register for free to continue reading
Registration is a free and easy way to support our truly independent journalism
By registering, you will also enjoy limited access to Premium articles, exclusive newsletters, commenting, and virtual events with our leading journalists
Already have an account? sign in
Join our new commenting forum
Join thought-provoking conversations, follow other Independent readers and see their replies