Ricky Gervais blasts trophy hunters trying to excuse 'grim sport' by saying they 'provide a service'
Comedian has been embroiled in a debate over hunting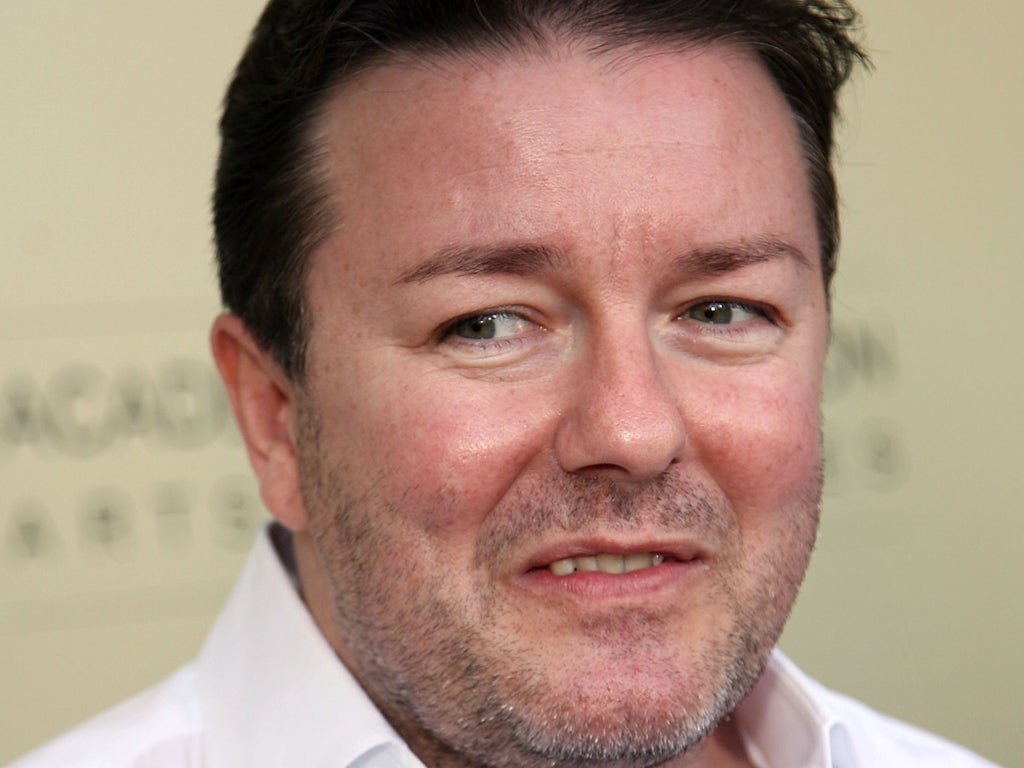 Ricky Gervais has condemned trophy hunters for "exploiting the needs of the poor" following a protracted debate over hunting sparked by the controversial activities of female huntress Rebecca Francis.
Francis had accused Gervais of targeting her specifically because she was female after the comedian posted a picture of her lying next to the corpse of a giraffe she had just killed with the caption: "What must've happened to you in your life to make you want to kill a beautiful animal and then lie next to it smiling?"
Francis was subsequently bombarded with furious messages and death threats on social media accounts belonging to her. A few days later, she responded in a defiant statement vowing to never apologise for hunting, where she claimed Gervais "used his power and influence to specifically target women in the hunting industry and has sparked thousands of people to call for my death, the death of my family and many other women who hunt".
The mother-of-eight from the US insisted hunters contribute "the most" to the welfare of wildlife by helping create a natural balance.
Gervais later denied her claims of sexism, insisting in a tweet: "men and women that do it [trophy hunt] are equally vile and worthless".
He has continued the debate over hunting on his social media accounts, where he today said he was "sick" of Trophy Hunters "trying to excuse their grim sport by saying they provide a service".
In a lengthy Facebook post, Gervais wrote: "They exploit the needs of the poor. They pay lots of money to go and shoot a magnificent animal because the authorities need the cash, and then claim they are doing a good deed. It's not a good deed.
"Those authorities would rather have the money and the animal still alive but they can't afford to. So they're forced to take money from rich psychopaths who get their cheap f*****g thrills from shooting a giraffe or elephant in the head.
"If they were providing a service they would be the ones being paid. Imagine a vet paying you to put down your dog and then taking a selfie next to the corpse. And as for "the money goes to saving their remaining animals", oh dear. Where will it end? Can you pay more to kill the leopard with a hammer if that's your perversion? They're already killing with bows and arrows for f***s sake.
Kendall Jones' hunting images spark row
Show all 8
"And would we allow some billionaire sicko to shoot one cancer patient if he gave a million dollars to cancer research? No. Of course we f*****g wouldn't. If they really wanted to do a good deed they would donate the money, and not shoot the animal. They would be heroes then. As opposed to murdering scum."
Join our commenting forum
Join thought-provoking conversations, follow other Independent readers and see their replies