Rihanna goes practically naked to CFDA Awards: Defiant protest or pure exhibitionism? Singer shocks in a sheer dress
The singer defiantly goes nearly nude to the awards ceremony as she deletes Instagram account in protest of nudity clauses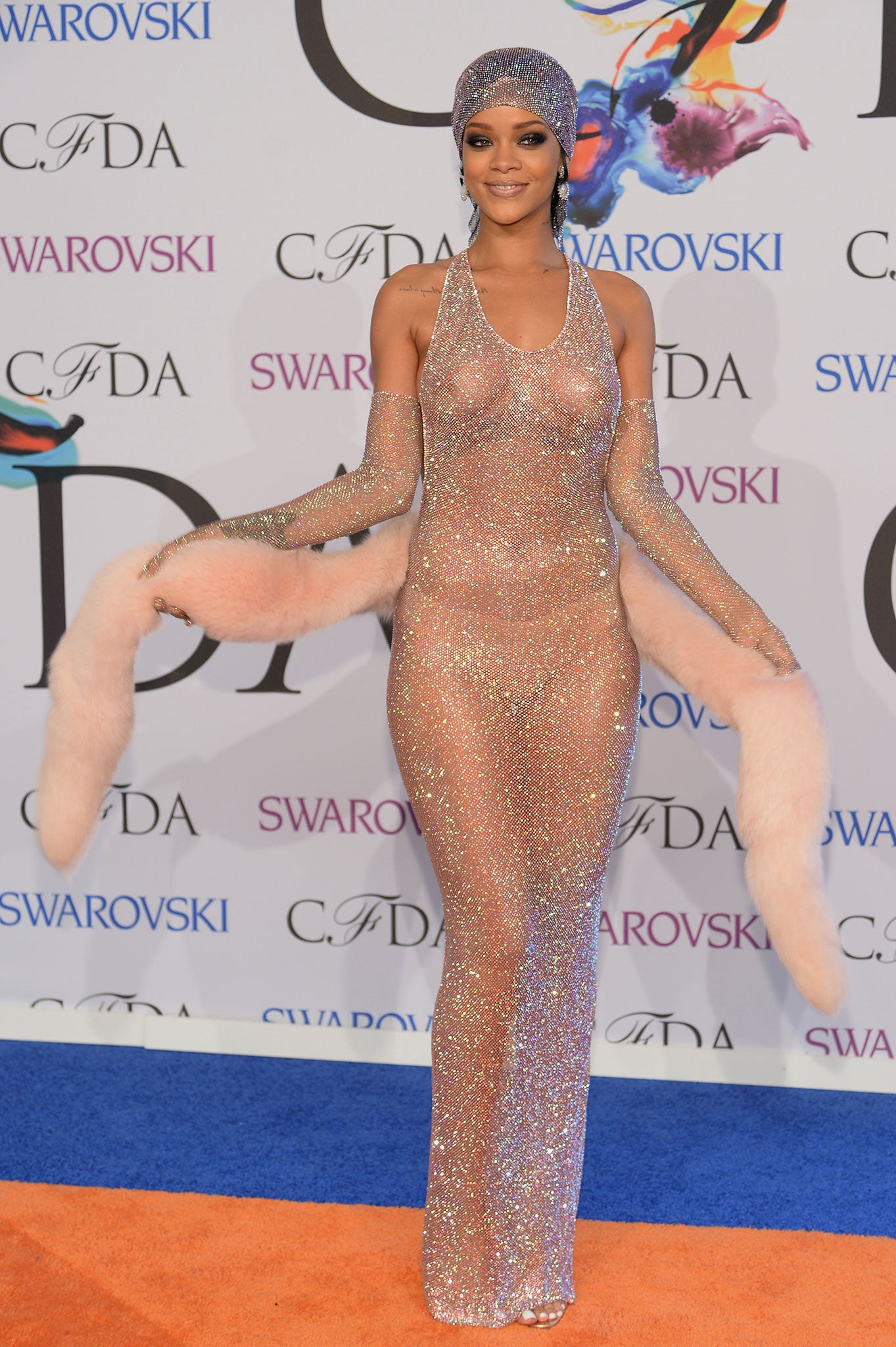 What do you wear to pick up one of the fashion industry's most coveted style prizes? Well, if you're in Rihanna and your fashion USP is audaciousness teamed with unapologetic brazenness, you wear nothing.
Well, nothing bar a shimmering sheer floor-length dress that reveals everything, nipples et al, in a move that would make Instagram censors dive for cover.
Her modesty was just about hidden by a nude coloured thong, which she covered with a fur stole.
Part Josephine Baker, part sphinx, she teamed her Adam Selman-designed dress with a sparkling turban. While conservative fashion critics may bemoan her wardrobe choice and tell her to cover up, this might be the most 'Rihanna' ensemble she's ever worn – it's admirably confident, fearlessly individual and unashamedly provocative.
Not even Solange Knowles – who also attended the Council of Fashion Designers of America Awards last night – would have picked a fight with her, so intimidating was Rihanna's near-naked presence.
In a sea of innocuously-dressed models and actresses, Rihanna was a refreshingly, defiant antidote.
The "We Found Love" singer collected the Fashion Icon Award from Anna Wintour last night, an honour previously given to Kate Moss, Lady Gaga, Johnny Depp and Nicole Kidman. Other names to be celebrated include the Olsen twins, who received Best Accessories Designer of the Year for their label The Row.
Instagram can rest easy over fears it may receive a post or two by Rihanna from the evening: she has deleted herself from the social media channel after it censored one of more risqué images recently.
Last week, Rihanna tweeted her support for Scout Willis – the 22-year-old daughter of Demi Moore and Bruce Willis – who staged a topless protest in New York in reaction having been banned from Instagram for posting a photograph of a sweatshirt she designed featuring two topless women.
In May, US Vogue creative director and former model Grace Coddington was also recently temporarily removed from the channel for sharing a topless line drawing.
However, the company's CEO, Kevin Systrom, maintains that its strict no-nudity policy is "fair".
"Our goal is really to make sure that Instagram, whether you're a celebrity or not, is a safe place and that the content that gets posted is something that's appropriate for teens and also for adults," he told the BBC.
"We need to make certain rules to make sure that everyone can use it."
Join our commenting forum
Join thought-provoking conversations, follow other Independent readers and see their replies