Rio 2016: Dan Walker's BBC Olympic broadcast interrupted by hen party on Copacabana beach
The group of women soon began chanting 'BBC, BBC'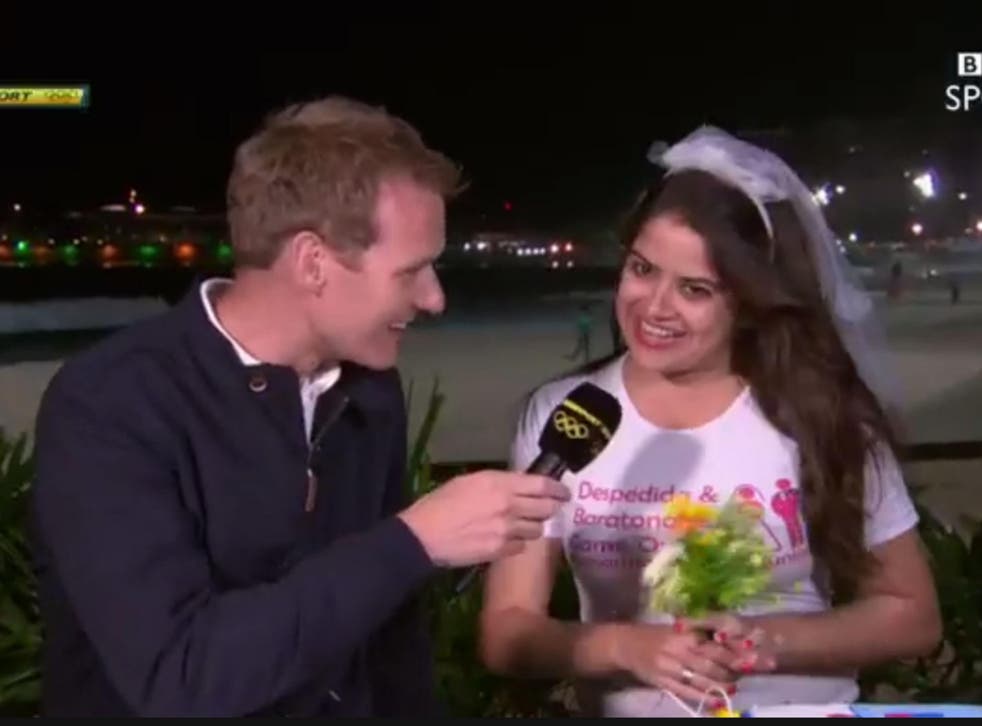 As proven on last night's BBC Olympic coverage, anything can happen on live TV.
On Saturday night, Dan Walker fronted the BBC Four coverage of the games from Copacabana beach in the Brazilian city. However, he was soon interrupted by loud noises while trying to introduce the weightlifting.
"It's a Brazillian hen party," the BBC Breakfast presenter informed viewers before inviting the bride Maria over for a chat.
"Maria, Maria", the hens chanted as Walker quizzed the woman about her upcoming nuptials.
The bride-to-be told viewers she was getting married next month and sent a message to her fiance, even if she did appear to temporarily forget his name.
"I hope he's watching BBC Four," Walker said.
The three-minute interview was sounded off by members of the party, encouraged by Maria, proclaiming their love for the British broadcaster by chanting "BBC, BBC!" .
As Walker noted on Twitter shortly afterwards, a number of things could have gone wrong with the impromptu live interview, but instead social media was delighted.
Walker later added that Maria had been in touch and sent him an invite to the wedding.
Join our new commenting forum
Join thought-provoking conversations, follow other Independent readers and see their replies