Rio 2016: Gabby Douglas criticised for not putting hand on heart during US national anthem
Others defended the 20-year-old by reminding their fellow countrymen and women she has just won a gold medal for the US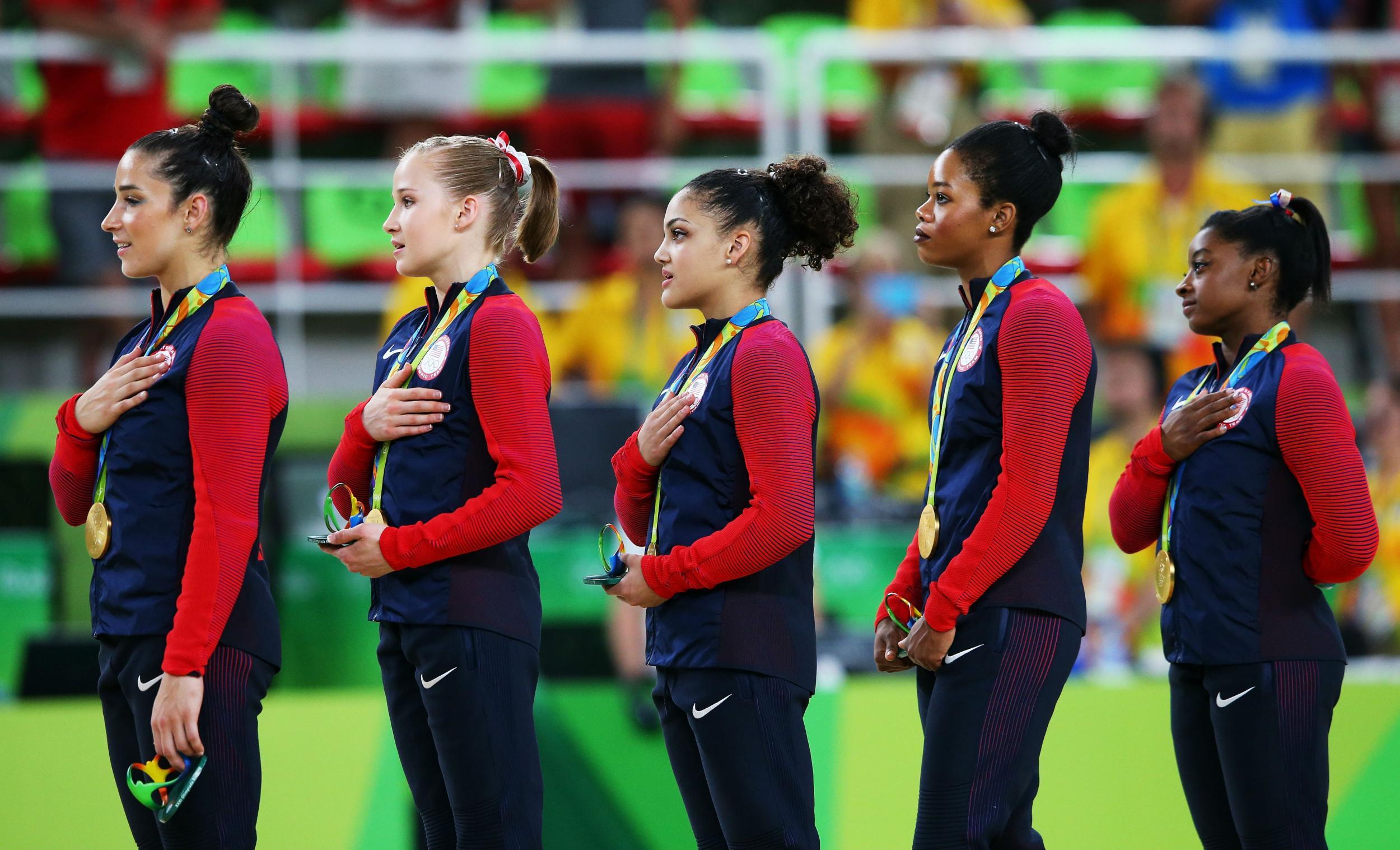 Despite just having won an Olympic gold medal for her country, some Americans are less than impressed with Gabby Douglas.
The gymnast was part of the five-strong team, which also comprised of Ally Raisman, Lauren Hernandez, Simone Biles and Madison Kocian, who dominated the women's team gymnastics event before claiming gold on Tuesday evening.
The medal is Douglas' third gold for the USA following two victories in the London 2012 games all by the age of 20. While most Americans would have been extremely proud and happy at the news of Douglas and the squad's win, some chose to hone in on the fact that during the medal presentation she was the only teammate who did not salute during the national anthem.
Rio 2016 Olympics - in pictures
Show all 74
The salute in the US is the gesture of placing the hand to the heart and is traditionally done during the pledge of allegiance to the flag and sometimes during the national anthem.
Douglas sparked a debate on Twitter after the ceremony with some branding her lack of hand gesture "disrespectful".
Rio 2016: Yesterday's Highlights
Others disagreed, arguing there are more important issues to be outraged about and reminded their fellow country men and women she has just won a gold for Team USA.
Douglas herself responded to the row on Twitter saying she prefers to just "stand at attention out of respect for our country" and apologised for any offence caused.
The Virginia-born athlete gained a legion of fans after her Olympic 2012 victory where she became the first black gymnast to win the Individual All-Around championship.
Despite gaining the third highest score in heats for the event at Rio she is not allowed to progress to the final due to the "two country rule" where only two athletes from each country can participate in the final. Her teammates Biles and Raisman qualified in first and second place and are widely expected to take gold and silver in the final.
Join our commenting forum
Join thought-provoking conversations, follow other Independent readers and see their replies