Rio 2016: Meet America's first Muslim Olympian to wear a hijab
The New-Jersey born athlete who is not afraid to speak out against Donald Trump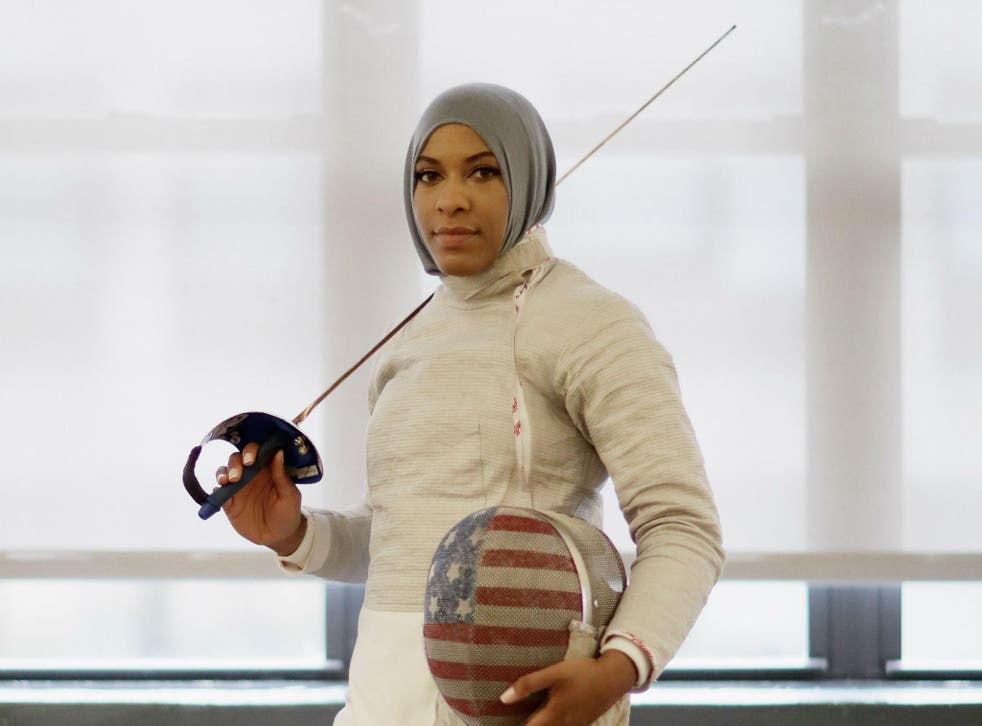 Ibtihaj Muhammad is Team USA's first Olympian to wear a hijab.
The 30-year-old is gearing up to represent her home country at the Rio Olympics in the sabre fencing competition.
Muhammad has captured attention since qualifying for the games in February and was voted second by her fellow American athletes to carry the flag during the Opening Ceremony. She was narrowly pipped to the post by the record-bolding swimmer Michael Phelps.
Muhammad was born and raised in New Jersey in a sporty family. Her brother played football and her sister Faizah is also an accomplished fencer.
She tried a variety of sports growing up but settled on fencing partly because of the modest uniform. In March, she told Ellen DeGeneres her mother encouraged her to try fencing after constantly having to alter the uniforms for Muhammad in other sports.
"It was really important for my Mum to keep me active, she saw how excited I was to be in sports and she wanted me to do that while observing the hijab," she said.
Fencing
Muhammad began fencing at age 13 and switched to sabre fencing (fencing which uses a sabre sword instead of epee or foil) at 16.
After graduating from Duke University in North Carolina, where she majored in International Comparative Studies and African and American Studies, Muhammad dedicated her time to fencing.
Ten British Gold Medal Prospects At Rio 2016

Show all 10
"After I graduated from college, I saw there was a lack of minorities in the sport," Muhammad told TeamUSA.org. "I recognised that I had a skill set, so I started to pursue fencing full time. I felt that it was something the squad needed. There were barriers that needed to be broken in women's sabre."
She became the first Muslim wearing a hijab to make the USA fencing team but was kept out of the London 2012 games because of a hand injury.
In February, she qualified for the Rio Olympics after gaining a bronze model at the Athens World Cup. She has since received national attention and even taught the First Lady Michelle Obama the art of fencing in March.
She has also raised over $28,000 to bring her family to Rio to support her after launching an online fundraiser.
Comments on anti-Muslim sentiments
Muhammad's participation in the games comes at a time of increased anti-Muslim rhetoric in the US and other Western countries. The rhetoric even entered mainstream politics last year when Republican presidential candidate Donald Trump called for a temporary ban against all Muslims entering the US. Since then, he has made a number of disparaging remarks about Muslims, most recently towards the Muslim mother of a deceased Gold Star soldier after she and her husband made an appearance at the Democratic National Convention.
Muhammad has been vocal about the increased anti-Muslim sentiments in the US.
Last December, she tweeted Mr Trump asking him how she and other Muslims were expected to qualify for the Olympics if he banned them.
She has also brought to national attention the prejudice she has experienced including an incident at the South by Southwest film festival in March. Festival organisers ended up apologising after Muhammad shared on Twitter that she was asked to remove her Hijab in order to obtain a pass to the event.
She has since said there have been instances where she has felt unsafe in the US and described an occasion a man followed her home and tried to report her to the police.
"I'm very vocal about these things because I want people to know I'm not a novelty, I'm not special in any way. I'm a woman who wears hijab and these are my experiences," she told the Daily Beast.
Fashion design
Aside from fencing, Muhammad also founded Los Angeles-based clothing brand Louella which specialises in "modest fashion". The brand features an array of long dresses, tunics, skirts and many of the models advertising the clothes wear a hijab.
Join our new commenting forum
Join thought-provoking conversations, follow other Independent readers and see their replies