Robert Clatworthy: Sculptor whose powerful pieces, including Grade II-listed 'Bull', walked the line between figuration and abstraction
'Bull' and the equally compelling 'Horseman and Eagle' reflect the impact Clatworthy made as a public sculptor and as an important teacher in leading art schools in the capital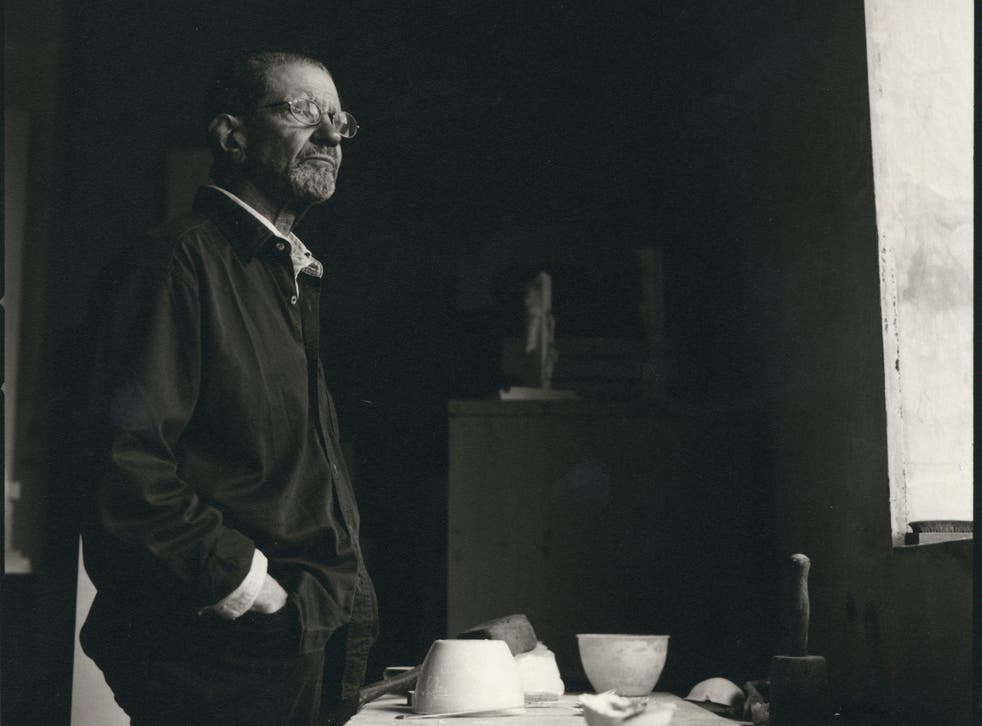 The sculpture of Robert Clatworthy, mostly of animals or of the human figure, was expressively modelled in plaster and cast in bronze. His large Bull (1959) in Roehampton was given a Grade II listing by the Department of Culture, Media and Sport in 1998, while the equally compelling Horseman and Eagle (1984) is now in front of Charing Cross Hospital in Hammersmith. These London landmarks reflect the impact Clatworthy made as a public sculptor and as an important teacher in leading art schools in the capital.
Clatworthy was born in 1928 in Bridgwater, Somerset, into impoverished circumstances. His father, Earnest, worked as a railway clerk at Bridgwater Station and young Robert, an only child, grew up in a nearby cold-water terrace house with an outside toilet.
Such was Clatworthy's dexterity and innate aptitude with his hands that he developed an early artistic ambition, nurtured first at the local West of England college of Art in Bristol, which in he entered in 1944, then at Chelsea School of Art and finally at the Slade.
Both in his bronzes and powerful charcoal, ink and pastel drawings, Clatworthy's imagery was evoked with a tactile, even ferocious, intensity. Later, anonymous bronze heads amounted to a shattered portraiture in which individuality was subsumed by process and material – "The vigor of the treatment almost obscuring the image," in the words of the critic Mary Rose Beaumont.
Too young to have been part of the early-1950s Venice Biennale group, whose battered, blasted work was dubbed "geometry of fear" by the critic Herbert Reed, Clatworthy nonetheless emulated the open, raw approach of Butler, Armitage or Meadows. Later, during the 1960s and 1970s, he conducted a cogent dialogue with the progressive art of a new generation. He did this through a paradoxical allegiance to one of that epoch's most commonly abandoned techniques – conservative modelling – that had given way to construction, new technological materials and abstraction.
Despite the economic austerity of his early life and career, the 1950s were artistically auspicious; in the burgeoning post-Festival of Britain cultural environment, Clatworthy flourished alongside contemporaries and colleagues like Elizabeth Frink and Ralph Brown, both subjects of Clatworthy portrait busts. Clatworthy's brisk handling posited vigorously corporeal forms, heavily fingered into a surface quagmire.
Before the decade's end, he had established himself at Erica Brausen's influential Hanover Gallery in Central London. In 1957 his life-sized Bull, shown in Holland Park at the open-air sculpture exhibition, established his name. In 1995, Alan Bowness wrote about how Clatworthy's "animal sculptures carry an emotional charge that is translated into human terms."
Bull and cat pieces in all sizes appeared throughout the 1950s. He found himself included in prestigious exhibitions, like the Hanovers' 1959 Picasso, Giacometti, Matisse, Clatworthy and Arp, where, auspiciously, reviewer Michael Shepherd commented that "some later Butlers and a recent Clatworthy gave Britain some right to this company."
During the 1960s, official exposure continued with two further open-air appearances, this time at Battersea Park. He also moved from Hanover to the Waddington Gallery, where he enjoyed a sell-out of Giacometti-inspired walking and seated figures in 1965.
Clatworthy's commercial inroads at this time were augmented by his inclusion in the Tate Gallery's eclectic British Sculpture in the Sixties show during the spring of 1965. Clatworthy generally eschewed the formal and conceptual novelties of the time, however – instead deepening his entrenched expressive figuration.
During the 1970s and beyond, when critics like Peter Fuller preached a reengagement with the figurative tradition at the expense of a perceived clapped-out modernism, Clatworthy's work gained renewed traction. Ironically, however, Clatworthy passed through an unlikely abstract-minimalist fibreglass phase during the early 1970s, while, a decade later, he had an equally fleeting dalliance with photography.
Perhaps Clatworthy's demanding teaching career at the Central, Royal College and Chelsea had exposed him to a later modernist zeitgeist, aided by William Tucker's landmark formalist tome The Language of Sculpture (1974). His minimalist pieces were shown at Basil Jacobs' gallery and at the Royal Academy's British Sculptors '72. By 1973, he had become a Royal Academician as well as head of fine art at the Central School and governor at St. Martins. A disrupted family life saw the break-up of his first marriage, through which he had three children.
The smoothly finished bronzes of the late 1970s gave way to static, frontal figures during the 1980s which carry an Antony Gormley-like inert impersonality, despite being the outcome of animated modelling. The single head theme makes up his late work, its heavily handled lumpen quality reflecting admiration for the disfigured portraits of Jean Fautrier and Francis Bacon.
During this late phase, Clatworthy removed to the wilds of West Wales, where he continued working in rural isolation supported by his second wife, Jane, and devoted agent, Keith Chapman.
Peter Davies
Robert Ernest Clatworthy, sculptor: born Bridgwater, Somerset 31 January 1928; married first 1952 Pamela Lawrence (marriage dissolved, two sons, one daughter), second 1979 Jane Illingworth; died Llandovery, Wales 15 March 2015.
Register for free to continue reading
Registration is a free and easy way to support our truly independent journalism
By registering, you will also enjoy limited access to Premium articles, exclusive newsletters, commenting, and virtual events with our leading journalists
Already have an account? sign in
Register for free to continue reading
Registration is a free and easy way to support our truly independent journalism
By registering, you will also enjoy limited access to Premium articles, exclusive newsletters, commenting, and virtual events with our leading journalists
Already have an account? sign in
Join our new commenting forum
Join thought-provoking conversations, follow other Independent readers and see their replies