Robert Durst murder arrest: Billionaire transferred to secure mental health facility
Police in California also want to speak to the real estate scion about the death of a teenage girl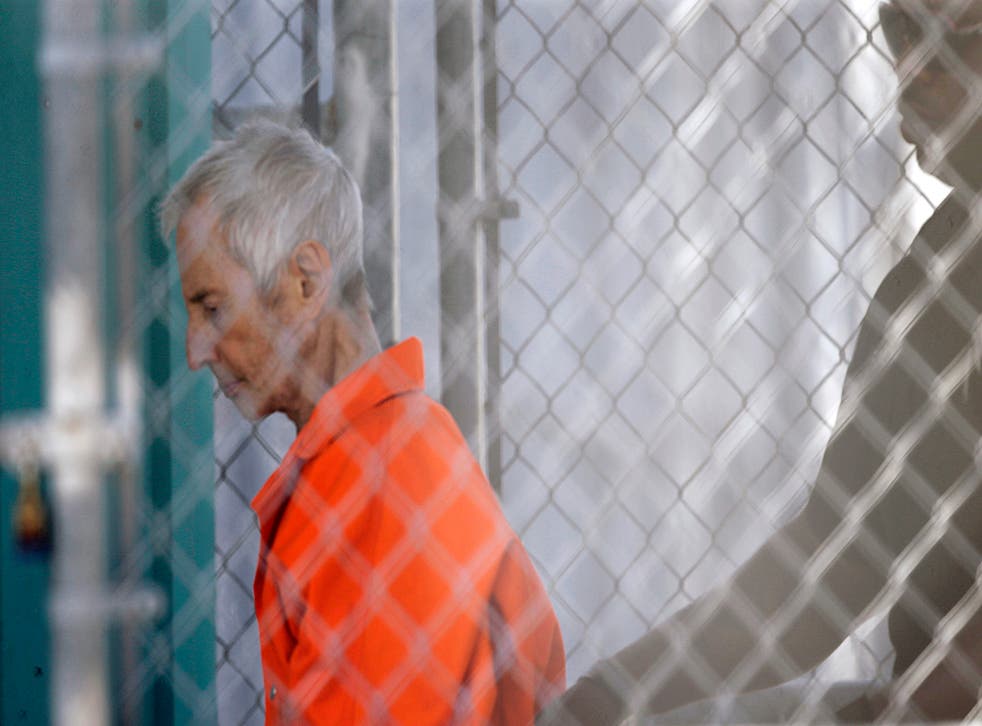 Robert Durst, the eccentric New York property scion suspected of at least three killings, has been transferred to a mental health facility in Louisiana after being charged with the 2000 murder of his friend Susan Berman.
Los Angeles prosecutors say Mr Durst, 71, the subject of the recent HBO documentary series The Jinx, "lay in wait" for Ms Berman at her home in Beverly Hills and murdered her because she "was a witness to a crime".
A lawyer for the Orleans Parish Sheriff's Office said today that Mr Durst was "suicidal". However, Mr Durst's representatives opposed his transfer to a facility for inmates with "acute medical conditions" at a state prison near New Orleans, where he was arrested on Saturday.
The eldest son of the late New York property mogul Seymour Durst, he was diagnosed with Asperger's syndrome as a child, but his lawyer Dick DuGuerin said Mr Durst did not suffer from an acute condition, and insisted the accused killer's competency was "not in question".
Investigators believe Mr Durst killed Ms Berman because she knew details of the disappearance of his first wife, Kathleen McCormack. Ms Berman, a journalist and Mr Durst's close confidante, acted as his de facto spokesperson after McCormack went missing from the couple's home in rural Westchester County, outside New York, in 1982.
McCormack's friends and family became convinced that he had killed her, but a body was never found. Shortly before Ms Berman was shot dead, police had announced they were re-opening the investigation into McCormack's disappearance, and that they intended to interview Ms Berman.
Mr Durst was acquitted of the 2001 murder of his neighbour in Galveston, Texas, after dismembered body parts were found floating in Galveston Bay. Mr Durst admitted to having disposed of Morris Black's body, but convinced a Texas jury that Black had died accidentally as the two men grappled for a gun.
Police in Eureka, California said this week that they were also keen to speak to Mr Durst about the case of a missing local teenager, Karen Mitchell, whose 1997 disappearance is thought to have involved foul play. At the time, Mr Durst owned a home in Trinidad, 20 miles from Eureka. Eureka police Captain Steve Watson told the Los Angeles Times, "We are very interested in any information Mr Durst may have in connection with [Mitchell's] disappearance."
The filmmakers behind The Jinx: The Life and Deaths of Robert Durst uncovered new evidence in Ms Berman's case that appeared to further implicate Mr Durst. In the final episode, broadcast on Sunday, director Andrew Jarecki confronted the 71-year-old with a letter he had written to Ms Berman, with handwriting identical to an anonymous note sent to Beverly Hills police at the time of her murder, presumably by her killer.
Durst denied writing the note, but after the interview retreated to a bathroom with his microphone still on, where he was heard to mutter to himself: "What the hell did I do? Killed them all, of course."
FBI agents arrested Mr Durst on Saturday at a hotel in New Orleans, where he had checked in under a false name and was reportedly in possession of a fake driver's licence, a handgun, some marijuana and a "substantial" amount of cash.
The authorities believe he was preparing to flee to Cuba. He faces firearms and drug charges in Louisiana, but is expected to be extradited to California for trial. If convicted of killing Ms Berman, he could face the death penalty.
"My concern is that the warrant that was issued in California was issued because of a television show and not because of facts," Mr DeGuerin told reporters following the arrest. "We want to contest the basis for his arrest. Because I think it's not based on facts. It's based on ratings."
Join our new commenting forum
Join thought-provoking conversations, follow other Independent readers and see their replies