Roger Ailes to 'leave Fox News with $40m payout' amid sexual harassment controversy
Mr Ailes had denied the allegations levelled at him
Andrew Buncombe
New York
Tuesday 19 July 2016 21:36 Comments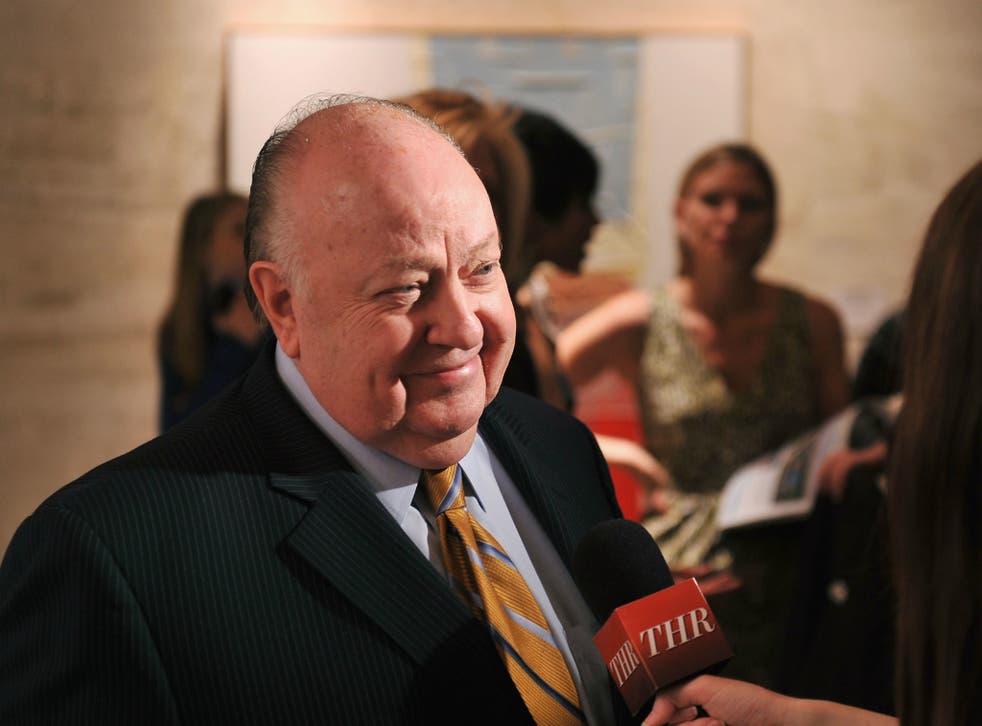 Roger Ailes, one of the US's most powerful and controversial media figures, is reportedly set to leave his position as the head of Fox News with a huge payout amid a mounting furore over a series of sexual harassment allegations. It is possible that some of the channel's biggest names, such as Bill O'Reilly and Sean Hannity, could leave with him.
Several US media outlets said the 76-year was poised to leave the channel he helped establish and mould into a powerful conservative voice with a "parachute" of $40m. The development came just hours after it was reported that a second female Fox News journalist - leading anchor Megan Kelly - had alleged that Mr Ailes had also made sexual advances to her. By no small irony, the drama played out as the Republicans formally selected Donald Trump as their presidentical candidate at the convention in Cleveland, where the topic instantly becoming the topic of gossip and discussion.
New York magazine had previously reported that Rupert Murdoch and his sons had decided to fire the Fox News CEO and chairman after seeing the preliminary results of a investigation by New York lawyers into an allegation by journalist Gretchen Carlson.
It said that Ms Kelly, probably the most high-profile female Fox News journalist, had told those investigators that Mr Ailes also harassed her a number of years ago. Earlier this month the former anchor, Ms Carlson, alleged in a lawsuit earlier that Mr Ailes, did not renew her contract as she rebuffed his sexual advances and she challenged a "sexist" newsroom culture.
"Kelly has told investigators that Ailes made unwanted sexual advances toward her about ten years ago when she was a young correspondent at Fox," the magazine said.
On Tuesday afternoon, the Daily Beast said that Fox News had confirmed had confirmed that the CEO was leaving the company. Other reports said that Mr Ailes was still in his office, negotiating the terms of his exit.
In a statement, 21st Century Fox, the parent company of Fox News, said: "Roger is at work. The review is ongoing. And the only agreement that is in place is his existing employment agreement."
Mr Ailes had denied the allegations levelled at him by Ms Carlson, and likewise rejected the claim that he had made advances to Ms Kelly.
"Roger Ailes has never sexually harassed Megyn Kelly," his lawyer, Susan Estrich, said in a statement. "In fact, he has spent much of the last decade promoting and helping her to achieve the stardom she earned, for which she has repeatedly and publicly thanked him."
Megyn Kelly v Donald Trump
On October 7, 1996, Ailes became the one of the co-founders of Fox News and its first CEO. He quickly built it into a powerful conservative channel, unashamedly setting aside the notions of impartiality that most others broadcasters still adhered to.
During the 2000 election, Fox was credited with playing a crucial role in helping George W Bush secure the presidency when it decided to call the state of Florida, and therefore the race, for the Texas governor.
While liberals loved to have Mr Ailes and his network, conservatives rallied to its programming and its quickly soared past rivals such as CNN. Today it remains the most watched cable news channel in the US and has impacted the way its rivals covered news.
As a result of its influence, Fox News quickly became the go-to channel for many, or most, Republicans. Most pundits believed that any Republican presidential hopeful would have to be on good terms with the channel if they were to secure the primary nomination. As it was, Fox News and Mr Ailes clashed several times with the now nominee, Mr Trump, who boycotted one primary debate hosted by the channel after falling out with Ms Kelly during an earlier event.
The Financial Times said that a number of leading Fox News figures, including Mr O'Reilly and Mr Hannity, have contracts that include an option to leave if Mr Ailes were no longer in charge.
Register for free to continue reading
Registration is a free and easy way to support our truly independent journalism
By registering, you will also enjoy limited access to Premium articles, exclusive newsletters, commenting, and virtual events with our leading journalists
Already have an account? sign in
Register for free to continue reading
Registration is a free and easy way to support our truly independent journalism
By registering, you will also enjoy limited access to Premium articles, exclusive newsletters, commenting, and virtual events with our leading journalists
Already have an account? sign in
Join our new commenting forum
Join thought-provoking conversations, follow other Independent readers and see their replies