Rolling Stones guitarist Keith Richards 'once threatened Donald Trump with a knife'
'At which point Keith pulls out his knife and slams it on the table,' The Rolling Stones tour producer has said
Maya Oppenheim
Monday 21 March 2016 18:26 Comments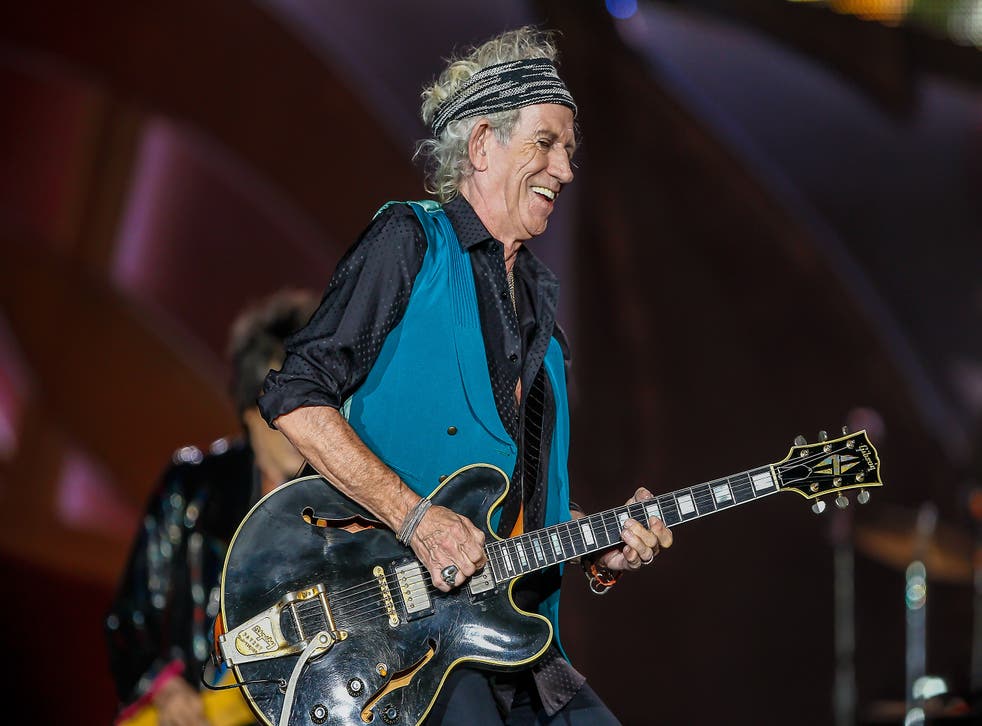 It turns out Donald Trump's rallies are by no means the first time the Republican presidential frontrunner has been privy to violence.
It has now emerged that Mr Trump allegedly almost had a fight with Keith Richards from the Rolling Stones almost 30 years ago.
According to Rolling Stones tour producer Michael Cohl, Richards reportedly threatened to knife the mogul-turned-politico during a 1989 concert in Atlantic City.
The band were there for the final stop of their infamous Steel Wheels tour and the event was being broadcast in association with Donald Trump, Trump Plaza Hotel and Casino, and MTV.
Recounting the gory details to Pollstar last year, Cohl explains the band were less than keen to be affiliated with one particular moneyed patron.
"Unfortunately, the only person I could get to kind of agree to the site fee we needed and to work it through was Donald Trump. Now I had one of those, "Oh God, how am I going to do this?" moments," says their tour producer.
"And, And I opened my big mouth in the meeting with The Rolling Stones where they go, "This is all great, but we're not going to be affiliated with Donald Trump. At all. Screw you." And I go, "I will control Donald Trump! Don't you worry!"
People who will flee America if Donald Trump wins

Show all 8
In the end, they negotiated the deal on the basis that Mr Trump would not be in any of the promotion except in Atlanta and would not make an appearance at the gig itself. But taming the property tycoon ended up being a good deal harder than Cohl had envisaged.
"The Stones had such power in those days that the 6:40pm slot on the national evening news was going to be an interview with the Stones," he recalls.
But once Cohl arrived in The Rolling Stones' press room, he was met with Mr Trump prepping to do a press conference in their room.
"I give him the [come here gesture]. "Come on, Donald, what are you doing? A) You promised us you wouldn't even be here and, B) you promised you would never do this," he says.
After several failed attempts to get him out, he says Keith Richards had enough. "They [the band] call me back, at which point Keith pulls out his knife and slams it on the table and says, "What the hell do I have you for? Do I have to go over there and fire him myself? One of us is leaving the building – either him, or us." I said, "No. I'll go do it. Don't you worry."'
Cohl then informed Mr Trump if he didn't go, the band would not perform. Angered by the furore, Mr Trump reportedly only stepped down and left the building after 40 of the band's crew showed up with "tire irons and hockey sticks and screwdrivers".
Donald Trump, Keith Richards and The Rolling Stones did not immediately return a request for comment.
Register for free to continue reading
Registration is a free and easy way to support our truly independent journalism
By registering, you will also enjoy limited access to Premium articles, exclusive newsletters, commenting, and virtual events with our leading journalists
Already have an account? sign in
Join our new commenting forum
Join thought-provoking conversations, follow other Independent readers and see their replies