Ron Moody: Actor who wrote and staged musicals of his own but will be forever remembered as Fagin in Lionel Bart's 'Oliver!'
Oliver! remained the highlight of Moody's career, partly because he was viewed by many as a comedian and was difficult to cast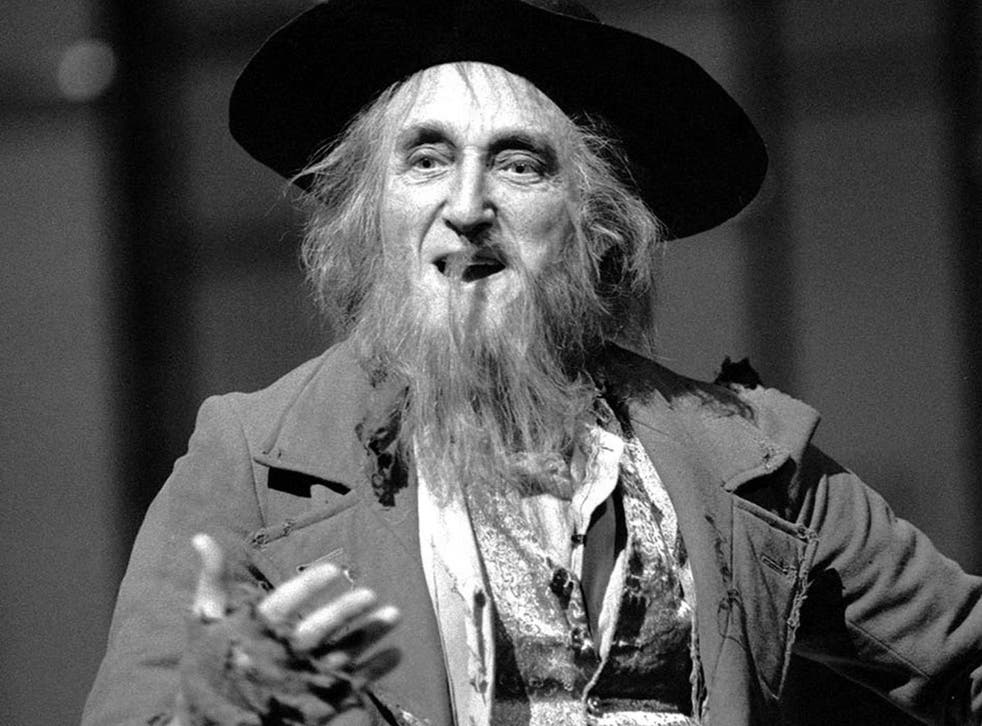 It was for his role as the slimy Fagin in the stage and film versions of Lionel Bart's musical Oliver! that Ron Moody will be best remembered. In what he described as "perhaps the only genuine English musical classic", the actor played Dickens' immortal character as an eccentric, making him more of a clown than a monster.
"I never wanted to do it," said Moody of the stage production. "They told me there was this musical of Oliver Twist, so I went to see the Alec Guinness film, which I found so antisemitic as to be unbearable. But Bart is as Jewish as I am and we both felt an obligation to get Fagin away from a viciously racial stereotype and instead make him what he really is – a crazy old Father Christmas gone wrong."
Oliver! remained the highlight of Moody's career, partly because he was viewed by many as a comedian and was difficult to cast. "I think I'm a straight actor who occasionally does musicals," he once said. "Most people think I'm an eccentric comedian."
He was born Ronald Moodnick into a lower-middle-class Anglo-Jewish family, in Hornsey, north London, in 1924; his father was a grocer who switched trades to become a master plasterer, becoming head of the plaster shop at Elstree film studios. It was there the teenager began his own career, after grammar school, as a wages clerk, taking the opportunity to see some of the great British stars of the day. Alastair Sim, Will Fyffe and George Formby were at the height of their popularity when the stage-struck teenager was making up excuses to leave his desk and trek round the studios.
But he did not enter acting himself until the age of 29, after five years as a sergeant current affairs instructor in the RAF's education section, posted to the Isle of Man, and taking a sociology degree at the LSE (1948-53). It was there that he first took to the stage, putting on an annual revue with fellow-students who included the writer Bernard Levin. He was spotted by another writer, Peter Myers, and the composer Ronnie Cass. The pair invited him to act in sketches they were writing for small London theatre clubs.
As a result, Moodnick – anglicising his name to Moody – made his professional debut in the revue Intimacy at Eight, at the New Lindsey Theatre in 1952, followed it More Intimacy at Eight (New Lindsey, 1953) and Intimacy at 8.30, which opened at the Criterion Theatre in 1954 and ran for more than 500 performances.
Even more successful was For Amusement Only (1956), with almost 700 shows at the Apollo and a memorable spoof of amateur operatics, "The Vagabond Student". Moody starred in his last revue, For Adults Only (Strand Theatre, 1958), which included his impersonation of Dylan Thomas, in "Over Milk Wood".
He made the transition to West End musicals, playing the Governor of Buenos Aires in Leonard Bernstein's Candide, which had been a hit in the US and transferred to the Saville Theatre (1959). Although it was a flop, Moody was asked to audition for the coveted role of Fagin in Lionel Bart's musical version of Oliver Twist. Bart walked out of the audition, saying he wanted a star, but Coe persuaded him that Moody was right for the part and Oliver! opened at the New Theatre, in June 1960 to universal acclaim.
Reinventing Fagin from David Lean's 1948 film version, Moody established his talent for playing idiosyncratic characters and Oliver! was a massive success, running for almost 10 years in the West End. But he left the production after its first year to concentrate on his own musical writing and take on more film roles.
His ambition to stage a musical about his hero, the 18th-century clown Joseph Grimaldi, was beset with problems. He played him in Joey for a Chistmas season at the Bristol Old Vic in 1962, then in The Great Grimaldi in Manchester. Realising that the show was in need of tweaking for the West End, Moody brought in Keith Waterhouse and Willis Hall, whose version was titled Joey, Joey (Saville Theatre, 1966), but it closed after a couple of weeks. Moody was devastated by the bad reviews.
His early film appearances had been unremarkable. He had made his debut back in 1957 in Davy, a disappointing Ealing vehicle for Harry Secombe, then acted in pictures such as Summer Holiday (1962) and The Sandwich Man (1966). "I used to be so embarrassed, I'd almost fall under the seat," said Moody about watching his performances. "I just didn't know what I was doing. I'd roll me eyes, move me face, terrible twitches and things."
But he found worldwide recognition in Carol Reed's film version of Oliver! (1968), which remains one of the most enduring screen musicals. It won him an Oscar nomination and a Golden Globe. Although Moody had not appeared in the stage production when it transferred to Broadway, he was to return to Fagin in 1973, starring in and directing a revival in Los Angeles and San Francisco. He went back to the role for a Christmas season (Aldwych, 1983) and a Broadway revival in 1984.
By then, he had distinguished himself on stage, as Polonius in Hamlet at the Bankside Globe Theatre, Captain Hook in Peter Pan at the London Palladium and the title role in Richard III in Canada (1978). He also wrote the musicals Saturnalia (1971), which he directed in Coventry, and The Showman (1976), in which he starred at the Theatre Royal, Stratford East, and performed his one-man show Move Along Sideways in London and on Broadway.
After Oliver! he took similarly outlandish parts on screen, including Uriah Heep in David Copperfield (1969) and a nobleman reduced to a filing clerk after the Russian Revolution in Mel Brooks' comedy The Twelve Chairs (1970), but he never achieved the success on screen that might have been expected. On TV he was often guest-starred as villains in series such as The Avengers, Starsky and Hutch, Hart To Hart, Murder, She Wrote, The Bill and Holby City.
After parting from his fiancée, the American actress Sarah Kennedy, in 1979, he wrote a bitter novel about life and love, Very, Very Slightly Imperfect (1983). He was also the author of My LSE (1979), The Devil You Don't (1980), Off the Cuff (1987, the year in which he married the dancer Therese Blackbourn) and The Amazon Box (1994).
ANTHONY HAYWARD
Ronald Moodnick (Ron Moody), actor and writer: born Hornsey, North London 8 January 1924; married 1987 Therese Blackbourn (six children); died 11 June 2015.
Register for free to continue reading
Registration is a free and easy way to support our truly independent journalism
By registering, you will also enjoy limited access to Premium articles, exclusive newsletters, commenting, and virtual events with our leading journalists
Already have an account? sign in
Register for free to continue reading
Registration is a free and easy way to support our truly independent journalism
By registering, you will also enjoy limited access to Premium articles, exclusive newsletters, commenting, and virtual events with our leading journalists
Already have an account? sign in
Join our new commenting forum
Join thought-provoking conversations, follow other Independent readers and see their replies