Royal baby born but Twitter is more interested in insulting Kay Burley and Nicholas Witchell
The television presenters have been inundated with hate-filled tweets
Lizzie Dearden
Saturday 02 May 2015 13:29 Comments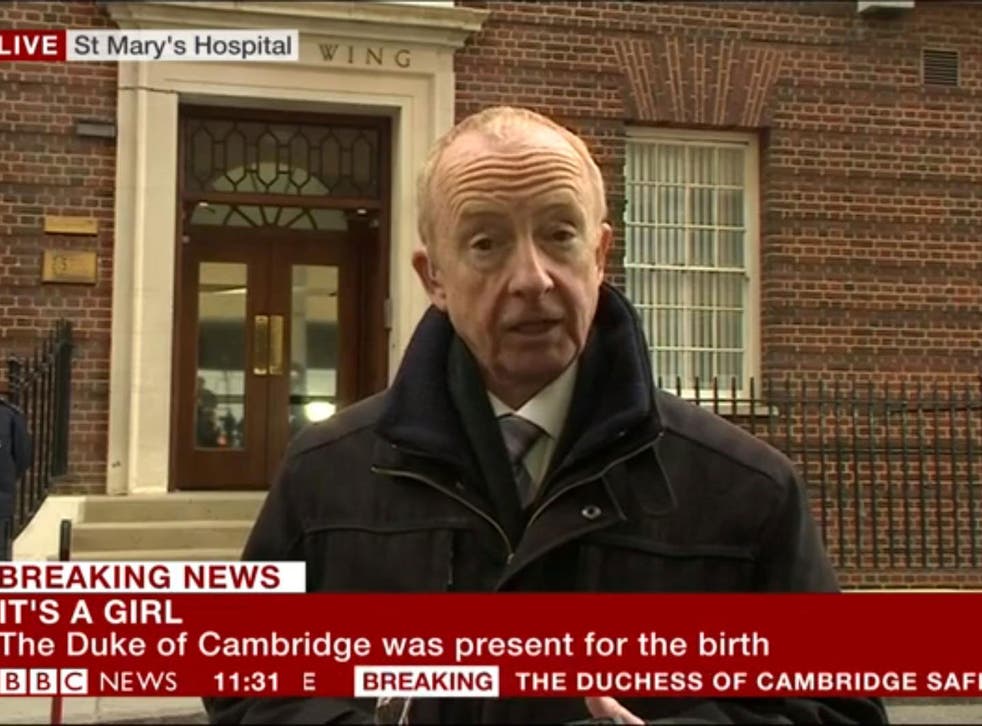 As wall-to-wall coverage of the royal birth continues, Twitter seems far more interested in commenting on commentators Nicholas Witchell and Kay Burley.
The veteran presenters are reporting for the BBC and Sky News outside St Mary's Hospital, where the Duchess of Cambridge had her second child earlier today.
Journalists and royal fans have been camped outside the Lindo Wing for weeks awaiting the birth, which was believed to be overdue.
Burley created a video of herself arriving shortly after 7am this morning, while Witchell has been a near-constant feature on the BBC News channel.
"We're having to fill the airtime while we await news of the birth later today," he said on Saturday morning.
Their efforts have not been appreciated by all viewers, with some republicans bemoaning the extent of royal baby coverage on Twitter.
Witchell, who has been trending on the social network, was called a "horrible parody of a journalist" and a "sycophant" by some viewers.
Prince Charles famously called the BBC royal correspondent "so awful" during an interview in 2005, adding: "I can't bear that man."
Burley was also in line for some vitriol, being dubbed a "disaster", although one national newspaper's website drew up a list of "three reasons we love the Queen of Royal Baby News".
"Shucks peeps," she tweeted in thanks.
Here are some of the not-so-nice comments...
Register for free to continue reading
Registration is a free and easy way to support our truly independent journalism
By registering, you will also enjoy limited access to Premium articles, exclusive newsletters, commenting, and virtual events with our leading journalists
Already have an account? sign in
Join our new commenting forum
Join thought-provoking conversations, follow other Independent readers and see their replies