Royal baby girl: Everything we know so far
When was she born, what did she weigh and what will her title be?
Heather Saul
Tuesday 05 May 2015 09:02 Comments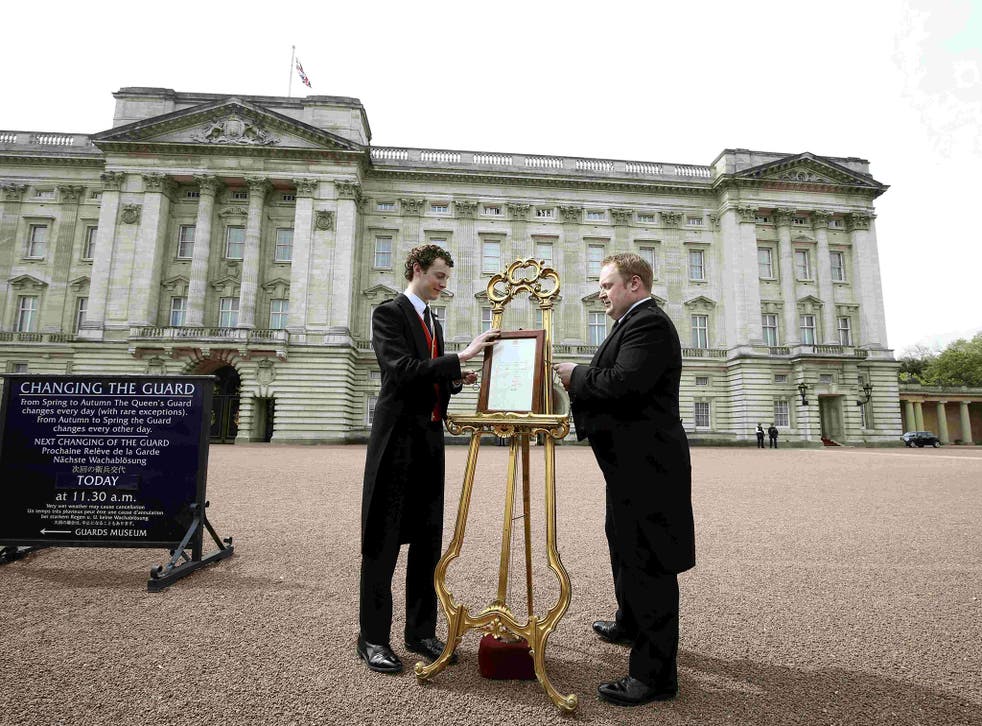 Kensington Palace announced the birth of a second royal baby on Saturday morning. The Duchess of Cambridge and her daughter are doing well, and Prince William was present for the birth.
Now that it's all over, here's everything you probably don't need to know about the latest addition to the royal family.
When was she born?
The Duchess was admitted to the private Lindo Wing of St Mary's hospital in London at 6am on Saturday. The 'spare heir' to the throne was delivered just a few hours later, at 8.34am.
The official proclamation announcing the birth has been erected on a golden easel at Buckingham Palace, in following with tradition. It was put up just after the Changing of the Guard.
On 22 July 2013, the Duchess went into hospital at around 6am and her first child, Prince George, arrived 10-and-a-half hours later at 4.24pm.
How much did the baby weigh?
Kensington Palace said the infant weighed a healthy 8lbs 3oz, just 3oz less than her brother.
What will she be called?
The Duke and Duchess are keeping any possible baby names under wraps at the minute, but bookies' odds show Charlotte and Alice as the favourite.
Why is she called the 'spare heir'?
Because she will be fourth-in-line to the throne, and therefore mostly free of the responsibility handed to future monarchs.
How much did the whole thing cost?
The cost of the birthing suite at St Mary's for a "normal" delivery is £5,913 with Kate's 10 per cent discount (a loyalty bonus for having her second baby on the same wing she delivered Prince George). The consultant will cost £6,000.
What will her title be?
The Duke and Duchess of Cambridge's daughter will be officially titled a princess thanks to an intervention by the Queen shortly before the birth of Prince George.
In later life, when William is king, the new Princess might have the honorary style the Princess Royal - which is currently used by Princess Anne.
Register for free to continue reading
Registration is a free and easy way to support our truly independent journalism
By registering, you will also enjoy limited access to Premium articles, exclusive newsletters, commenting, and virtual events with our leading journalists
Already have an account? sign in
Join our new commenting forum
Join thought-provoking conversations, follow other Independent readers and see their replies