Rupert Murdoch and Jerry Hall marry at private ceremony in London
The engagement was announced on the births, deaths and marriages section of the Times newspaper in January.
Ashley Cowburn
,
Caroline Mortimer
Friday 04 March 2016 15:41 Comments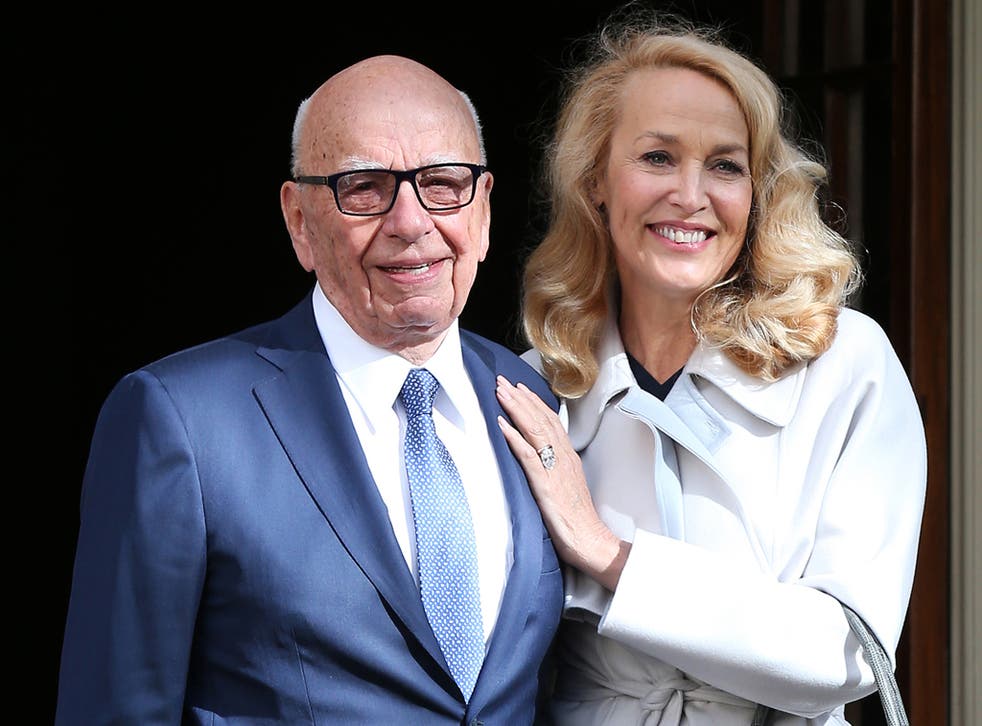 Media mogul Rupert Murdoch has married actress Jerry Hall at a private ceremony in London.
Mr Murdoch, whose company News UK publishes the Times and the Sun newspapers, and Miss Hall, an actress and former supermodel, married during a ceremony at Spencer House.
Fourth time lucky...
Yes, it is the 84-year-old's fourth marriage - having previously been married to Patricia Booker, a flight attendant; Anna Maria Torv, a Scottish journalist; and Wendi Deng, a Yale School of Management graduate.
Ms Hall, 59, was previously in a relationship with Sir Mick Jagger, with whom she attended an unofficial private marriage ceremony in 1990.
Mr Murdoch's ended his marriage to Ms Deng - with home he has two daughters - in 2013.
A book published this month about Tony Blair, Broken Vows, suggests one cause of the Murdochs' break-up was that Tony Blair stayed overnight at their California home when Ms Deng was there, but did not mention this when he met Mr Murdoch the next day.
The executive chairman of News Corporation revealed his engagement to the former supermodel on the births, deaths and marriages section of the Times newspaper in January.
The notice read: "Mr Rupert Murdoch, father of Prudence, Elisabeth, Lachlan, James, Grace and Chloe Murdoch, and Miss Jerry Hall, mother of Elizabeth, James, Georgia and Gabriel Jagger, are delighted to announce their engagement."
Speaking at the time, a spokesman said they were "thrilled to be getting married and excited about their future".
Where was the wedding?
The private ceremony was held at Spencer House in London, the venue is described on its website as "one of the most sumptuous private residences ever built" in the capital.
It is said to be London's finest surviving 18th-century town house and was originally built by the first Earl Spencer - who is an ancestor of Diana, Princess of Wales.
And the party?
The newlyweds will hold a private ceremony of celebration on Saturday at St Bride's Church on Fleet Street, which proclaims itself the "spiritual home of the media". The church, which has space for 150 to 200 guests, will be closed to the public for the day.
Mr Murdoch famously killed off the historic link between Fleet Street and the newspaper industry in the 1980s when he moved the printing presses to Wapping in east London.
St Bride's history reads: "On January 24 1986, some 6,000 newspaper workers went on strike after the breakdown of negotiations with Rupert Murdoch's News International, parent of Times Newspapers and News Group Newspapers.
How Cameron cosied up to Murdoch & Son

Show all 7
"They were unaware that Murdoch had built and clandestinely equipped a new-technology printing plant in Wapping. When they struck, he moved his operation overnight.
"Within months the printing dinosaur that was Fleet Street was dead. By 1989 all the national newspapers had decamped as other proprietors followed Murdoch's lead."
So who's invited?
Rebekhah Brooks, the current chief executive of News UK, who was at the centre of the phone hacking scandal which led to the closure of the News of the World.
She was later put on trial on four counts of conspiracy to hack phones but was cleared of all charges in June 2014.
Other guests include Ms Hall's long time friend and former BBC creative director Alan Yentob.
There has also been speculation that Mayor of London and Murdoch champion Boris Johnson and Justice Secretary Michael Gove may have attend, the Guardian reports.
And who isn't?
Tony Blair, for one, who fell out with Mr Murdoch over the allegations he spent the night with Ms Deng. Mr Blair is the godfather to Mr Murdoch's daughter Grace but it looks like the rift has not healed.
Prime Minister David Cameron also did not attend - despite receiving embarassing attention during the phone hacking trial over his close relationship with several high ranking News Internationl executives.
He was forced to admit to being a member of the "Chipping Norton set" alongside Ms Brooks and was left red in the face after appointing another former News of the World editor Andy Coulson as his Director of Communications in 2010.
Coluson resigned in 2011 and was later sentenced to 18 months in prison after being found guilty of conspiracy to hack phones.
Australian-born Mr Murdoch, who now has US nationality, is regarded as one of the most powerful figures in the world's media
According to the Forbes rich list, Mr Murdoch is reported to be worth $13.9 billion and appears at the 77th richest person on the planet.
Ms Hall, by comparison, is worth a relatively meagre $15m.
Between them the couple now have ten children.
Additional reporting by Press Association
Register for free to continue reading
Registration is a free and easy way to support our truly independent journalism
By registering, you will also enjoy limited access to Premium articles, exclusive newsletters, commenting, and virtual events with our leading journalists
Already have an account? sign in
Join our new commenting forum
Join thought-provoking conversations, follow other Independent readers and see their replies