Rush Limbaugh advises bakery owners who disapprove of homosexuality to blame 'fear of a Muslim backlash' for refusing gay wedding cakes
The outspoken radio-host told listeners: 'Don't say anything about "it's your religion that prevents you from doing it".  Say it's Islam'
Heather Saul
Wednesday 13 May 2015 11:47 Comments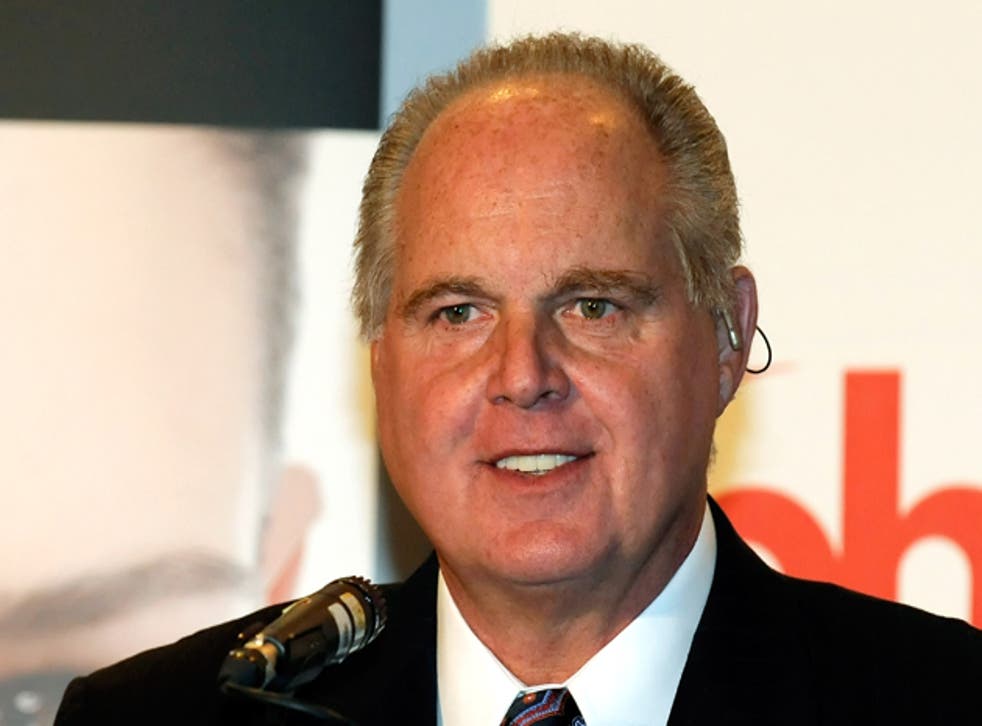 The conservative radio host Rush Limbaugh has provoked outrage by suggesting bakeries who want to refuse gay wedding cake orders cite fears of a "Muslim backlash" or claim "respect of Islam" as a reason for declining to make them.
In a post for The Rush Limbaugh Show entitled, 'My Advice for the Next Time You're Asked to Bake a Gay Wedding Cake', Limbaugh contented that gay activists had been targeting bakeries and photography stores in a bid to prove their discrimination and bias.
His comments came almost a month after Christian bakers were fined $135,000 (£86,000) for refusing to bake a wedding cake for a gay couple.
Limbaugh claimed the media "will absolutely obey the demands of militant Islam" and refrain from publishing pictures of the Prophet Mohamed. However, he said the mainstream press will promote same-sex marriage and gay rights "all day long".
"Why, on the one hand, do we respect their wishes when it comes to cartoon renderings of the prophet Mohamed and ignore their wishes and ignore what they claim upsets them and angers them when it comes to gay marriage?" he asked.
Limbaugh told bakery owners who disagree with gay marriage on religious grounds to instead claim they could not bake their cake because of their "respect for Islam".
"Therefore I have an idea. I know that many of you out there run businesses that if a gay couple, a married gay couple came in and asked for your service, you would deny it on the basis that you disapprove, your religion does not sanction the approval of gay marriage.
"Instead of telling the gay couple that you refuse to bake the cake for their wedding because you disapprove of homosexuality, you should now say you are not going to bake a cake for the gay wedding because you fear Muslim backlash. Or, due to your respect of Islam, you cannot bake a cake for a gay wedding. See how that flies.
"Since the left is agreeing, a bunch of people on the left have gone on TV, 'I hate to say this, you know, Limbaugh's got a point. We do flaunt gay marriage at 'em, wow. Wow. That's a good point. I mean, we readily agree not to do the thing with the prophet and the pictures and the cartoons, but gay marriage, yeah, we're kind of in their face on that.'
"Well, just make a note. Any of you small business owners who think you're gonna get a visit from a gay couple asking you for your product or service at a gay wedding just say, "Nah, nah, nah, we refuse because of our respect of Islam. We can't."
Register for free to continue reading
Registration is a free and easy way to support our truly independent journalism
By registering, you will also enjoy limited access to Premium articles, exclusive newsletters, commenting, and virtual events with our leading journalists
Already have an account? sign in
Join our new commenting forum
Join thought-provoking conversations, follow other Independent readers and see their replies