Russell Brand joins Million Mask March in London as violence breaks out between police and protesters
Police had arrested 10 activists as of midnight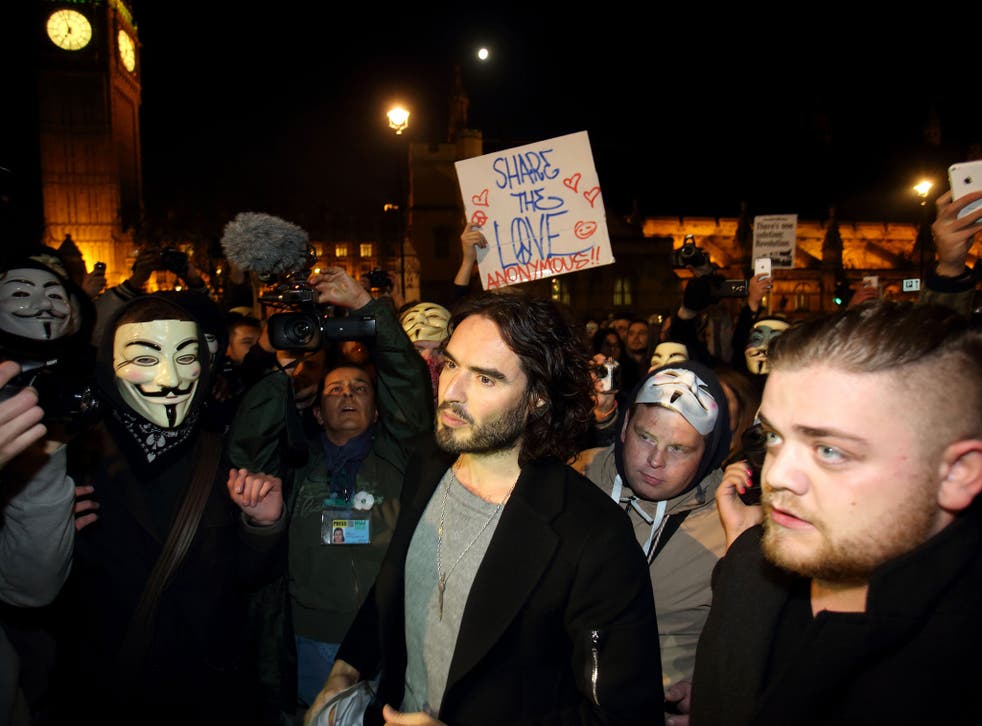 At least 10 people were arrested as Russell Brand joined protests in central London organised by the collective anti-capitalist group Anonymous to mark Guy Fawkes Night.
The majority, though not the comedian himself, wore the Guy Fawkes masks made famous in the film V for Vendetta, and which have become the symbol of the loose anarchist movement.
Violent clashes broke out between police and protesters after they assembled in Trafalgar Square before heading towards Parliament Square at 6.30pm on what had been dubbed the Million Mask March.
Police had obtained a Section 60AA order in advance of the event, allowing them powers to remove people's masks if they suspected a crime was going to be committed. They also issued a series of guidelines telling activists it was illegal to use fireworks in crowded public spaces and tried to contact protest organisers "without success".
In pictures: Million Mask March in London

Show all 12
There was a mixed reaction among protesters to the appearance of Brand in Parliament Square, where he was quickly surrounded by both marchers and the media.
He told the massed reporters that he wanted to see a "loving, peaceful protest", adding a message to activists: "Stay cool, stay cool. I think you should be careful. Don't get beaten up and arrested tonight."
But a number of Anonymous members, who pride themselves on being a collective without a single leader, questioned his role at the march. One told BuzzFeed News: "Why's he here? Shouldn't he be doing interviews with the BBC or something?"
Many protesters refused to be identified, and one who called himself "Old Holborn" appeared via video-link with Russia Today to explain that the march was about "freedom of choice and expression" and said the internet has "the power to bring down regimes".
"That is what terrifies them," he said. "That is why they are now monitor our phone calls, they monitor our emails, and they monitor our free speech. It terrifies them. They have no particular jurisdiction over the internet. It belongs to everyone."
Another activist, 36-year-old Steve Foster from Liverpool, was happy to make his voice heard.
"The inquiry into institutional paedophilia is probably the main reason (why I am here)", he said.
"I am actually a victim myself, though not institutionally, when I was a kid. I want to see a real inquiry and I want to see prosecutions and people jailed in the establishment, where we all know it is rife."
Asked about the nature of the protest, he said: "I think everyone wants it to go peacefully really, just a peaceful demonstration.
"More and more people have been turning up every year so hopefully it will keep growing and growing until there will be change. There is one solution, revolution."
A website designed to bring together Anonymous protesters in the UK said the march, which last year saw 15 arrests, would grow "leading up to 2016 when 5 November falls on a Saturday!".
"Next year we will have bigger banners, louder voices, more fireworks, more people and a louder sound system," it promised.
A Metropolitan Police spokesperson said that as of midnight 10 people had been detained, including three on suspicion of assaulting police officers, one of a firework offence, three for public order crimes and one of attempted GBH.
Register for free to continue reading
Registration is a free and easy way to support our truly independent journalism
By registering, you will also enjoy limited access to Premium articles, exclusive newsletters, commenting, and virtual events with our leading journalists
Already have an account? sign in