Russell Brand tells Oprah his addictions started as a child: 'I was very lonely and confused'
The comedian is interviewed by Oprah about how his drug and alcohol problems originated in his formative years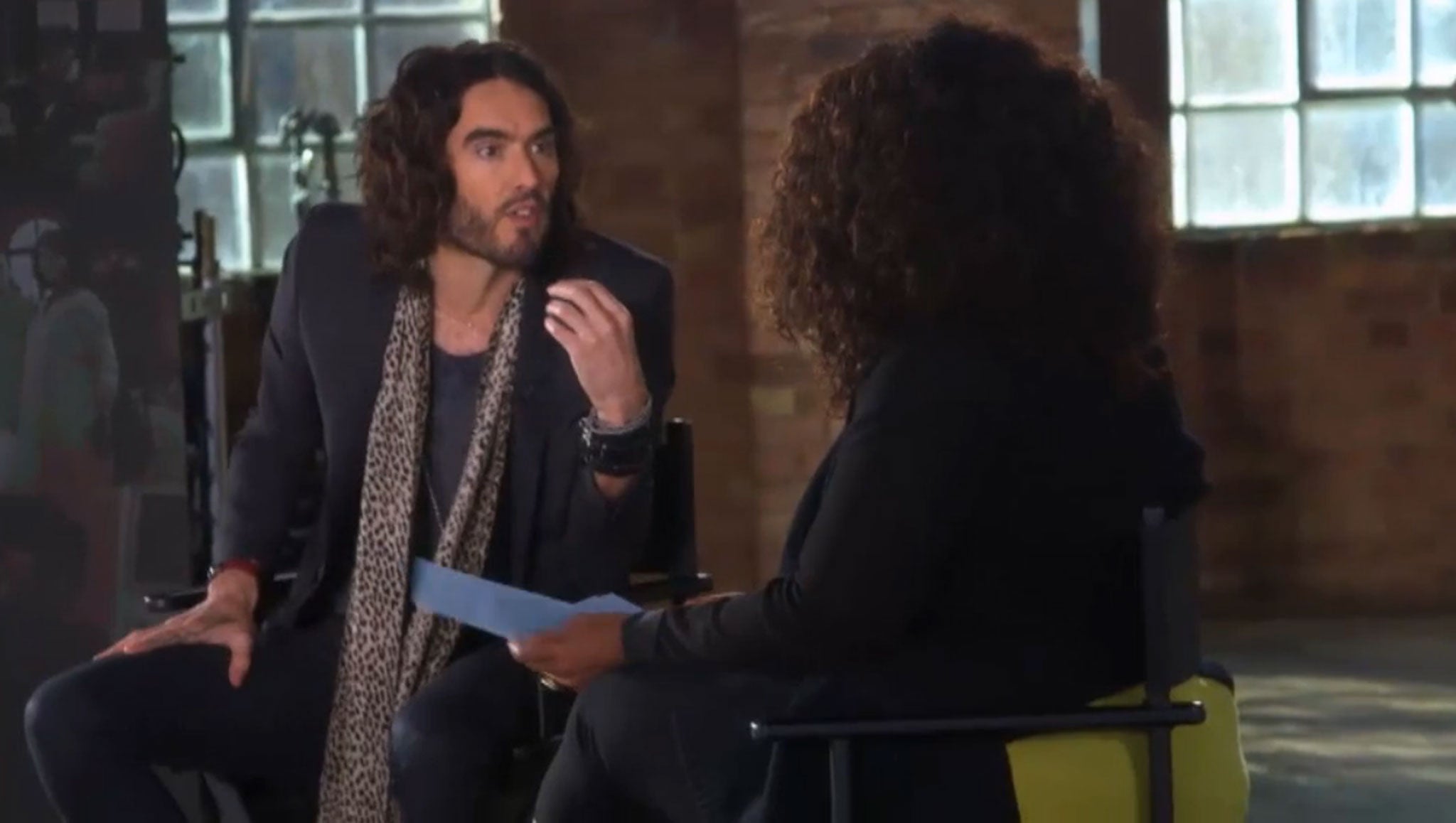 Brand told Oprah that his personal battle with drink and alcohol stemmed from childhood when he felt "unhappy, lonely and a bit sad".
In an interview with the American talk show host, he said that first he developed "problems with food" and used to eat chocolate "compulsively". Next he became "infatuated with pornography", before discovering drugs.
The show is part of Oprah's new television series, which premiered in the UK on TLC last night and continues every Thursday throughout May.
"I don't know if it's to do with my personal circumstance, a single mum and feeling like we didn't have a lot of money," he said. "I felt alienated and unhappy. For me, I couldn't cope with being me."
He attributes his drug and drink issues as a way of coping with "external things". He has been sober for 11 years.
"I look to solve inner problems with external things," he explained. "I'll use anything to stop myself feeling, and as a little kid I was very lonely and confused.
"Anything that could temporarily relieve that, I was very grateful for. When you take drugs out of the equation, those issues remain."
As the interview continued, he once again called for a change in how drug and alcohol addiction is addressed –specifically in relation to the death of Philip Seymour Hoffman.
The comedian was presented with a clip from 2006 in which Hoffman talks openly about his battle with drugs and why he decided to stop taking them. The 46-year-old actor died on February 2, after a drug overdose.
"What's interesting is that when you see Philip Seymour Hoffman there he looks so together, so cool, like a person whose put it behind him," said Brand.
"But what I noticed is that when they talk about drugs, his eyes lit up. He still remembers it, it's still got him. He's still got a connection to it. So it's not just this negative, destructive thing, there's part of you that thinks, 'That worked, that worked for a while.'"
He reaffirmed his belief that addiction is a medical condition and must be treated as such, especially in explaining the unexpected death of Hoffman – who had been sober for 23 years before his fatal relapse this year.
The Truman Capote star is just one high-profile name to have lost his life to drug issues this year – yesterday an inquest heard that heroin was likely to have contributed to the death of 25-year-old Peaches Geldof, who died on 7 April.
"The reason I can't have drugs or drink today is because I know that I can't manage it," Brand continued. "As a drug addict, you have to accept that you can never have drink or drugs again.
"If anything positive can come of the death of Philip Seymour, it's that. His death doesn't make sense unless you accept that addiction is an illness. It doesn't make sense any other way. Otherwise, you think 'hang on a minute why he'd do that?'"
Brand has voiced his views on Hoffman's untimely death before in February – describing his passing as "inevitable". He has previously pleaded to the United Nations and to the British government to change prohibitive drug laws, which he believes only lead to "death, suffering and crime".
"Addiction is a mental illness around which there is a great deal of confusion, which is hugely exacerbated by the laws that criminalise drug addicts," he wrote.
"If drugs are illegal people who use drugs are criminals. We have set our moral compass on this erroneous premise, and we have strayed so far off course that the landscape we now inhabit provides us with no solutions and greatly increases the problem."
Join our commenting forum
Join thought-provoking conversations, follow other Independent readers and see their replies