Russell Brand threatens to sue The Sun for calling him a 'hypocrite' over Hoxton rent claims
Brand, the article goes on to claim, has been vocal about the importance of the government cracking down on tax-avoiding firms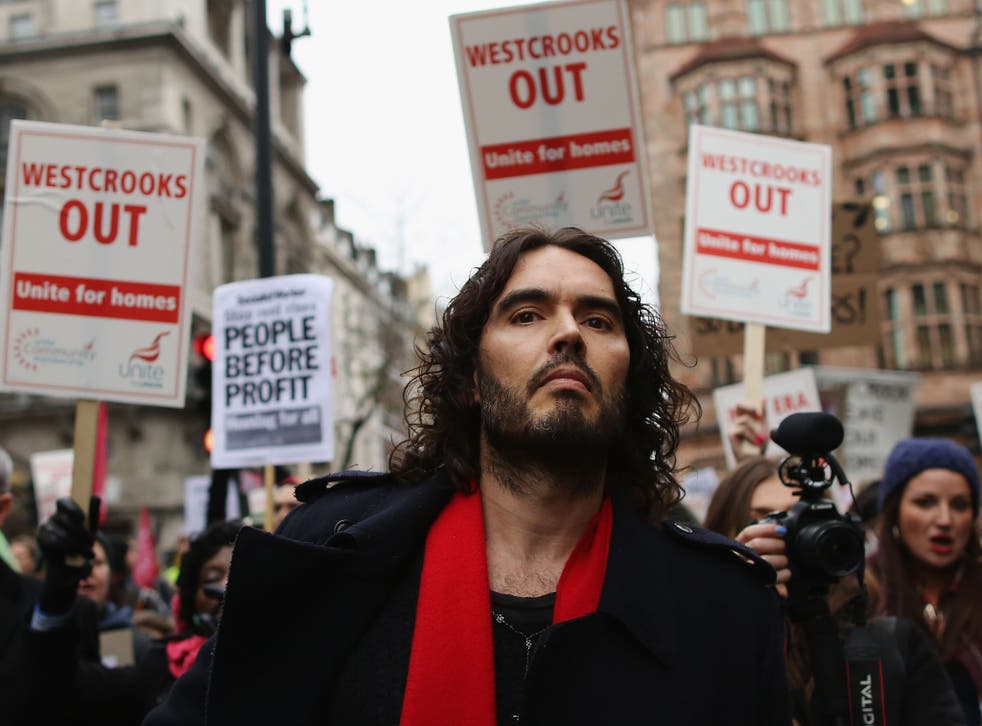 Months after he won substantial damages from The Sun for a false report that alleged he had been unfaithful to then-girlfriend Jemima Khan, Russell Brand has stated his intentions to launch further legal action against the tabloid for labelling him a 'hypocrite'.
The Rupert Murdoch-owned publication splashed the comedian across its front page this morning, in an article that alleged he had been paying a substantial sum of rent for a luxury loft apartment in Hoxton to a company, who it claimed avoided tax by being based in the British Virgin Islands.
Brand, the article goes on to claim, has been "repeatedly" vocal about the importance of the government cracking down on tax-avoiding firms in the past.
It cites an extract from his new book Revolution, which reads: "If they don't pay tax, we'll reclaim their assets and give them to the people that work there."
The Sun is yet to respond to request for comment.
The tabloid's allegations come after Brand got into a heated row with Channel 4 News reporter Paraic O'Brien as he joined Hackney New Era protestors outside Downing Street on Monday.
The 400-strong group were demonstrating against the tripling of rent on a Hoxton estate due to a planned development currently threatening 93 families with eviction.
Brand intended to present a petition signed by 294,000 aiming to stop new construction work.
O'Brien suggested that part of the reason why housing prices were rising beyond the affordable level in London was that the super-rich were buying up all the property in central areas for extortionate amounts.
Russell Brand's Most Controversial Quips

Show all 19
He then asked Brand: "How much did you pay for your place?"
"It's rented," Brand retorted. "I'm not here to talk about my rent, mate."
The conversation quickly became heated, until a protestor spoke to camera.
"At least Russell Brand is standing up regardless of how big his house is," she said. "David Cameron isn't prepared to come out of his big house and help us, but Russell Brand has."
"Snides like you undermine it," Brand concluded, pointing at the reporter. "You're a snide."
Brand later likened the debate to a "row at a jumble sale" in an episode of his satirical YouTube show, The Trews.
"I shouldn't be allowed on television," he said. "I'm so easily wound up. What does it matter to me, what have I got to lose, just from this one bloke?
"But I'm a volatile person.
"When you talk to a journalist I sort of think it's a combination of boring and really annoying, and my personality type is not well suited to that kind of environment."
Register for free to continue reading
Registration is a free and easy way to support our truly independent journalism
By registering, you will also enjoy limited access to Premium articles, exclusive newsletters, commenting, and virtual events with our leading journalists
Already have an account? sign in
Register for free to continue reading
Registration is a free and easy way to support our truly independent journalism
By registering, you will also enjoy limited access to Premium articles, exclusive newsletters, commenting, and virtual events with our leading journalists
Already have an account? sign in
Join our new commenting forum
Join thought-provoking conversations, follow other Independent readers and see their replies