Russian Senator Vitaly Milonov threatens to shut down LGBT club as a 'joke' in retaliation for lesbian kiss selfie
The man behind the creation of Russia's anti-gay laws also said they were 'mentally ill'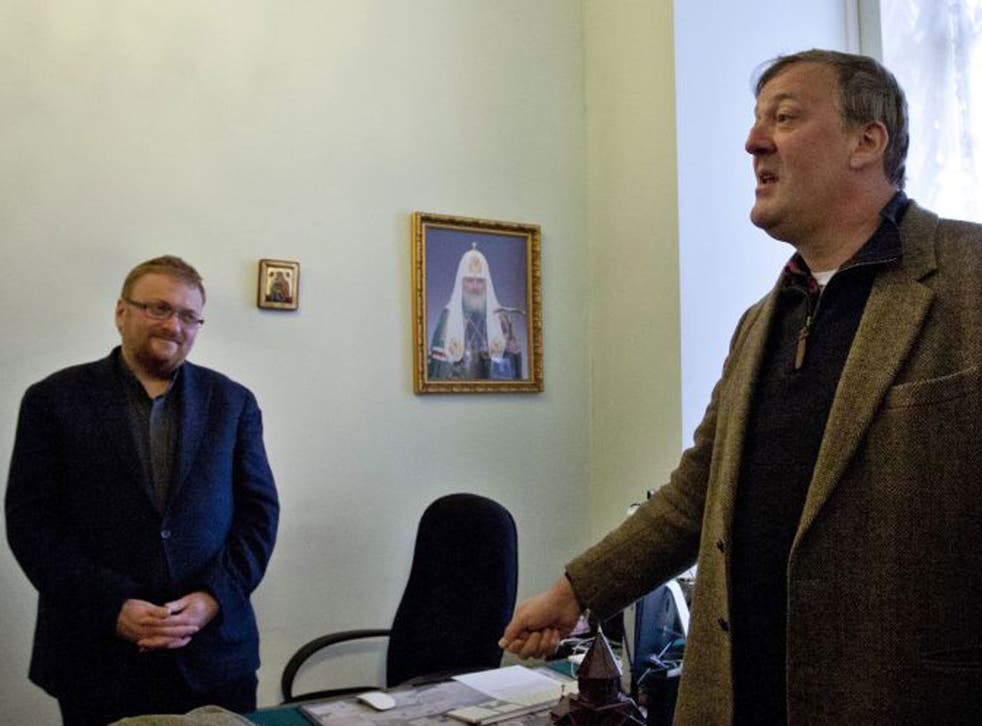 Senator Vitaly Milonov, the architect of Russia's anti-gay laws, has threatened to exact revenge on the lesbian pair who captured him in the background of a kiss selfie by shutting down a gay club "as a joke".
Speaking about the image, which emerged on Facebook earlier this week, the notoriously homophobic politician said: "This shows that these people are not of a normal sexual orientation, but that their sexual deviance shows in all aspects of their lives. I didn't understand what they are doing but they have a nice sense of humor.
"I also have a good sense of humor. I will perhaps continue this joke by closing their gay club in St. Petersburg, or ban them from having meetings in public places, that's also a funny step."
The kiss was thought to have been staged as a protest against legislation Milonov is currently working on that would ban transgender marriages in Russia.
The A-list opposing Russia's anti-gay laws

Show all 15
His reaction comes after two people, Irina Shumilova and Alyona Fursova, legally wed in dresses in St. Petersberg last month. The marriage was allowed because according to passport information, one of them is technically a man.
Speaking to CNN, Milonov called those who allowed the wedding to happen were "psychologically sick" and he said the happy couple should be committed to a "mental asylum".
Register for free to continue reading
Registration is a free and easy way to support our truly independent journalism
By registering, you will also enjoy limited access to Premium articles, exclusive newsletters, commenting, and virtual events with our leading journalists
Already have an account? sign in
Register for free to continue reading
Registration is a free and easy way to support our truly independent journalism
By registering, you will also enjoy limited access to Premium articles, exclusive newsletters, commenting, and virtual events with our leading journalists
Already have an account? sign in
Join our new commenting forum
Join thought-provoking conversations, follow other Independent readers and see their replies