Ryan Lochte becomes tearful during Rio 'robbery' story apology: 'I was intoxicated, I was immature'
The US swimmer says he acted immaturely and he made a 'stupid mistake'
Maya Oppenheim
Sunday 21 August 2016 16:59 Comments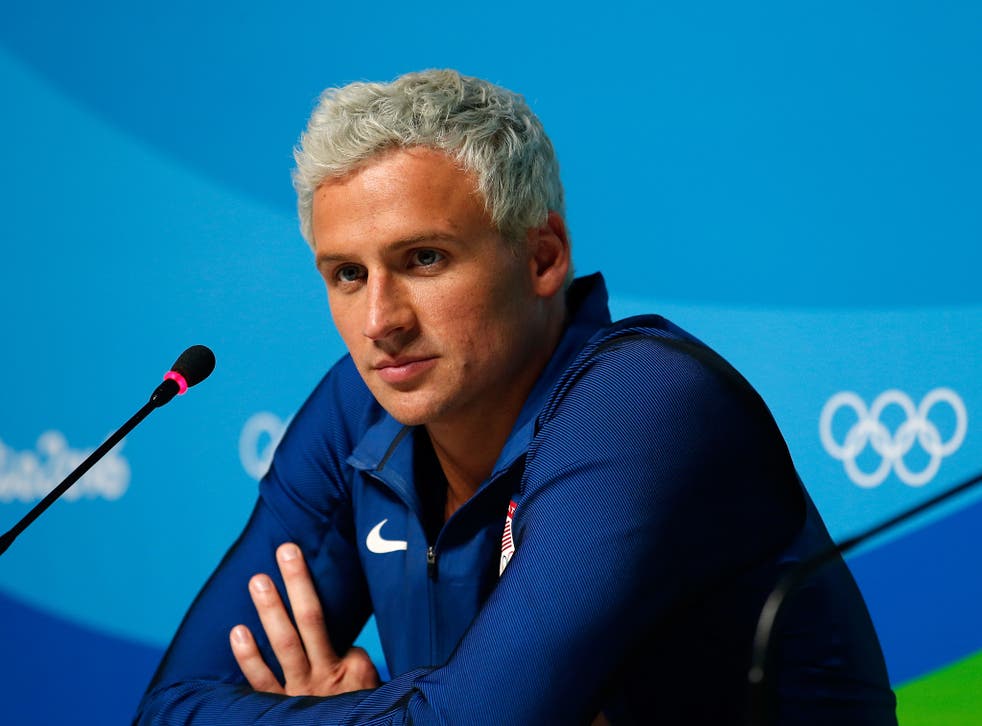 Ryan Lochte has issued a tearful apology and explained he made a "stupid mistake" at a petrol station in Rio because he was "intoxicated".
Appearing on CBS on Saturday in his first televised interview since the incident, the US swimmer said he "over-exaggerated" a story about being robbed at gunpoint in Rio de Janeiro.
The six-time gold medalist claimed he and a group of three other US swimmers had been robbed at a petrol station but CCTV footage contradicted that story and revealed the group had in fact vandalised the petrol station.
In the interview, Lochte said he acted immaturely and and was taking full responsibility for his actions.
"I left details out, and that's why I'm in this mess," Lochte said. "I left certain things out and I over-exaggerated some parts of the story".
When probed about why he didn't initially tell the truth, Lochte said: "I don't know why. It was still hours after the incident happened. I was still intoxicated."
Rio 2016 Olympics - in pictures

Show all 74
"I'm not making an excuse, I'm not doing that at all, it was my fault and I shouldn't have said that. I over-exaggerated that part, and the gun was drawn but not at my forehead. It was towards my general direction as you can see in the surveillance video."
Lochte became tearful as he apologised to the people of Brazil and his fellow teammates.
"I was intoxicated," Lochte said. "I was immature, and I made a stupid mistake. I'm human, and I'm just really sorry."
"I don't want them to look at me, he was a drunk frat boy or anything like that," he later added. "I want to be a role model for little kids and I know that I can change that".
When pressed about Rio police depicting him as a "vandal" vs. a victim, Lochte said: "It's how you wanna make it look like. Whether you call it a robbery or extortion or us paying just for the damages. All we know was there was a gun pointed in our direction and we were demanded to give money."
Last Sunday, Lochte's mother said her son had been robbed at gunpoint during a night out in Rio alongside his fellow swimmers. Lochte then confirmed the story to NBC later that day and claimed a robber who had pretended to be a police officer put a gun to his forehead and demanded money.
But after Brazilian police obtained CCTV footage and interviewed witnesses, the found no hold-up had taken place. Instead, they discovered the swimmers had vandalised a restroom at the petrol station and had then been confronted by security guards, who took out their weapons and told them to pay for the damage before leaving the station.
Lochte previously apologised for his actions in an Instagram post on Friday.
Register for free to continue reading
Registration is a free and easy way to support our truly independent journalism
By registering, you will also enjoy limited access to Premium articles, exclusive newsletters, commenting, and virtual events with our leading journalists
Already have an account? sign in
Join our new commenting forum
Join thought-provoking conversations, follow other Independent readers and see their replies