Sarah Palin insists god intervened in the US election and helped Donald Trump win
'Divine providence played a huge role in this election. I will boldly proclaim that. I saw it first-hand. I was there on the campaign trail,' says the Republican politician
Maya Oppenheim
Wednesday 30 November 2016 13:40 Comments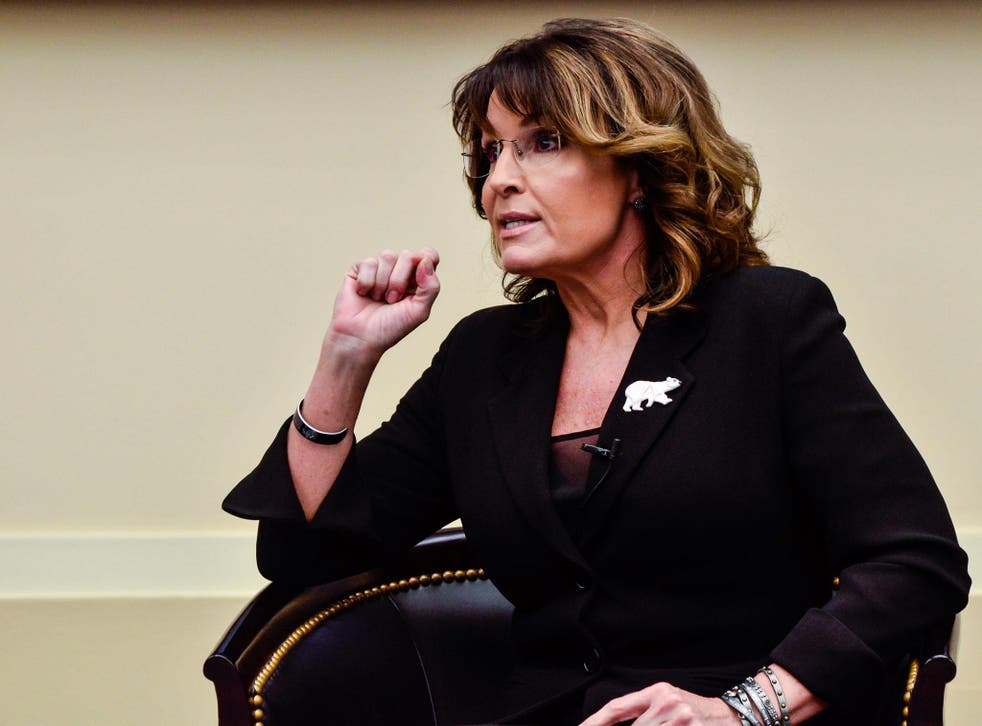 Sarah Palin has insisted God intervened in the US election and Donald Trump's victory was partially prompted by people praying to God that US citizens would "wake up".
Ms Palin, who was one of the first well-known Republicans to endorse the billionaire tycoon, said she saw the role "divine providence" had played while she was out on the campaign trail.
The former Alaskan Governor said people were desperate for a change after descending down "the wrong road".
When pressed about whether she thought divine providence had a role to play in Mr Trump's shock victory in an interview, she claimed she had seen it "first-hand".
President Donald Trump life in pictures

Show all 16
"No doubt, divine providence played a huge role in this election," she told listeners on Breitbart News Daily's radio show. "I will boldly proclaim that. I saw it first-hand. I was there on the campaign trail. I saw how things were changing."
"I saw more and more people's eyes open, and I think so much of that was based on the church in general, those people of faith who were praying to God that people would wake up."
"Remember, our Founders dedicated this land, this new country that would be America, this idea of America, dedicated it to God. If I were President, I'd re-dedicate us to God"
"Prayer warriors across the country, people who perhaps had never expressed their faith in a higher being before, knew that Jeez, we got to be on our knees asking for a change here, because we're going down the wrong road," she later added. "I was so grateful to see so many people step up in that realm".
This is by no means the first time Ms Palin, who has previously called herself a "Bible-believing Christian", has suggested god has a role to play in presidential election outcomes. When she was the Republican nominee for Vice President back in 2008 she said she was confident God would do "the right thing for America" and John Cain would beat Barack Obama. In this case her prognosis was, of course, wrong and Mr Obama became the first African-American President.
"We found our revolutionary Donald Trump, he's our messenger. Donald Trump heard the voice of the people and allowed the people to expose what needed exposing," Ms Palin also said on the Breitbart News show.
Breitbart News, an unashamedly pro-Trump site, has been described as a "the platform for the alt-right" by Steve Bannon - the outlet's former executive chairman who is now Mr Trump's chief White House strategist. The alt-right political movement has been accused of racism, anti-Semitism and misogyny and of sharing an ideology with far-right parties such as the French National Front.
Ms Palin rose to prominence among Tea Party Republicans when she ran on McCain's presidential ticket. After her resignation from the Alaska governorship in 2009, the Republican nominee, who is resolutely pro-life, has tried her hand as a political commentator on Fox News and had her own reality TV show.
After she officially endorsed Mr Trump in January of last year, she declared Mr Trump was the man to "kick Isis's ass" with "no pussy footing around".
Register for free to continue reading
Registration is a free and easy way to support our truly independent journalism
By registering, you will also enjoy limited access to Premium articles, exclusive newsletters, commenting, and virtual events with our leading journalists
Already have an account? sign in
Join our new commenting forum
Join thought-provoking conversations, follow other Independent readers and see their replies