The Independent's journalism is supported by our readers. When you purchase through links on our site, we may earn commission.
Sarah Palin responds to PETA's criticism over photo of son standing on the dog: 'Chill, at least Trig didn't eat it'
The conservative commentator accused the animal rights charity of hypocrisy
Daisy Wyatt
Sunday 04 January 2015 14:41 Comments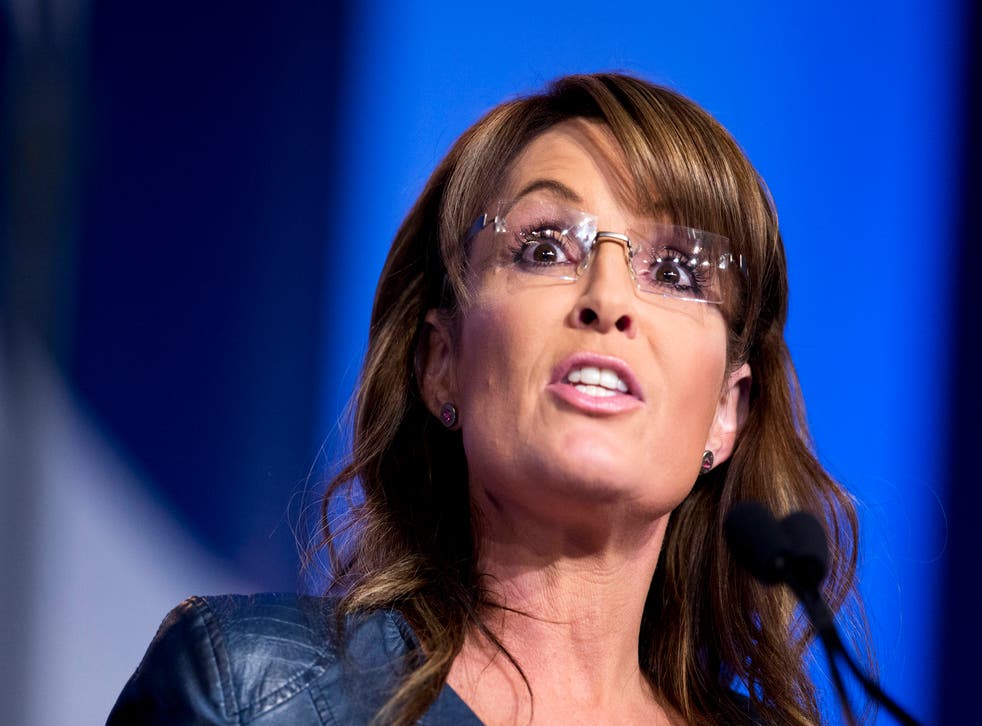 Sarah Palin has given Peta a resolute response after being criticised for posting a photograph of her six-year-old son standing on her family's dog on Facebook.
"Dear Peta, Chill. At least Trig didn't eat the dog", the former Governor of Alaska said in an open letter to the animal welfare organisation.
Palin posted a photograph of her son Trig, who has Down's Syndrome, stepping on the dog as a New Year's message of good will to her fans.
"May 2015 see every stumbling block turned into a stepping stone on the path forward. Trig just reminded me. He, determined to help wash dishes with an oblivious mama not acknowledging his signs for 'up!', found me and a lazy dog blocking his way. He has made his stepping stone."
In a statement released on Friday, Peta said Palin had "no apparent sympathy for the dog in the photo".
It continued: "Then again, Peta, along with everyone else, is used to the hard-hearted, seeming obliviousness of this bizarrely callous woman, who actually thought it appropriate to be filmed while turkeys were being slaughtered right behind her in full view of the camera."
Palin has responded to Peta's statement by accusing the animal rights group of hypocrisy, pointing to a similar photograph posted by Ellen DeGeneres, named Peta's person of the year in 2009, which shows a child standing on a dog to reach the sink.
She also asked whether the organisation "went crazy" when Barack Obama revealed he had "actually enjoyed eating dead dog meat".
In a statement on her Facebook page, she said: "Aren't you the same anti-beef screamers blogging hate from your comfy leather office chairs, wrapped up in your fashionable leather belts above your kickin' new leather pumps you bought because your celebrity idols (who sport fur and crocodile purses) grinned in a tabloid wearing the exact same Louboutins?"
Palin added that all her pets, including the dog in the picture named Jill Hadassah, "are loved, spoiled and cared for more than some people care for their fellow man".
Ingrid Newkirk, Peta president, said in a statement published on the Washington Post that the organisation is vegan and employees did not sit in leather chairs.
"Palin's Facebook response shows us that she knows Peta about as well as she knows geography," Newkirk said.
But she added that Peta believed the Palins were competent pet carers.
"We have no reason to believe that the Palin companion animals aren't ordinarily pampered, and we wish the entire family a peaceful and humane 2015."
Register for free to continue reading
Registration is a free and easy way to support our truly independent journalism
By registering, you will also enjoy limited access to Premium articles, exclusive newsletters, commenting, and virtual events with our leading journalists
Already have an account? sign in
Register for free to continue reading
Registration is a free and easy way to support our truly independent journalism
By registering, you will also enjoy limited access to Premium articles, exclusive newsletters, commenting, and virtual events with our leading journalists
Already have an account? sign in
Join our new commenting forum
Join thought-provoking conversations, follow other Independent readers and see their replies