Serena Williams hits back at critics of her Sports Illustrated cover
The latest cover of the magazine caused a stir, with one critic saying Ms Williams looked like 'a hooker'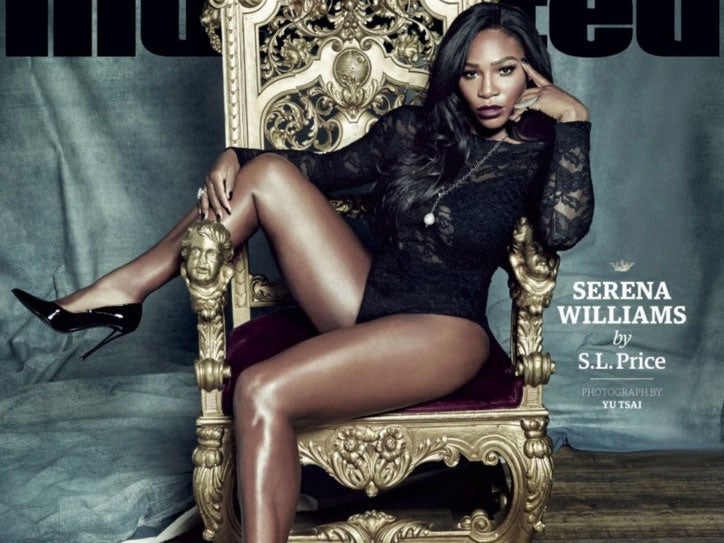 Serena Williams is used to winning on the court, but when it comes to her public image in the media, her battles are tougher. Just look at what happened when she won Sports Illustrated's "Sportsperson of the Year" award and showed off her legs on the corresponding cover this week.
One conservative blogger declared the athlete looked like "a hooker" and "just took feminism back a generation." Another said the star was "looking like she wants one thing, and it's not a chat with the line judge." Chicago Sun-Times columnist Rick Morrissey flatly continues: This image "doesn't help female athletes."
Some feminists, however, are coming to Williams's defense — and not just because Williams, who won three Grand Slam tournaments this year, became the first solo female athlete to win the award. (Previous female winners, including Billie Jean King, Mary Lou Retton and skater Bonnie Blair all co-won the award with men and the last female winners, the 1999 U.S. women's national soccer team, won as a group.) Feminists are praising the 34-year-old's cover look — in a pose Williams chose herself.
"The day of the quiet, unassuming woman — it's over with," Feminist Majority Foundation President Eleanor Smeal told The Washington Post this week. "I don't think that [the cover] depicts a sex object. She's flaunting her power."
Dressed in a lace leotard, draped over a gold throne, Williams resembles a queen — strong, powerful and feminine at once, which is exactly what the 21-time Grand Slam champion was going for, according to Sports Illustrated.
"I liked the idea of the throne," Williams told USA Today Sports on Tuesday at the awards ceremony in New York. "I said, 'Listen, this needs to be something that no one forgets, something iconic! I wanted it to be really special … really Serena.' When we went with that, I loved it."
This fact, too — that Williams chose the cover image — should not be underestimated, said Smeal.
"I personally think that when we can be ourselves, you'll know that women have power," she said.
Five best tennis moments
Show all 5
Others agree, noting that women who use their sex appeal to gain or elicit power is actually one of feminism's ultimate triumphs.
"Why not champion femininity rather than abolish it?" asks Catherine Hakim, author of the book "Erotic Capital," in the introduction to her 2010 work.
Hakim points to traditional Puritanical values and what she calls the "male sexual deficit," or the inability for men to use sex appeal to the extent women are able to, as two reasons why women are often panned when they choose to flaunt their femininity as a means of gaining power.
In other words, the outfit and pose Williams chose to strike on the Sports Illustrated cover is basically freaking out those folks.
Then again, almost anything Williams does tends to freak out her critics. Now criticized for being too womanly, it wasn't long ago that Williams was panned for being too masculine — a notion that didn't sit well with "Harry Potter" author J.K. Rowling.
Williams has admitted all the criticism used to make her want to hide herself.
"But then I realized that you really have to learn to accept who you are and love who you are," she told the New York Times in July. "I'm really happy with my body type, and I'm really proud of it. Obviously it works out for me. I talk about it all the time, how it was uncomfortable for someone like me to be in my body."
Some have complained Williams's legs look photoshopped on the Sports Illustrated cover. Williams has not commented on those complaints, but even if her legs were altered slightly, Williams has shown that she's not afraid to show off her figure without the aid of editing tools on several occasions.
This summer, Williams snagged headlines for the gown she wore to the Wimbledon awards banquet. And just earlier this month, she posed in only bikini bottoms for this year's Pirelli calendar, which ditched its bevy of models to instead profile a wider variety of women, as photographed by Annie Leibovitz.
To Smeal, whose organization is connected with the popular feminist tome Ms., Williams's confidence in her body doesn't make the athlete a negative force for feminism or even women's sports, but quite the opposite.
"I think it's important that women flaunt it occasionally," Smeal said. "Even if this is controversial, I think that it helps. It attracts attention … Anytime you see a breakthrough, it encourages other women, it encourages girls that they can do it, too."
Copyright: Washington Post
Join our commenting forum
Join thought-provoking conversations, follow other Independent readers and see their replies