Shia LaBeouf 'punches man in the face' during Oxford lift art stunt
The man asked Hollywood actor LeBeouf to hit him to 'complete' his performance artwork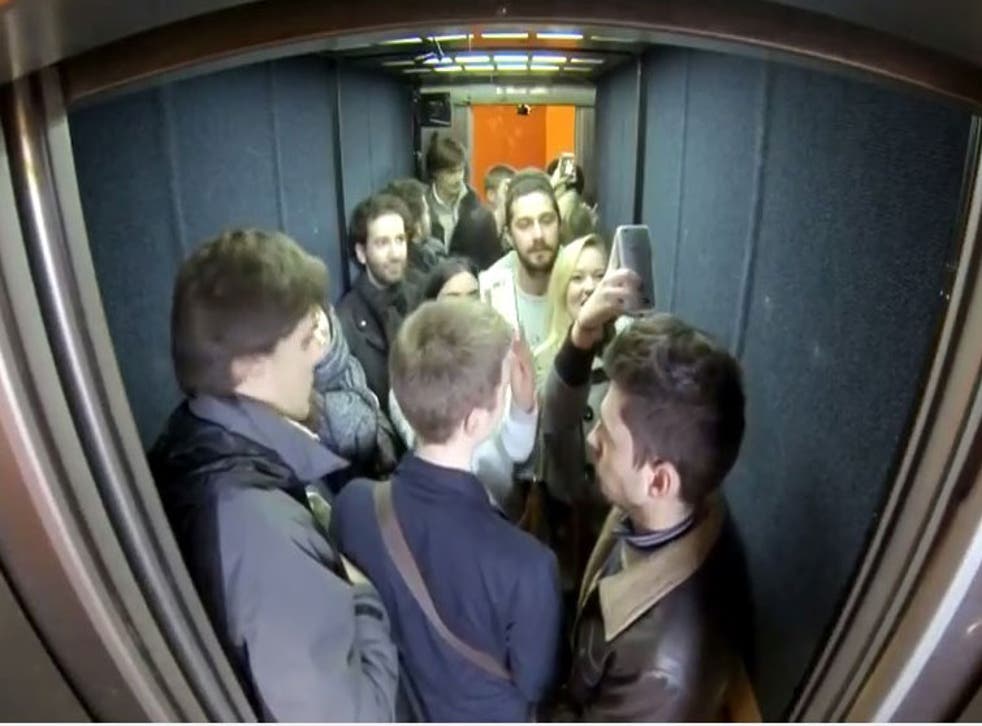 Shia LaBeouf appeared to punch a man during his 24-hour occupation of an Oxford lift as part of a performance artwork.
The 29-year-old actor was asked by the man, another performance artist whose identity is not known, to punch him.
During his 24 hours inside the lift of an Oxford language school, LaBeouf left only to go to the bathroom and to give a talk at Oxford University's debating society the Oxford Union. He returned to the lift after the event.
The art performance, called #ELEVATE, was streamed live on Youtube to avoid it being "elitist", LaBeouf said. Occupants of the lift were visible on camera only as the doors opened when the lift reached a floor, but audio was streamed throughout.
"I'm a performance artist", the man asked LaBeouf. "Can you help me with completion of my next piece by punching me in the face?"
"Oh man - you want me to punch you in the face?", the actor asked.
"I don't want to punch you very hard. I don't like doing it to you dude. I just met you."
"He's going to enjoy it", said another occupant of the lift.
Encouraged by the man, LaBeouf apparently gave him an audible slap.
Only audio of the incident was recorded, as the lift was in transit, but the man can be seen shaking hands with LaBeouf as he exited the lift after the encounter.
Students queued for several hours to join LaBeouf and his artistic collaborators Nastja Ronkko and Luke Turner in the lift.
The Oxford Union said ahead of the event that "visitors will be able to join LaBeouf, Ronkko and Turner inside the elevator…and are invited to address the artists, the debating chamber, and the internet, so that their collective voices may form an extended, expansive and egalitarian Oxford Union address."
LaBeouf was invited to the Oxford Union after he met its president Stuart Webber during a previous performance in a Liverpool art gallery, according to the BBC.
"Stuart the president said: 'Do you want to stand in the same spot as Malcolm X?'", said LaBeouf.
"Who... am I to argue with that?"
He said his occupation of the lift was about "getting to know people, connecting to people."
"Men who get lost, like explorers, end goal is they hope they find a new world, a new land.
"We're hoping that we find a more sincere effect."
LaBeouf's other performance artworks include three days spent watching films in which he had acted, and sitting with a paper bag over his head in a Los Angeles art gallery.
Register for free to continue reading
Registration is a free and easy way to support our truly independent journalism
By registering, you will also enjoy limited access to Premium articles, exclusive newsletters, commenting, and virtual events with our leading journalists
Already have an account? sign in
Register for free to continue reading
Registration is a free and easy way to support our truly independent journalism
By registering, you will also enjoy limited access to Premium articles, exclusive newsletters, commenting, and virtual events with our leading journalists
Already have an account? sign in
Join our new commenting forum
Join thought-provoking conversations, follow other Independent readers and see their replies