The Independent's journalism is supported by our readers. When you purchase through links on our site, we may earn commission.
Simon Pegg responds to backlash over his claims that adult obsession with science fiction is causing society to become infantilised
The sci-fi writer and actor clarifies his remarks after receiving criticism
Jenn Selby
Wednesday 20 May 2015 10:15 Comments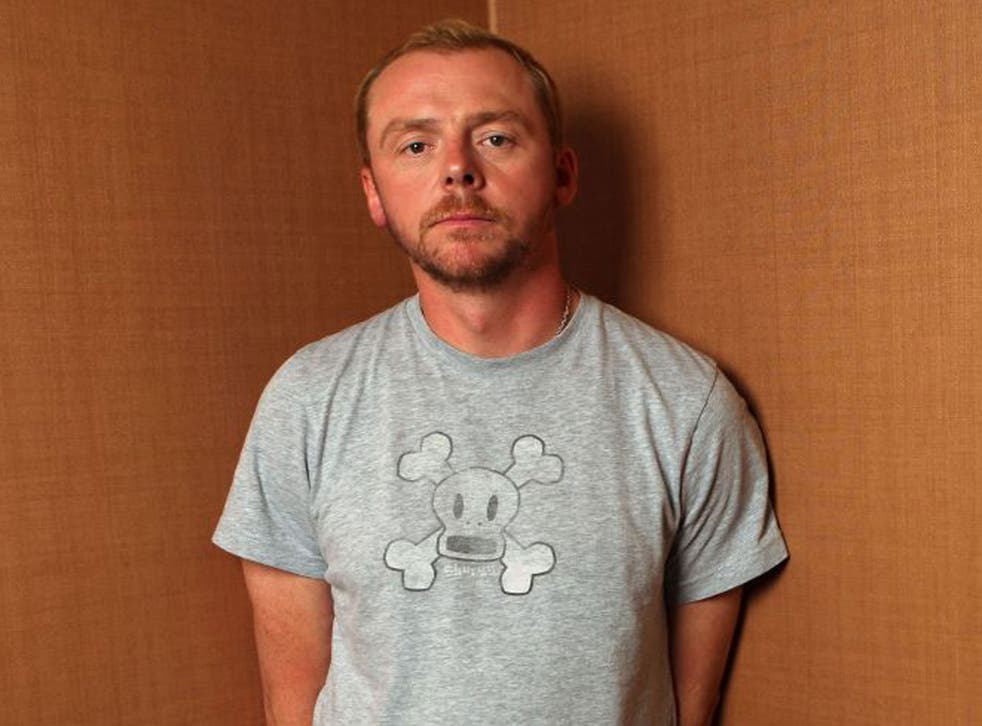 Simon Pegg – he of Spaced and Star Trek fame – sparked a mixed reaction from his fans when he admitted he fears society is being infantilised by an obsession with comic books and science fiction.
Speaking to the Radio Times, he said: "We're essentially all consuming very childish things – comic books, superheroes… Adults are watching this stuff, and taking it seriously!
"It is a kind of dumbing down because it's taking our focus away from real-world issues. Films used to be about challenging, emotional journeys. Now we're really not thinking about anything, other than the fact that the Hulk just had a fight with a robot."
The sci-fi comic writer has since clarified his remarks in a blog post titled 'Big Mouth Strikes Again', reassuring fans that he's "still a nerd and proud".
"The 'dumbing down' comment came off as a huge generalisation by an A-grade asshorn," he wrote. "I did not mean that science fiction or fantasy are dumb, far from it. How could I say that? In the words of Han Solo, 'Hey, it's me!'
"In the last two weeks, I have seen two brilliant exponents of the genre. Ex Machina and Mad Max: Fury Road both of which had my head spinning in different and wonderful ways and are both very grown up films."
"I guess what I meant was, the more spectacle becomes the driving creative priority, the less thoughtful or challenging the films can become," he continued elsewhere.
"The spectacle of Mad Max is underpinned not only multiple layers of plot and character but also by an almost lost cinematic sense of 'how did they do that?'
Famous people who believe in aliens

Show all 16
"The best thing art can do is make you think, make you re-evaluate the opinions you thought were yours. It's interesting to see how a cerebral film maker like Christopher Nolan, took on Batman and made it something more adult, more challenging, chasing Frank Miller's peerless Dark Knight into a slightly less murky world of questionable morality and violence.
"But even these films are ultimately driven by market forces and somebody somewhere will want to soften the edges, so that toys and lunch boxes can be sold.
"In that respect, Bruce Wayne's fascistic vigilantism was never really held to account, however interesting Nolan doubtless found that idea. Did he have an abiding love of Batman or was it a means of making his kind of movie on the mainstream stage?"
His main concern, he concluded, was that the genre has been entirely "monetised" and primed for commercial marketing, rather than staying true to the things that fans consider to be "precious".
And you can buy your Spaced merchandise here, should you so desire.
Register for free to continue reading
Registration is a free and easy way to support our truly independent journalism
By registering, you will also enjoy limited access to Premium articles, exclusive newsletters, commenting, and virtual events with our leading journalists
Already have an account? sign in
Join our new commenting forum
Join thought-provoking conversations, follow other Independent readers and see their replies