Sir Christopher Lee: 'Crown Prince of Terror' whose work with Hammer Horror led the postwar revival of Gothic fantasy
Lee appeared with such luminaries as Boris Karloff, Vincent Price, and John Carradine, but it was his partnership with Peter Cushing in more than 20 films that ensured his place in the rank of screen immortals
Friday 12 June 2015 00:08 Comments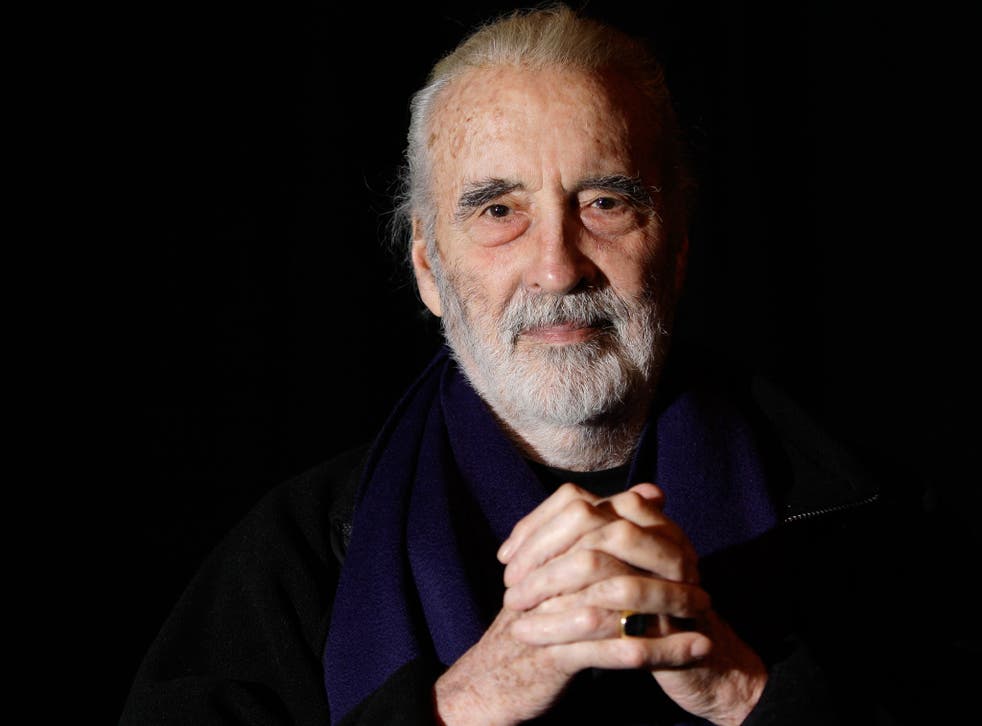 Christopher Lee was the last surviving member of a band of actors synonymous with the postwar revival in Gothic fantasy films. "The Crown Prince Of Terror" made an indelible mark in the minds of filmgoers of the 1950s and '60s with his powerful portrayals of such legendary characters as the Frankenstein creature, Count Dracula, the Mummy and Dr Fu Manchu.
Although appearing with such luminaries of the genre as Boris Karloff, Vincent Price, and John Carradine, it was his partnership with Peter Cushing in more than 20 films which ensured his place in the rank of screen immortals. Tall, dark-complexioned, and aloof, with a sepulchral voice that could lend conviction to even the most improbable lines ("The world shall hear from me again" – Fu Manchu), Lee became one of the world's most recognisable actors through his long association with Hammer Films, whose success began in 1956 with The Curse Of Frankenstein.
That film, together with Dracula two years later, reinvigorated the horror genre with its generous blend of sex, blood, and Technicolor. In fact for Lee it was the very physical attributes he brought to the roles of the Creature and the Count which had until then held him back. He was born in London, second child and only son of Lieut-Col Geoffrey Lee of the King's Royal Rifle Corps and the Contessa Estelle Marie Carandini. He inherited his father's dark looks, and from his mother a lineage stretching back possibly to Ancient Rome, and including Charlemagne, along the way to the first Count Carandini in 1184.
From his mother's side Lee also gained operatic abilities, a talent he would later wish he had developed more seriously. Following his parents' separation and divorce he was educated at a private school and then Summer Fields in Oxford, which specialised in cramming for Eton. Lee won a scholarship but by this time his recently acquired stepfather, whose business was failing, had decided on Wellington.
Lee endured the military ethos of the college until 1939, when he was forced to leave on account of his stepfather's bankruptcy. After a couple of City office jobs he joined the Home Guard, then the RAF. Lee's war remains shrouded in secrecy (he refused – or was unable – to discuss aspects of it); problems with his optic nerve ruled him out of active flying.
Following a stint with the Rhodesian Police Force he was posted to Egypt as intelligence officer in the Desert Air Force, debriefing pilots. He took part in the invasion of Sicily and Italy and worked as a war crimes investigator. He ended the war as flight lieutenant with a mention in despatches and a clutch of decorations from various countries.
Christopher Lee: Career in pictures

Show all 8
On the suggestion of his cousin, Count Niccolo Carandini, Italian ambassador to Britain, Lee tried acting. He signed a seven-year contract with Rank and made his debut in Terence Young's Corridor Of Mirrors in 1948 and played a minor role in Laurence Olivier's Hamlet, which also featured Cushing. Small parts, usually as Nazis or other despicable foreigners, followed, but his contract was not renewed on the grounds that he was too tall and too foreign-looking. He wondered whether there might be "a conspiracy of runts among the leading men not to have me in their dwarfish vicinity."
Then came The Curse Of Frankenstein and Dracula, both directed by Terence Fisher. Lee managed vividly to convey the confusion and misery of the Creature, while to Dracula he brought a power, suaveness and athleticism.
After appearing opposite his friend Karloff in Corridors Of Blood (1958), Lee took on a classic Karloff part, in Hammer's 1959 remake of The Mummy. In 1961 he married the Danish model and painter Birgit (Gitte) Kroencke, and moved to Switzerland. From this base he made a number of Italian films as well as German "krimis", based on the works of Edgar Wallace. In 1965, after returning to England, Lee enjoyed one of his most successful years, starring as the Devil Doctor in Don Sharp's wonderful The Face Of Fu Manchu, gaining good notices in the title role of Rasputin The Mad Monk (as a child he had been wakened in the night to meet Prince Yusupoff, killer of Rasputin), and Dracula, Prince of Darkness.
Lee maintained his hectic schedule throughout the 1960s – though the Fu Manchu series rapidly lost its spark – appearing to good effect in Hammer's adaptation of Dennis Wheatley's The Devil Rides Out (1968) and teaming up with Karloff again in The Curse Of The Crimson Altar (1968). In 1969 came The Oblong Box and Scream And Scream Again, notable only for the casting of Lee and Vincent Price in the former, and Lee, Price, and Cushing in the latter.
In 1970 Lee played Mycroft Holmes in Billy Wilder's The Private Life Of Sherlock Holmes, a character part he believed encouraged casting directors to view him as other than a "horror" actor. Not that he was done with Dracula: that same year in addition to Taste The Blood Of Dracula and Scars Of Dracula for Hammer, Lee made Count Dracula in Spain.
Lee turned in an excellent performance in I, Monster (1971), an otherwise disappointing adaptation of The Strange Case Of Dr Jekyll And Mr Hyde. He followed this with his only Western, Hannie Caulder (1971), in which he played a gunsmith who assists Raquel Welch in her unlikely quest for vengeance. In 1972, after the dire Dracula AD 1972, set in Swinging London, Lee joined Cushing on the Horror Express, a lively Spanish-made yarn which included a classic line, delivered when it is suggested that Lee or Cushing might be the unseen monster: "Monster? We're British, you know". After The Satanic Rites Of Dracula (1973), Lee finally laid the Count to rest. Later he revealed that he was pressured by Hammer into returning time and again on the grounds that, if he did not, his colleagues would be out of work.
In The Wicker Man (1973), Lee played Lord Summerisle, the head of a pagan community on a remote Scottish island, with great conviction, and the film has become a cult classic. He was on top form again as the villainous Comte de Rochefort in Richard Lester's The Three Musketeers (1973) and The Four Musketeers (1974), a role he reprised in the ill-fated The Return Of The Musketeers (1989).
In 1974, he was cast as Francisco Scaramanga, The Man With The Golden Gun, in the James Bond film. Ian Fleming, a cousin by marriage, had suggested Lee for the part of Dr No in 1962. The part of Scaramanga can be seen as the highpoint of Lee's essays in evil. After appearing in Hammer's last horror outing, To The Devil A Daughter (1975), Lee moved to Hollywood in search of more varied roles, dividing his time between big-budget nonsense (Airport '77) and low-budget nonsense (End Of The World, 1979). While he regarded his appearance as host of TV's Saturday Night Live in 1978 as an important career move, its relevance with regard to his later roles was lost on his admirers.
He played a Nazi opposite Toshiro Mifune in Steven Spielberg's comedy misfire 1941 (1979), a homosexual leader of a bike gang in Serial (1980), and a singing master criminal in The Return Of Captain Invincible (1982). While Lee clearly enjoyed himself, the suspicion persisted that he was confusing variety with quality. Still, great expectations were raised by the announcement of House Of The Long Shadows (1983), which brought together Lee, Cushing, Price and John Carradine, then proceeded to waste their talents in a turgid, wretchedly scripted potboiler which proved a sad final curtain for the Lee-Cushing partnership.
After a heart operation, Lee returned to London in 1986 and gave an impressive performance in the Channel 4 historical drama The Disputation. In 1997, his casting as the founder of Pakistan, Mohammed Ali Jinnah, caused a furore among certain elements in that country, the prime objection being that Lee was inextricably identified with vampires and villains. He played the part under armed guard and was, by all accounts, excellent in it.
He published his autobiography, Tall, Dark And Gruesome, in 1977, and updated it in 1997. His niece is the actress Dame Harriet Walter.
His career underwent a revival in the 2000s. He played Saruman in The Lord of the Rings trilogy and was then in Star Wars Episode II: Attack of the Clones (2002) and Star Wars Episode III: Revenge of the Sith (2005), in which he played the villainous Count Dooku, doing most of the swordplay himself. Lee became one of Tim Burton's favourite actors; among other roles, he had a small part in Sleepy Hollow and was in Burton's remake of Charlie and the Chocolate Factory as Willy Wonka's strict father.
Although he wrote that he had "gone into acting without a natural gift for it", he was a natural screen actor whose rules on acting were simple: "Think about what you are saying. Listen to what the other person is saying. And don't do anything unless it means something." With more than 200 films to his credit, he was one of the most prolific British actors of all time. If the quality of those films was often variable, Lee himself was never less than utterly professional, dignifying even the most unpromising material with his aristocratic presence.
He was a fanatical golfer, spoke seven languages and was a teller of anecdotes of Homeric length. If, like Sherlock Holmes, he was not "the most clubbable of men" (as he admitted), he nevertheless embodied many of the qualities the British admire, being very much an officer and gentleman of the old school; he was knighted in 2009. And for several generations of film fans, he was indeed "The Crown Prince of Terror".
JOHN EXSHAW
Christopher Frank Carandini Lee, actor: born London 27 May 1922; CBE 2001; Kt 2009; married 1961 Birgit Kroencke (one daughter); died 7 June 2015.
Register for free to continue reading
Registration is a free and easy way to support our truly independent journalism
By registering, you will also enjoy limited access to Premium articles, exclusive newsletters, commenting, and virtual events with our leading journalists
Already have an account? sign in
Join our new commenting forum
Join thought-provoking conversations, follow other Independent readers and see their replies