The Independent's journalism is supported by our readers. When you purchase through links on our site, we may earn commission.
Slayer rescue homeless kitten, cuddle it on tour bus
'Postmeowtum' is the best cat-Slayer pun I've got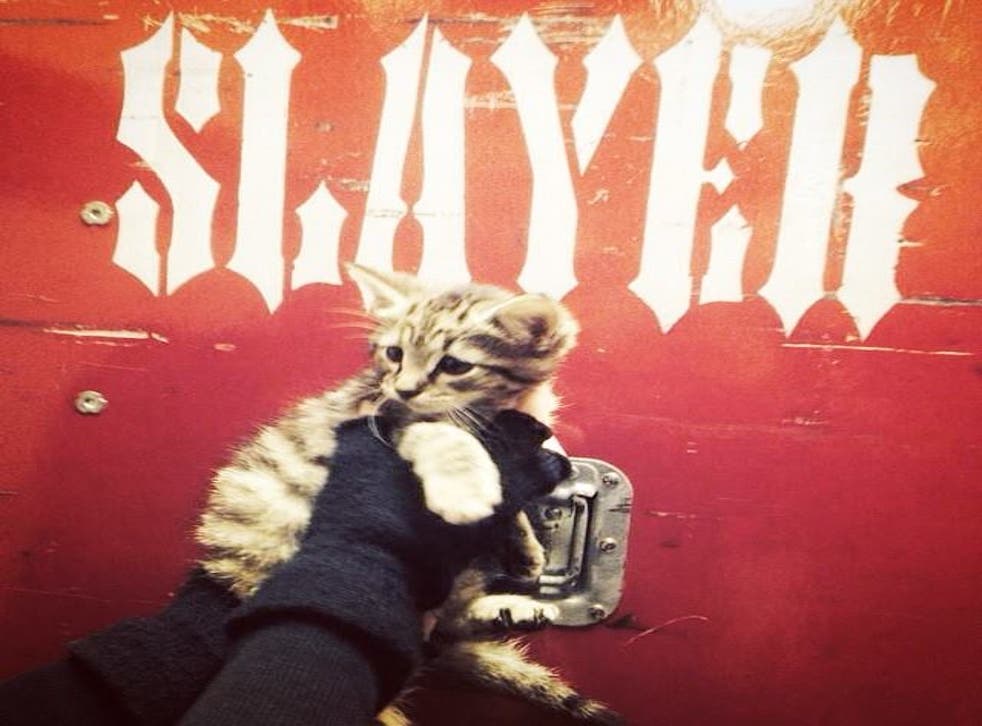 When Slayer discovered a kitten freezing on the street ahead of a show in Indianapolis, they didn't sacrifice it in the name of Satan but brought it back to their tour bus for snuggles and re-homing.
The venue they were playing at posted a picture of the kitty held aloft in front of one of the band's gear cases, with the band later posting a statement which read:
"Kerry [King, guitarist] and some of the crew went to dinner at Kerry's favorite steak house in Indy, St. Elmo's Steak House. Afterwards, the assistant tour manager, Jess [Cortese] saw a homeless man on the street who offered up this little kitten for a dollar.
"The kitten apparently was freezing so Jess took it, slept with her in her bunk on the bus and went to the venue with her today, hanging out. One of the runners knew someone who wanted a kitten, so the little guy now has a new home where he or she currently is."
It seems Slayer's love of cats is mutual, as evidenced by this feline enjoying the sh*t out of one of their live DVDs:
Register for free to continue reading
Registration is a free and easy way to support our truly independent journalism
By registering, you will also enjoy limited access to Premium articles, exclusive newsletters, commenting, and virtual events with our leading journalists
Already have an account? sign in
Register for free to continue reading
Registration is a free and easy way to support our truly independent journalism
By registering, you will also enjoy limited access to Premium articles, exclusive newsletters, commenting, and virtual events with our leading journalists
Already have an account? sign in
Join our new commenting forum
Join thought-provoking conversations, follow other Independent readers and see their replies