Sony hacking: Amy Pascal describes the 'horrible moment' she realised her private emails would be leaked online
When quizzed on the reaction of 'notoriously sensitive' movie stars to the scandal, the departing studio chief agreed they were 'bottomless pits of need'
Tim Walker
Thursday 12 February 2015 19:05 Comments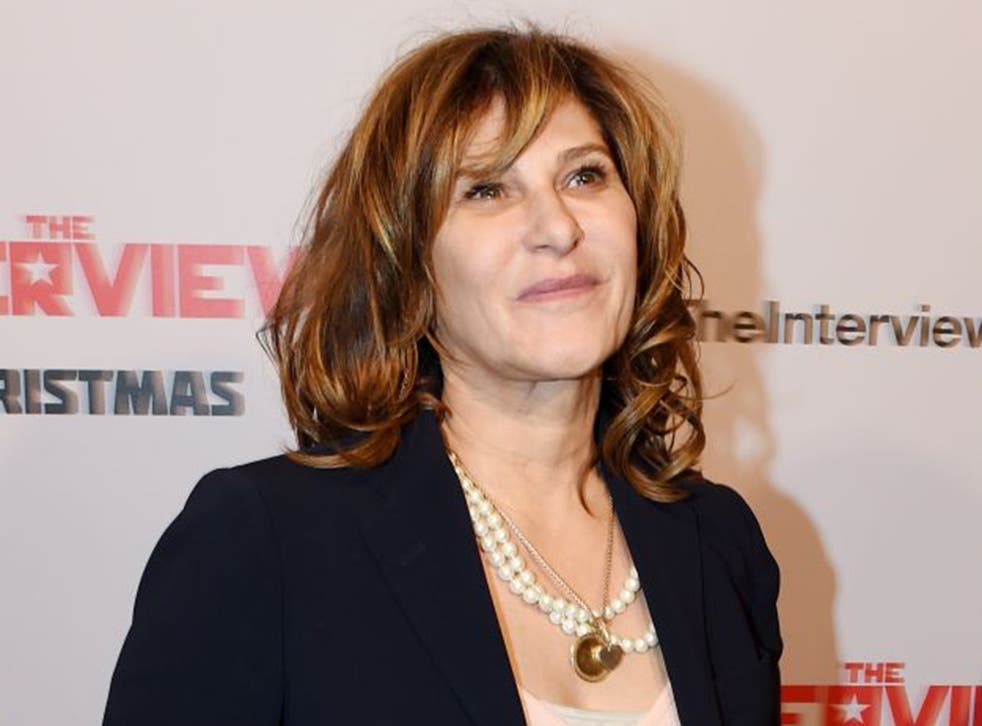 In her first public comments since stepping down as co-chairman of Sony Pictures, hacked studio head Amy Pascal has described the "horrible moment" when she realised her sensitive private emails would be leaked online.
During a frank onstage conversation with journalist Tina Brown at the Women in the World summit in San Francisco on Wednesday, Ms Pascal, 56, recalled the hours after it became clear that Sony had fallen victim to a cyber-attack in November last year.
"People were really scared," she said, in remarks reported by ReCode. "I kept calling [the IT department] and being like, 'They don't have our emails, tell me they don't have our emails.' But then they did. That was a bad moment. And you know what you write in emails."
Among the things Ms Pascal wrote in her emails was an exchange with producer Scott Rudin, in which the pair joked about Barack Obama's movie tastes, suggesting the President would prefer black-themed films such as Django Unchained and 12 Years a Slave. In another email, Mr Rudin referred to actor-director Angelina Jolie as a "minimally talented spoiled brat."
Being accused of racism was "horrible", the Sony exec said. "I realised there was absolutely nothing I could do about whether I'd hurt people, whether I'd betrayed people." She subsequently apologised for the Obama emails, and even met with civil rights leaders including the Rev Al Sharpton to discuss what he called Hollywood's "cultural blindness."
Sony Cyber Attack: The Worst Affected In Hollywood

Show all 13
Ms Jolie's response to the emails was somewhat different. "Angie didn't care," Ms Pascal said. "Everybody understood because we all live in this weird thing called Hollywood... If we were all actually nice, it wouldn't work."
Ms Brown noted that movie stars were notoriously sensitive, and Ms Pascal agreed. "They're bottomless pits of need," she said, adding caustically: "They're this magical thing that no one else can be. They're filled with the need to be loved… but that's because they're magical."
Among the business details leaked during the Sony hack were the salaries of the stars of the Oscar-nominated American Hustle. The film's male stars, it emerged, had all been paid more than its female stars, including Jennifer Lawrence. But Ms Pascal was unapologetic.
"I've paid [Lawrence] a lot more money since then, I promise you," she said. "Here's the problem: I run a business. People want to work for less money, I pay them less money… Women shouldn't be so grateful. Know what you're worth. Walk away."
The cyber-attack on Sony is now believed to have been carried out by or at the behest of the North Korean government, in retaliation for the release of The Interview, a slapstick comedy that depicts the assassination of North Korean leader Kim Jong-un. That film, Ms Brown said, was "no Citizen Kane", to which Ms Pascal replied: "You don't get to choose what you stand up for."
The departing studio chief also reserved some criticism for the press, for abetting the hackers by reporting the contents of the leaked documents. "People found reasons that going through my trash and printing it was an okay thing to do," she said. "They found a way to justify that. And they have to live with that."
Ms Pascal announced last week that she would step down from her role as studio co-chairman, though she will remain at Sony as a producer, with responsibility for projects including future Spider-Man films and the all-female reboot of Ghostbusters starring Melissa McCarthy and Kristen Wiig. Referring to the calibre of her fellow guests at the summit, she said. "All the women here are doing incredible things in this world. All I did was get fired."
Register for free to continue reading
Registration is a free and easy way to support our truly independent journalism
By registering, you will also enjoy limited access to Premium articles, exclusive newsletters, commenting, and virtual events with our leading journalists
Already have an account? sign in
Join our new commenting forum
Join thought-provoking conversations, follow other Independent readers and see their replies