Stefano Gabbana once asked female friend to be his surrogate, despite 'archaic' comments about gay adoptions and IVF treatment
An archived interview from Vanity Fair in 2006 has surfaced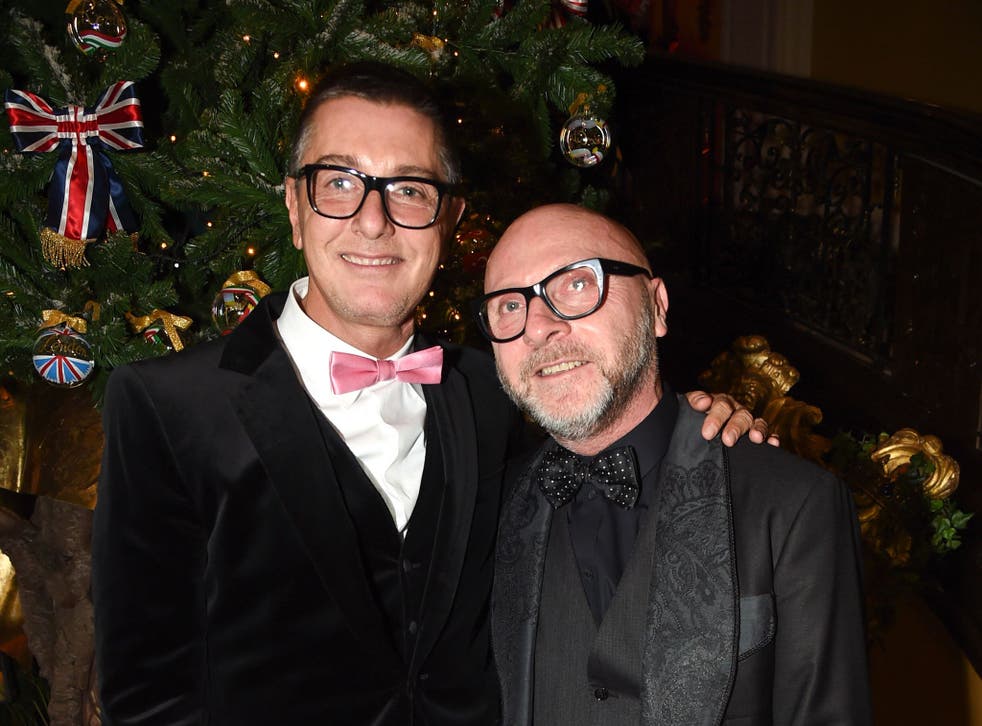 Stefano Gabbana sparked a furious boycott of his fashion line after a series of comments he made in opposition of gay adoption and IVF this week.
"We oppose gay adoptions," he said. "The only family is the traditional one.
"No chemical offsprings and rented uterus: life has a natural flow, there are things that should not be changed."
His remarks spurred Sir Elton John to start the hashtag #boycottdolcegabbana, which has since been promoted by previous Dolce & Gabbana wearers Courtney Love and Matt Lucas.
But an archived interview from Vanity Fair in 2006 has surfaced, in which Gabbana recalls the time he asked a female friend to be his surrogate.
"My dream is to have a baby, not to adopt one because I am not up to it and I don't feel strong enough," he said.
"I want my own child, a biological child, the fruit of my sperm, conceived through artificial insemination because it wouldn't make sense for me to make love to a woman I don't love.
"A week ago I asked a dear friend of mine, who is twelve years younger than me, if she would help. I asked her, 'Would you like to be the mother of my child?'
"She was left a bit shocked and the following day telephoned and said she was still shocked, but thought it was a great idea."
"In life I have had everything it is possible to have but I have the small handicap of being gay so having a child is not possible for me," Domenico Dolce added. "I could adopt or get one from abroad but I'm paralysed by the fear that the child could feel exploited."
Their recent comments about IVF, it seems, are more in line with the theme of their AW15 collection, shown at Milan Fashion Week at the start of the month. The typically family-centric collection was called "Viva la Mamma", and celebrated all things maternal with matching mother-and-daughter designs, pregnant models and children.
Milan Fashion Week autumn/winter 2015

Show all 26
The soundtrack was "Mama" by the Spice Girls.
Sir Elton, who has had two children by IVF with his husband David Furnish, wrote on Instagram: "How dare you refer to my beautiful children as 'synthetic'.
"And shame on you for wagging you judgemental little fingers at IVF - a miracle that has allowed legions of loving people, both straight and gay, to fulfil their dream of having children.
"Your archaic thinking is out of step with the times, just like your fashions."
"I shall never wear Dolce and Gabbana ever again. #BoycottDolceGabbana."
Gabbana countered Sir Elton's statement with his own Instagram post– a picture of a mother and her children, alongside the hashtags '#dgmamma' and '#dgfamily'.
"This is respect for a different opinion? #boycotteltonjohn," he stated in a separate post.
"It is simply arrogant not to tolerate those who think like him (Sir Elton) poor thing. We live in a democratic country and respect the ideas of others."
Register for free to continue reading
Registration is a free and easy way to support our truly independent journalism
By registering, you will also enjoy limited access to Premium articles, exclusive newsletters, commenting, and virtual events with our leading journalists
Already have an account? sign in
Register for free to continue reading
Registration is a free and easy way to support our truly independent journalism
By registering, you will also enjoy limited access to Premium articles, exclusive newsletters, commenting, and virtual events with our leading journalists
Already have an account? sign in
Join our new commenting forum
Join thought-provoking conversations, follow other Independent readers and see their replies