Stephen Fry admits he deliberately planted fake wedding date to throw the press off
The actor married Elliott Spencer in January
Jenn Selby
Sunday 08 February 2015 12:03 Comments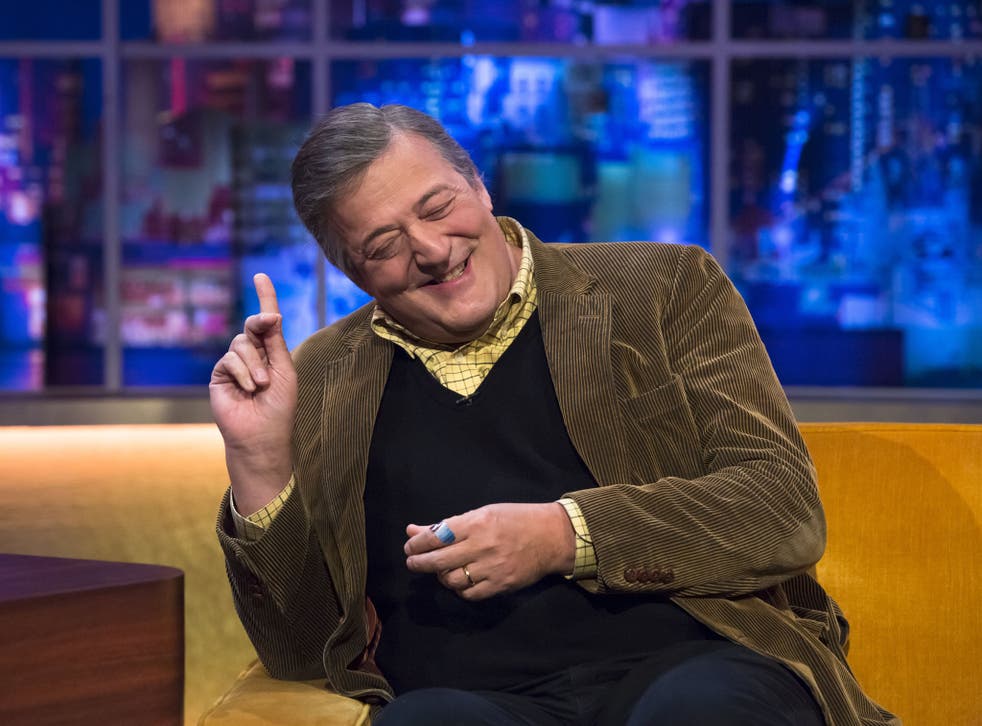 Stephen Fry has confessed he deliberately leaked false information about his wedding to Elliott Spencer to the press in bid to throw reporters off the scent.
In his first TV interview since tying the knot in a private ceremony in Dereham last month, the QI host told The Jonathan Ross Show : "We chose it because it's a small market town, they call it 'the Heart of Norfolk' that's it's little slogan and a wonderful, wonderful registrar had taken it upon herself with a great deal of pride.
"They decided that our wedding should be private and the wonderful [registrar] Linda put a false date into the computer in case it was being hacked or in case there was a mole within the borough.
"It meant that Elliot and I were able to be conjoined without any photographers or journalists which was really nice."
Speaking of the romantic moment he first clapped eyes on the comedy writer, Fry said: "We met at a friend's house and I knew pretty much straight away that this was someone I wanted to spend, what I considered, the rest of my life with.
"Whether he thought the same because he's got rather a lot more to go than me."
"I kind of knew that he'd say yes," he added of the proposal. "We'd kind of danced around the subject.
Stephen Fry's Finest Quotes

Show all 19
"I bought a ring and waited for him to pop off to the loo and put the ring on the prongs of a fork so that he would see it as he started to eat. I thought it would be charming.
"Of course he came back and he started chatting and he started playing with the fork and I thought, 'For God's sake look at the fork' – you don't really ever look at forks do you?
"I thought, 'He's going to pick it up and the ring is going to fly off into that lady's soup…' But fortunately he just in time caught sight of it and it was a very teary and splendid moment."
He remained coy, however, over any further post-wedding plans.
"We are going off to a secret location, as honeymoons must be," he said.
Spencer and Fry pair made their first official appearance as a married couple at a BAFTA nominees party at Kensington Palace on Saturday.
Register for free to continue reading
Registration is a free and easy way to support our truly independent journalism
By registering, you will also enjoy limited access to Premium articles, exclusive newsletters, commenting, and virtual events with our leading journalists
Already have an account? sign in
Register for free to continue reading
Registration is a free and easy way to support our truly independent journalism
By registering, you will also enjoy limited access to Premium articles, exclusive newsletters, commenting, and virtual events with our leading journalists
Already have an account? sign in
Join our new commenting forum
Join thought-provoking conversations, follow other Independent readers and see their replies