The Independent's journalism is supported by our readers. When you purchase through links on our site, we may earn commission.
Stina Sanders: Model who lost 5,000 followers for honest pictures speaks out against online sexual harassment
Sanders is calling on social networks to do more after receiving a number of graphic messages and images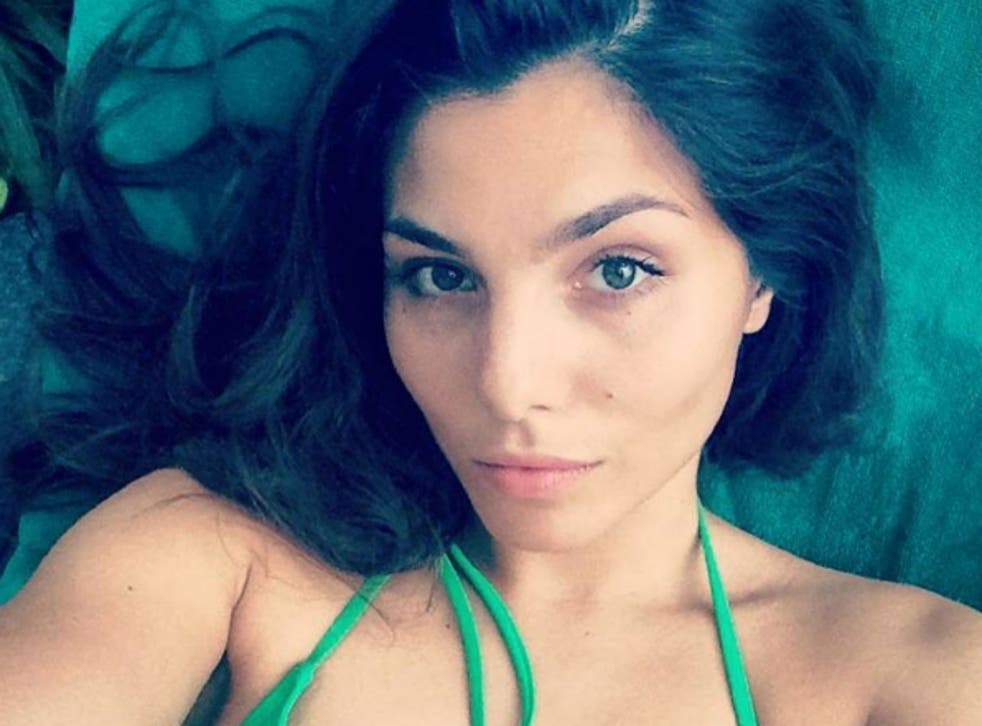 A model and blogger who became famous for sharing her 'honest' Instagram pictures has spoken out against slut-shaming after being accused of encouraging a barrage of unsolicited explicit pictures simply by posting bikini photos.
Stina Sanders has used her Instagram page to tackle issues such as anxiety, self-confidence and now sexual harrasment.
Last year, the 25-year-old lost 5,000 followers for sharing pictures of herself bleaching facial hair, awaiting treatment for irritable bowel syndrome and with unwashed hair for a social experiment.
One of the original "honest" images that resonated with Sander's followers showed her as she was about to enter a clinic for therapy. After suffering from anxiety for years, Sanders has co-founded Huggle, an app designed to help people combat isolation and loneliness by making friends nearby with similar interests.
The results of the experiment quickly went viral and she continues to share a mixture of these "honest" posts and more glamorous images with her 129,000 followers.
But while her decision to present a more honest reflection of her life on social media has drawn an overwhelmingly positive reaction, Sanders has also received a number of explicit pictures and sexually aggressive messages from men. Speaking to The Independent, Sanders said she gets at least three messages a week. These range from pictures of genitalia to messages propositioning her for sex.
Sanders shared one of the images on her Instagram page to highlight the issue on Thursday. While most commenters backed her post, a number accused her of encouraging men and criticised her for speaking out, suggesting she only has herself to blame for the images.
Responses included, "You can't post these inviting photos and then complain when you get these types of photos back. It's not harassment if you want it!" and "You deserve every d**k image coming your way. If you post in underwear – what do you expect?"
Sanders said instances of online sexual harassment have escalated since her story went viral. "That's not to say that I haven't had it [before] because I have, but never to this extent. I'm talking three times a week, maybe less if I'm lucky. It's got to the point where I go on my Instagram or my Twitter or email, Facebook, whatever, and I get it all the time.
Meet the stars of Instagram

Show all 10
"Women are receiving this harassment online, offline – all the time. I get it all the time. I personally think receiving an image is just as bad as flashing in public."
Sanders said she has received threatening messages across a number of her accounts, but receives the most on Twitter. "I've had really vile, violent, inappropriate messages. It can be quite scary.
"I report them all. I never want to fuel it or encourage it so I never respond, just block and report. That was actually the first response I ever sent back because I thought it would be really good just to see how many women are experiencing it. If you read the comments from the girls, a lot of them are saying, 'I get it too'."
"Some people see it as harassment and some people don't because they think I deserve the images for posting bikini pictures. It's the same idea some people have with rape – 'you wore a short skirt, so you were inviting it'."
A number of people have, however, spoken out in support of Sanders over the image. "As a man, I'm so sorry you were sent this," wrote one Twitter user. "I class this as harassment."
A second agreed. "I am so incredibly sorry that you and women all over the world have to deal with this bs [bullshit]. It is gross, offensive, and unsettling."
"She's a human being, and it's not up to you to say who does or doesn't deserve respect just because they're confident with their body and love themselves," wrote another.
Sanders is now calling for social networks to take bigger steps in counteracting online sexual harassment. "I don't think they are making it safe for people. You feel intimidated by these [messages]. Yeah, I feel scared. And I think a lot of girls feel the same."
Register for free to continue reading
Registration is a free and easy way to support our truly independent journalism
By registering, you will also enjoy limited access to Premium articles, exclusive newsletters, commenting, and virtual events with our leading journalists
Already have an account? sign in
Register for free to continue reading
Registration is a free and easy way to support our truly independent journalism
By registering, you will also enjoy limited access to Premium articles, exclusive newsletters, commenting, and virtual events with our leading journalists
Already have an account? sign in
Join our new commenting forum
Join thought-provoking conversations, follow other Independent readers and see their replies