Sub-Lieutenant Robert Aitken: Diver and navigator who narrowly escaped death in midget submarine and helped wreck the mighty Tirpitz
Aitken made an escape within a hair's breadth of death from 120ft under water where he was almost trapped with two comrades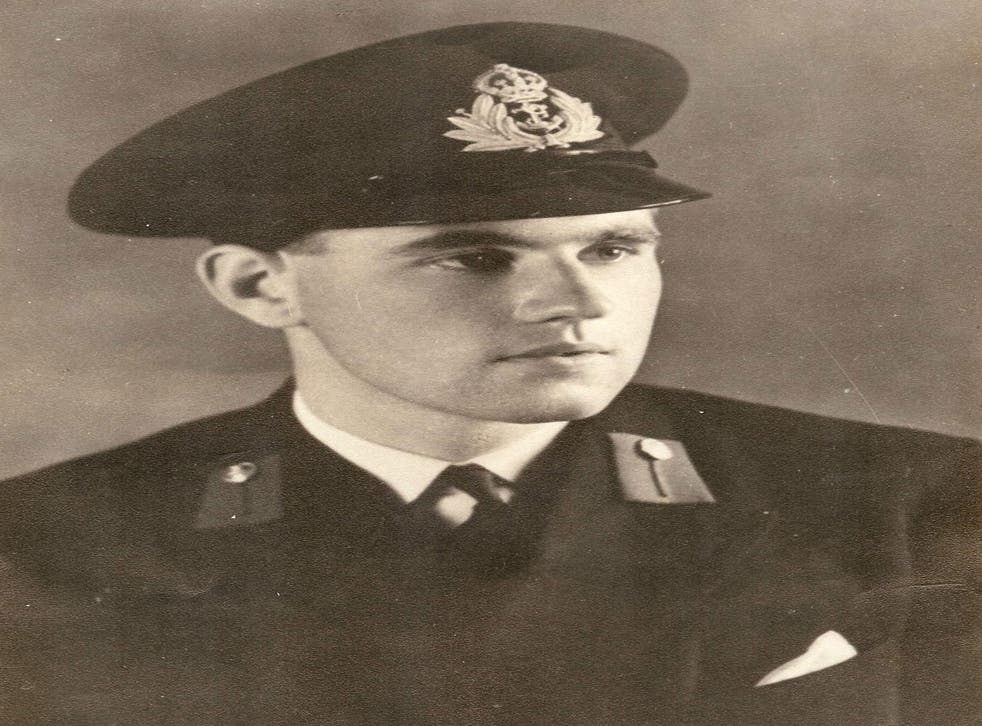 Robert Aitken was one of the handful of men who on 22 September 1943 with midget submarines disabled the German battleship Tirpitz, mightiest vessel of the Nazi Reich. Aitken also made an escape within a hair's breadth of death from 120ft under water where he was almost trapped with two comrades who had already suffocated after the craft sank following the attack. The tiny 40ft submarine, too small for a man to stand up in, penetrated multiple layers of defences to get at the monster in her lair, a hideaway decreed by Hitler himself, in the narrow finger of Ka Fjord in occupied Norway, 60 miles inland from the coast.
Tirpitz had lurked for two years, catastrophically disrupting supply convoys to Russia. At 40,000 tons she was one of the most powerful battleships afloat. A desperate attempt with a fishing-smack to smuggle in attackers, who would have sat astride their warhead-loaded craft, had failed, these "chariots" having tumbled adrift and vanished at sea.
But this time the raiders overcame all, crouched amid their instruments, observing through periscopes slim as fountain pens. Two of the three "X-craft" placed their explosive charges and blasted her six feet out of the water at her stern. X-5 was lost, but the four two-ton saddle-charges carried by X-6 and X-7 exploded, stopping her setting sail again: the following year the RAF caught her under tow during repairs and finished her off.
Twenty-year-old Sub-Lieutenant Aitken was X-7's diver and navigator in a crew of four commanded by Lieutenant Godfrey Place. They had been towed 1,000 miles, then under their own diesel and electric power they traversed a minefield and scrambled through layers of entangling steel mesh anti-submarine nets to place the charges under the shadow of the great ship. There was one hour to get away.
But X-7 was forced to expend air-creating buoyancy to help extricate herself from the nets. She managed to slide over the nets' top at 7.40am, with minutes to go until the expected blast. As she surfaced machine-gun bullets pinged off her casing: glimpsing what they first thought was a porpoise, the Germans were alerted and she had to dive again. But damaged by the nets she was no longer manoeuvrable and impossible to keep submerged. She got stuck in the mesh again, then at 8.12am the blast blew her free, and she resurfaced.
Place thought he would be shot when, to safeguard his crew, he emerged from X-7's hatch. But the firing ceased, and the others would have followed him had X-7 not begun to founder. Place stepped on to a gunnery practice target afloat near by. His men, having shut the hatch to avert an inrush of water, were carried yet again to the bottom of the fjord.
They donned escape apparatus and started to flood the craft to release the hatches, but vents were stuck and she filled too slowly; fumes released from fused circuits poisoned what air was left and the cramped space impeded movement. After two and a half hours, Aitken felt his comrades, Lieutenant Bill Whittam and ship's engineer Bill Whitley, slump down and die.
During his own last supreme effort to get the hatch open, he blacked out, having wrenched the tops from his only remaining two small steel oxygen canisters, and finding that at that pressure they yielded no more than one breath each: he had no air but what was in his lungs.
Yet his fumbling must have succeeded: bubbles streamed past as he regained his senses, and soon he joined his skipper and the crew of X-6 as a prisoner on board the badly damaged Tirpitz. The enemy, full of admiration despite their fury, gave them hot drinks and Schnaps.
The attack, which Winston Churchill praised as "audacious and heroic", was described in an official report as one that "will surely go down in history as one of the most courageous acts of all time." It would be immortalised on film in Above Us The Waves (1955), starring John Mills and with Donald Sinden playing Aitken.
The son of a Norwich family doctor, Aitken was a pupil at Oundle School, where he was a strong oarsman, captained his house rugby team and won a science prize. His accountancy training was interrupted when he joined the Royal Naval Volunteer Reserve in 1942. Fearing colour-blindness would scupper his chances of an interesting seagoing post, after midshipman training, from which he passed out top of his class, he seized a chance to train with the Experimental Submarine Flotilla, later renamed the 12th. At Loch Cairnbawn in Scotland it was developing a craft, Chariot, that earned the name of "human torpedo".
"If you give a teenager what is essentially an underwater motorbike that's great fun", Aitken recalled. "Between the training exercises we could chase crabs." Such was the fun that senior officers had difficulty persuading Aitken and his fellows to switch to X-craft.
Aitken's captors sent him to Dulag Nord and Marlag-Milag Nord, where he remained until the war was over. He completed his accountancy training and in 1951 married Anne Hunt, later working as financial officer for her father's agricultural engineering company at Earls Colne, Essex. He returned to the scene of his heroic ordeal only in 2003, when Norwegians gave him a reverent welcome.
ANNE KELENY
Robert Aitken, submariner and accountant: born Norwich 1 January 1923; DSO 1944; married 1951 Anne Hunt (died 1992; three daughters, one son); died Ipswich 22 October 2014.
Register for free to continue reading
Registration is a free and easy way to support our truly independent journalism
By registering, you will also enjoy limited access to Premium articles, exclusive newsletters, commenting, and virtual events with our leading journalists
Already have an account? sign in
Register for free to continue reading
Registration is a free and easy way to support our truly independent journalism
By registering, you will also enjoy limited access to Premium articles, exclusive newsletters, commenting, and virtual events with our leading journalists
Already have an account? sign in
Join our new commenting forum
Join thought-provoking conversations, follow other Independent readers and see their replies