Tas Pappas: Skateboarding fame, money... jail and tragedy
The 38-year-old on a new documentary that lays bare his meteoric rise and fall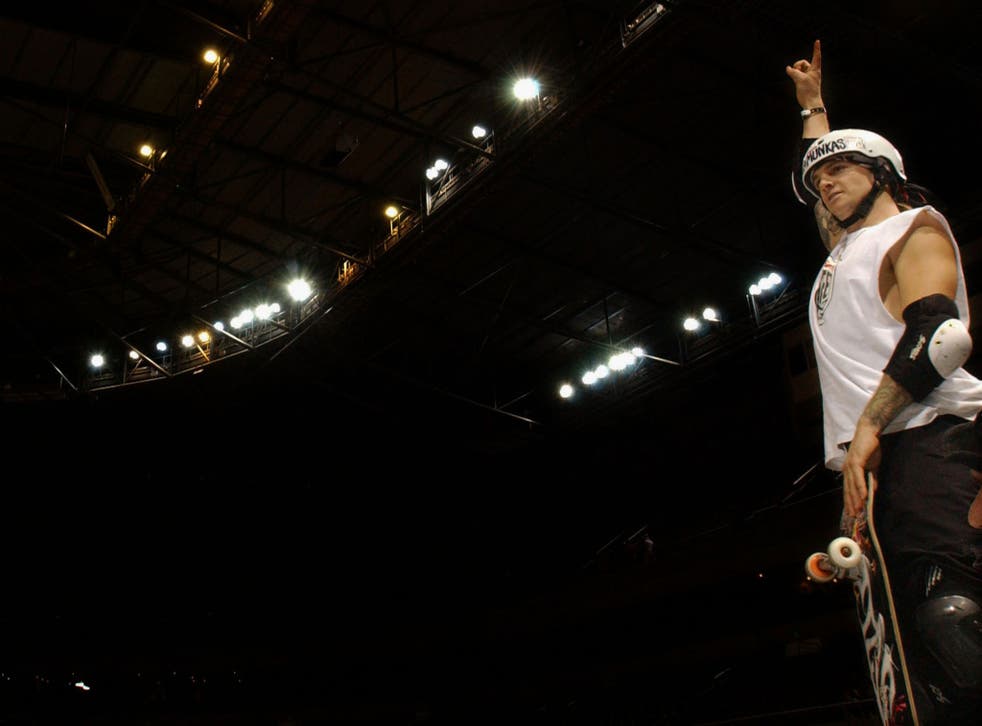 When Tas Pappas and his brother, Ben, climbed to the pinnacle of professional skateboarding, they felt their lifelong "mission" was complete: they had fame, money and the silverware to prove it. Yet little more than a decade later, Tas was staring at a lengthy jail sentence. He was luckier than Ben, who washed up dead in Melbourne's docks having committed suicide after killing his ex-girlfriend.
Their story is laid bare in a new documentary fittingly title All This Mayhem to be aired in UK cinemas for the first time this week. The film follows the brothers' lives from their Melbourne origins to the heights of international skateboarding success where the lifestyle they enjoyed resulted in all they had achieved imploding.
On the eve of the documentary's debut, Tas, a 38-year-old father of three, hopes to find some redemption as the closing credits roll.
"I want people to see that if you hold on, there is light at the end of the tunnel. But also, it's a cautionary tale. I want kids to see that if you dive into that lifestyle, you're going to end up dead or in jail," he said yesterday.
Producer James Gay-Rees, the man behind Senna, a biopic of the F1 superstar that won accolades at the 2011 Sundance Film Festival, said: "With Senna, we saw Icarus fly too close to the sun in a way that inspired and mesmerised. In All This Mayhem we tell a story that defies belief. Tas Pappas lived this story and, as he said, if this film helps one kid avoid the mistakes he made then all the hard work will have been worth it."
Growing up in Melbourne's notoriously down-at-heel district of St Albans, dubbed the crime capital of Australia, the brothers picked up skateboarding young and quickly rose through the ranks, with the "all-or-nothing" mantra they applied to all aspects of life.
"It was just rough, man, a lot of fights," he said. "Finding stolen cars and smashing them, you know, just a bunch of little bogans running around doing mischievous stuff."
By the time Tas was 15, and Ben 12, they were being flown to America by sponsors to see if they could compete with the big names in pro skateboarding.
They quickly set about burning bridges and making enemies – Tony Hawk, probably the sports' biggest star and a multi-millionaire, to name one high-profile example – as they began scooping up trophies. By 1996, Tas was the top ranked skateboarder in the world, with his brother in second place. But a darker side to life on the road, and all the parties that came with it, had already begun to surface.
"The drugs crept in pretty early, but it wasn't until after 1996, when I became world champion that it really kicked off. I was like, now what. I still feel like shit and I still hate my guts," he said.
He added that he was concentrating on staying out of jail and working hard to protect his six-year-old son from the life he has endured. Tas is brutally honest about the childhood sexual abuse that he thinks drove him to destruction.
"In 1996, I was still thinking 'is it my fault that I got molested?'. I hadn't dealt with any issues. When turning world champion didn't fix me, like I thought it was going to do, I just became a full-blown druggie. I went bonkers on the coke and whatever I could get my hands on. I'd go straight, get a year in, maybe a couple of months, but I'd always end up on a wicked bender."
Things started to fall apart shortly afterwards as the pair were plagued by injury and sponsors began to look to a new generation of wild-child skateboarders.
In 1999, their demise was sealed. On a trip back to Melbourne, Ben was caught trying to smuggle more than 100g of cocaine in his shoe. A subsequent conviction meant he could not return to America and ruled out a return to top-flight skateboarding.
At home, things continued to nosedive and in 2007, Ben's body was picked out of the waters of the Melbourne Docklands. An inquest later found that Ben, at 28, had taken his own life after causing the death of his ex-girlfriend Lynette Phillips.
Less than a year after his brother's death, Tas was arrested, in a doomed attempt to follow in Ben's footsteps and smuggle cocaine into Australia.
He found faith in prison and is now a regular church-goer. Filming the documentary has helped the healing process, he said, adding: "I'm at the point where I can just talk about everything that happened. Before, I couldn't do that. But by no means am I like some saint... I still have my weaknesses. Everyone stuffs up, but I know I'm trying my best."
Register for free to continue reading
Registration is a free and easy way to support our truly independent journalism
By registering, you will also enjoy limited access to Premium articles, exclusive newsletters, commenting, and virtual events with our leading journalists
Already have an account? sign in
Register for free to continue reading
Registration is a free and easy way to support our truly independent journalism
By registering, you will also enjoy limited access to Premium articles, exclusive newsletters, commenting, and virtual events with our leading journalists
Already have an account? sign in
Join our new commenting forum
Join thought-provoking conversations, follow other Independent readers and see their replies