Tawian's first female president Tsai Ing-Wen: Democracy campaigner, Gay rights champion and cat-lover
Supporters have flooded the streets in celebration of her victory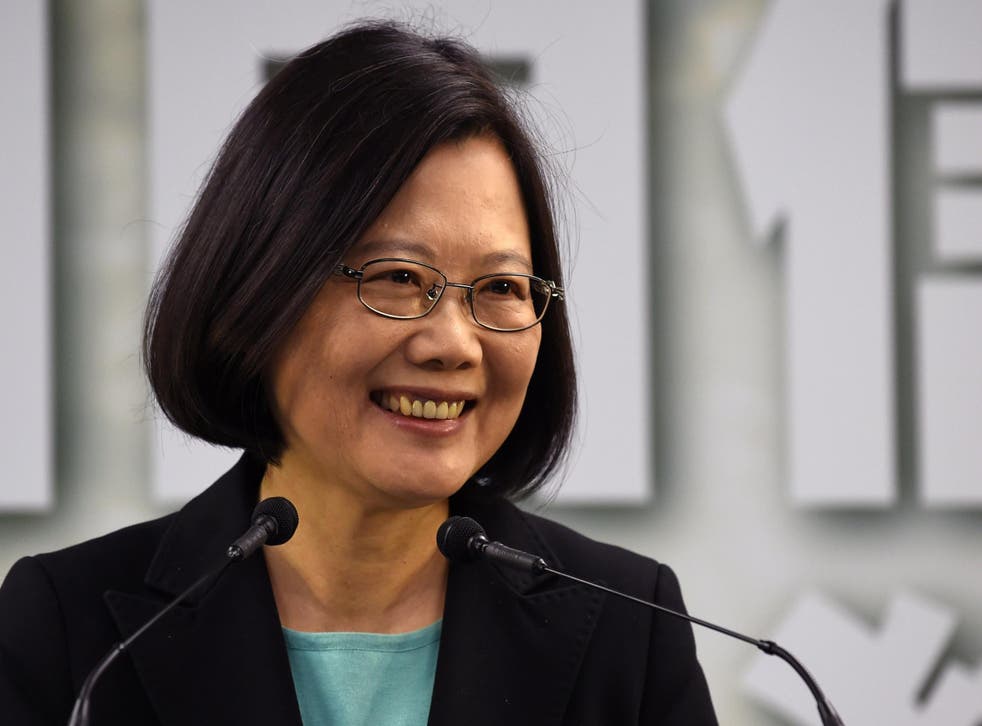 Tsai Ing-Wen has been elected as Taiwan's first female president.
The 59-year-old secured a decisive margin in a landmark election which could disrupt relations with Beijing.
Ing-Wen is leader of the Democratic Progressive Party (DPP) which favours independence from China.
After eight years of the pro-China Kuomintang (KMT) party, Ing-Wen's victory signals a welcome breath of fresh air for many Taiwanese people.
In celebration of the news, her supporters flooded the streets, waving party banners and cheering speeches.
But who exactly is the politician who has just become the most powerful woman in the Chinese-speaking world?
Known for her love of democratic ideals, gay rights and cats, the new president of Taiwan is not your average politician.
Early years
Ing-Wen was born in 1956, seven years after Mao Zedong's communist troops invaded Beijing and drove Chiang Kai-shek's nationalists to escape across the Taiwan Strait. Ing-Wen's route into politics was rather less predictable than her peers. Unlike many, she did not come from a political family. Growing up in an affluent home, she was the youngest of 11 children born to the last of her father's four wives.
Academic past
Ing-Wen was a late arrival to political life and didn't join the DPP until 2004. Prior to entering politics, academia was her great passion. According to a 2012 profile in Taiwan Today, "She is more thoughtful scholar than slogan-shouting politico". After earning a law degree from Taipei's National Taiwan University, she headed to Cornell University in New York for her Masters. According to a 2015 interview with Time, New York seemed like the right choice for a young woman yearning for "a revolutionary life". After a brief stint in the big apple, she started studying at the LSE in London where she gained a PhD in law.
Wordly politician
Unlike many of her fellow politicos, Ing-Wen is known for her worldly stance and international know-how. According to J Michael Cole, a Taipei-based academic who has known the president since 2008, "She is certainly a lot more worldly than previous leaders of the party." Interestingly, she also looks to Angela Merkel for inspiration. Gerrit van der Wees, a Taiwan expert who has spent time with her during her frequent trips to the United States, says that she likes to compare herself to the German leader. "The fact that Angela Merkel opened the borders to the Syrian refugees was something that Tsai commented on as being a very courageous and positive step that she would take too," he explained.
People news in pictures

Show all 18
Cat-lover
Ing-Wen makes no secret of her love for cats. Her three felines Xiang xiang, Think Think and Ah Tsai made special appearances throughout her campaign. One even starred in her Chinese New Year's message last year. According to her close associate Cole, "She very much enjoys sitting down with a glass of red wine, and reading a book and spending quality time with her cats."
Democracy advocate
The Taiwanese president has repeatedly expressed her commitment to democracy throughout her campaign. At a post-election news conference, she said it was a value "deeply engrained in the Taiwanese people." Hailing a "new era" in Taiwan, she also said, "Our democratic way of life is forever the resolve of Taiwan's 23 million people".
Gay rights campaigner
Ing-Wen has openly declared her support for gay marriage. Before last year's gay pride parade in Taiwan's capital, she released a video on Facebook which said, "In the face of love, everyone is equal. Let everyone have the freedom to love and to pursue their happiness. I am Tsai Ing-wen, and I support marriage equality".
Register for free to continue reading
Registration is a free and easy way to support our truly independent journalism
By registering, you will also enjoy limited access to Premium articles, exclusive newsletters, commenting, and virtual events with our leading journalists
Already have an account? sign in
Register for free to continue reading
Registration is a free and easy way to support our truly independent journalism
By registering, you will also enjoy limited access to Premium articles, exclusive newsletters, commenting, and virtual events with our leading journalists
Already have an account? sign in
Join our new commenting forum
Join thought-provoking conversations, follow other Independent readers and see their replies