Terry Wogan: Broadcaster whose gentle iconoclasm made him much-loved by radio and television audiences
Many of his regular listeners and viewers did indeed feel that they knew and liked him
Michael Leapman
Sunday 31 January 2016 15:01 Comments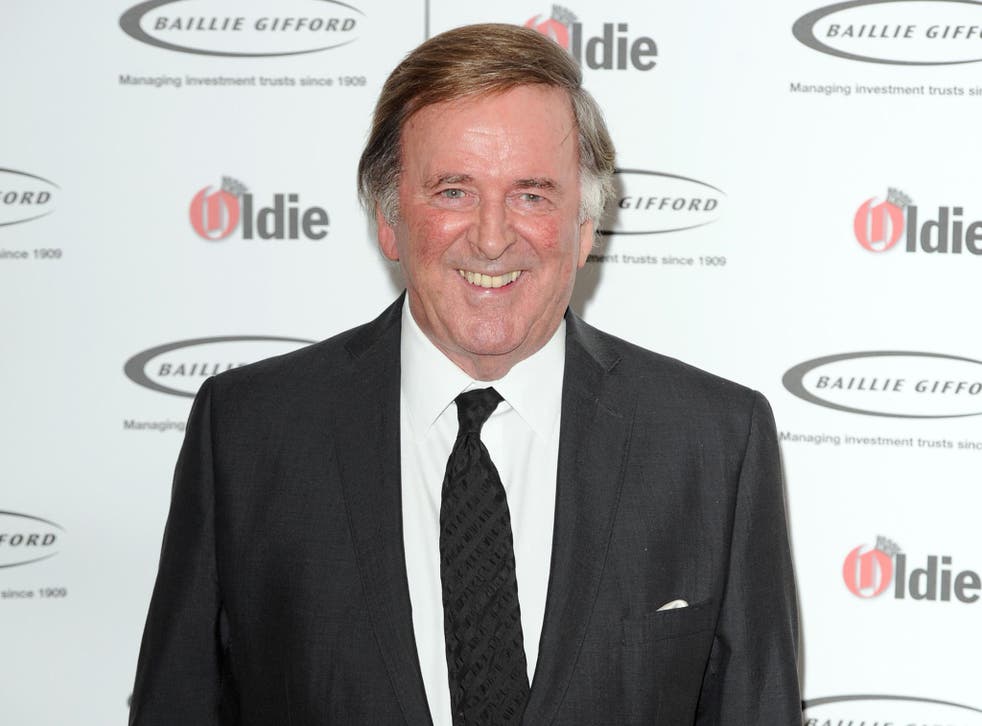 Every generation cherishes its cheeky chappie – a public personality who is irreverent, iconoclastic even, without being hurtful or offensive. Terry Wogan fulfilled that role on Britain's radio and television for nearly half a century, after he came over from Ireland in the late 1960s to present Late Night Extra and then The Terry Wogan Show on BBC Radio 1.
During this long career he hosted dozens of the most highly rated shows on television and radio, attracting audiences of many millions. The list of his awards from industry bodies, including several for lifetime achievement, takes up a large proportion of his entry in Who's Who (in which he modestly described himself as a "jobbing broadcaster").
He was named television personality of the year 10 times in succession by TV Times and in 2010 received the coveted Harvey Lee Award for outstanding contribution to broadcasting from the Broadcasting Press Guild. He was awarded three honorary degrees, as well as the freedom of the cities of London and Limerick. In 2005 his status as a national treasure was confirmed when he became a Knight Commander of the British Empire, having received an OBE eight years earlier.
It was a remarkable haul of honours for a man whose only obvious talents were a soothing Irish brogue, an impish wit and a pleasant manner; as he readily acknowledged. "I've had more than my share," he wrote of his awards in his second autobiography, Mustn't Grumble, "and doubt whether I was worthy of most of them."
That apparently self-effacing remark is of a piece with the image he constructed of a genial fellow who, drifting aimlessly from one assignment to the next, accidentally found himself a star. A more perceptive assessment of his qualities came from the late Sir Ian Trethowan, Director-General of the BBC from 1977 to 1982 (and, as such, quite often the victim of Wogan's on-air ribbing).
Terry Wogan - Career in Pictures

Show all 5
"Behind the creamy Irish charm and the deceptively casual manner," he wrote in his autobiography, "there is a skilful broadcaster, an intelligent man who has always taken a careful and realistic view of himself and his career. Not for nothing did he start out in life in banking" – an observation no doubt inspired by Wogan's insistence that his fees should keep pace with his popularity. By the mid-1980s the BBC was reported to be paying him £350,000 a year, rising to £800.000 by 2006.
Michael Terence Wogan was born in Limerick in 1938, the son of a grocery store manager. He was educated at the local Crescent College and later at Belvedere College, Dublin; both run by the Jesuits. Many years later, when asked by an interviewer what are the benefits of a Jesuit education, he replied: "Self-esteem and perhaps a little bit too much self-discipline".
Some months after leaving school he became a clerk at the Royal Bank of Ireland. "Jobs were hard to come by in the Ireland of the Sixties," he wrote in 2010, "and clerking in the bank was none too shabby a start for a fresh-faced eejit just out of school. It was either that or insurance, if you didn't want to emigrate or spend what was left of your parents' money pretending to study for a degree."
Deciding that five years at the bank was enough, in 1963 he answered a job advertisement for a radio announcer with RTE, the Irish national broadcaster. He was hired at £14 a week and it soon became apparent that he had an aptitude for the work, being promoted to senior announcer after just a year and making a few appearances on Irish television, including hosting Jackpot, a popular game show.
An ambitious young man, he began looking enviously across the Irish Sea to the far wider range of opportunities for radio announcers in Britain, especially following the launch of the BBC's Radio 1 in 1967. He was one of the station's original disc jockeys, and for a while commuted between London and Dublin.
By 1969 he was firmly established at the BBC with his own morning programme, The Terry Wogan Show, on Radio One, later transferred to Radio Two, where it ran until he gave it up in 1984 because of growing TV commitments. With its mixture of wit, whimsy and easy-listening music, his was by far the most popular drive-time programme on radio, attracting eight million listeners at its peak and spawning a number of Wogan fan clubs.
In 1993 he returned to the same slot with Wake up to Wogan, which ran until December 2009, ending with an emotional farewell show packed with good wishes from listeners and even a tribute from the then Prime Minister, Gordon Brown: "Five decades at the very top of British broadcasting is a towering, indeed an unparalleled achievement. As you move on from Wake Up To Wogan, I wanted to let you know how very dearly you'll be missed and how delighted we all are you'll be returning with another venture before too long." That other venture was a two-hour Sunday morning show on Radio 2, Weekend Wogan, which began the following February.
"I came to the BBC from Ireland entirely unknown," Wogan wrote in Mustn't Grumble. "They gave me a daily radio show because they thought I had potential, they let me grow into it, and my faithful listeners grew with me."
His first British television appearances were on ITV, in his own weekly talk show, Lunchtime with Wogan, which ran for a year from 1972. That was also when he first undertook the role of the BBC's commentator for the annual Eurovision Song Contest. He was to perform this task once more in the '70s and then every year from 1980 to 2008. He perfected a sardonic style, poking gentle fun at the more outlandish musical offerings, as well as at the tendency of several countries to vote heavily in favour of their neighbours or political allies, regardless of the quality of their songs. By 2009 he felt he had run out of jokes in that vein and handed over to another Irishman, Graham Norton.
In 1973 Wogan started a six-year stint as presenter of Come Dancing, a long-established BBC television programme (superseded in 2004 by the more glitzy – and even more popular – Strictly Come Dancing). In 1979 he gave that up and became quizmaster on Blankety-Blank, a game show whose format allowed plenty of scope for the droll ad-libbing at which he excelled. With undemanding questions and low-value prizes, the show never found favour with the critics but it drew high audience ratings. In his first autobiography, Is it me?, Wogan described it as "a tongue-in-cheek send-up of a game show".
In 1980 he was one of the three presenters of the BBC's first annual Children in Need telethon, a role he performed every year until he had to stand down through ill-health last year. Then, after rejecting an offer to move to ITV, he was invited in 1982 to front a Saturday-night talk show to replace the one hosted for 11 years by Michael Parkinson, who had left the BBC to become one of the "Famous Five" founders of TV-am.
Called simply Wogan, the show was an immediate success – so much so that in 1985 the BBC decided to use it as a weapon in their bitter battle with ITV for viewers on early weekday evenings. For seven years Wogan was broadcast at 7pm every Monday, Wednesday and Friday (with the soap opera EastEnders occupying the slot on Tuesdays and Thursdays).
He had become probably the BBC's greatest single asset, as well as its most expensive. When Marmaduke Hussey became chairman of the Corporation in 1986, Wogan was one of the first people summoned to see him. "Princess Anne told me you were the man to talk to if I wanted to know anything about the BBC," Hussey confided.
Even for Wogan, maintaining bonhomie on screen for three evenings a week was something of a strain, and his ebullience was not always in evidence when the cameras were switched off. The late Derek Jameson, the former Fleet Street editor who was a guest on the show and occasionally stood in as host, wrote in his autobiography: "In real life Terry is diffident, almost remote. He is not one for chatting happily with his guests and often stays shut in his bleak dressing room at the Shepherd's Bush Theatre in west London until it is time for him to make that grand entrance."
After five years Wogan felt that his show had run its course, but he was persuaded to stick with it until 1992, when the new – and ultimately unsuccessful – soap opera Eldorado was ready to fill its slot. Yet after he was allowed finally to throw off the thrice-weekly burden he was not absent long from the screens. He presented Auntie's Bloomers, a compendium of embarrassing on-camera moments, and Points of View, airing viewers' praise for and criticism of BBC programmes, as well as Eurovision, Children in Need, documentaries about Ireland and many other programme strands. In addition to his two anecdotal autobiographies – published in 2000 and 2006 – he wrote nine other books, mainly television tie-ins or collections of his columns in the Sunday Telegraph, which began in 2001.
In 1965 he married Helen Joyce, a Dublin model, whom he had met at a party: "There she was, the most beautiful woman in Ireland, with blinding Titian hair..." They had four children but the first, a daughter, died in infancy. They lived for most of their long married life in Taplow, Buckinghamshire, and owned a small chateau in Gascony – a picturesque retreat that served as a delightful venue for his children's weddings.
He supported several charitable organisations including the Lord's Taverners, where he was president from 1983-84. A keen golfer, he was proud to set the record for the longest putt holed on television – 99 feet, during a celebrity tournament at Gleneagles in 1981 (it was broken by the 153-foot putt of Olympic swimming champion Michael Phelps in 2012).
In trying to pin down the precise qualities that made Terry Wogan – who died of cancer – the consummate broadcaster, his own analysis is probably the best guide. "You can't force change on the listeners," he wrote in Mustn't Grumble, "you can only respond to their whims, their changing moods. You can suggest, even point, but you must let them lead the way... they know us, we know them."
Many of his regular listeners and viewers did indeed feel that they knew and liked him, and his skill in fostering those sentiments was the secret of his great success.
Michael Terence Wogan, broadcaster: born Limerick 3 August 1938; OBE 1997, KBE 2005; married 1965 Helen Joyce (one daughter, two sons, and one daughter deceased); died, Buckinghamshire 31 January 2016.
Register for free to continue reading
Registration is a free and easy way to support our truly independent journalism
By registering, you will also enjoy limited access to Premium articles, exclusive newsletters, commenting, and virtual events with our leading journalists
Already have an account? sign in
Join our new commenting forum
Join thought-provoking conversations, follow other Independent readers and see their replies