Prince George embarks on first crawl-about in New Zealand
'It's madness, there are babies everywhere!', Prince William remarked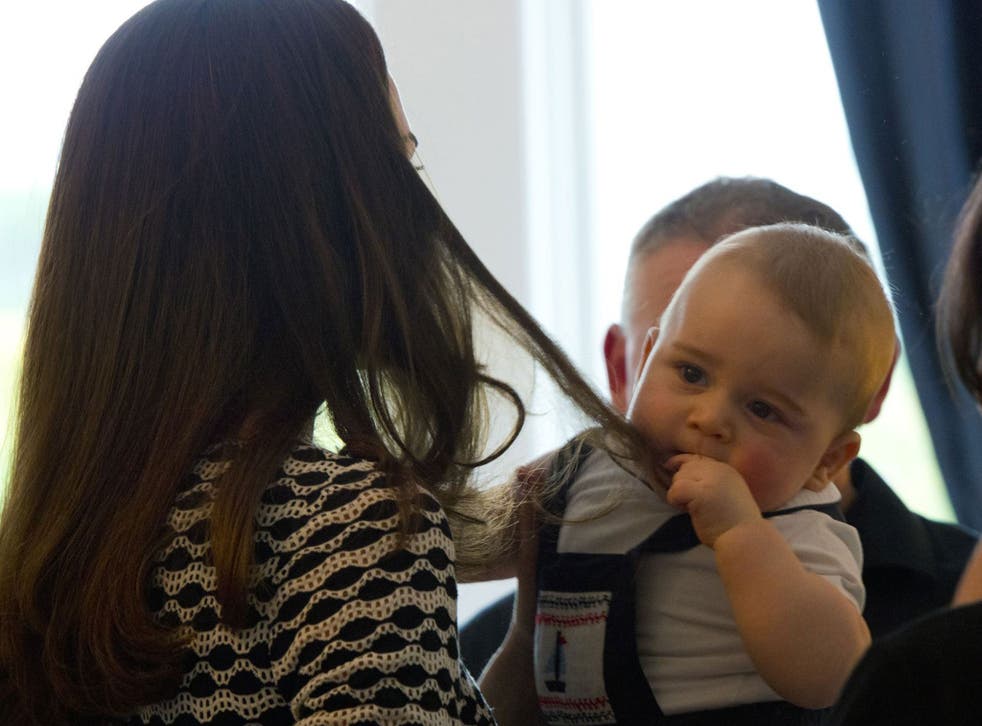 On the light grey patterned carpet of the Blandor Room, of Government House in Wellington, New Zealand, the world's most famous baby grumpily drooled, cried, pulled his mother's hair and helped himself to other babies' toys, on the first official crawl-about of his first royal tour.
All in all, the unkind might suggest, he conducted himself in the standard royal manner.
"It's madness, there are babies everywhere!", Prince William remarked, with a hint of the slight panic that overtakes fathers surrounded by a group of lively babies.
Dressed in a pair of £75 blue dungaree shorts by British luxury brand Rachel Riley, a white blouse and soft blue pre-walking shoes, the royal playdate got off to an inauspicious start as His Royal Nappyness first attacked his mother's hair (attempting to eat it), before turning his attention to a little girl called Paige who was with her parents.
Waving his arms to get her attention he then touched her face before grabbing her wooden toy. He's teething bless him.
In pictures: Prince George on his first crawl-about in New Zealand

Show all 12
The Duke and Duchess of Cambridge's son was euphemistically described as a "bubbly" and "feisty" baby who 'took control', by some parents. Others were more direct, describing the royal nipper as 'quite a bruiser'.
When Kate chatted to the other parents she revealed her son is sleeping well and has moved on to solid food while William said the best way to get over jet-lag was to sleep and distract his son. She also revealed the royal baby mouth now has four royal teeth.
William and Kate chatted informally with the parents of 10 babies including a pair of gay fathers and a single mum.
All of the children were from local families and chosen by the organisation, which provides health care and support to new parents, known in New Zealand simply as Plunket.
Grant Collinge, 38, and Magda Gurbowicz, 35, met the royals with their baby boy.
Mr Collins said: "George is bubbly, quite feisty and he took control.
"He crawled to the centre of the room and he owned the place.
"He honed in on certain toys and took the ones that he wanted. No-one was going to stand in his way."
He added: "We chatted to the Duke first and asked about how they and George coped with the jet-lag.
"William said sleeping and distracting (the baby) was the best thing to get over jet-lag and that's what they'd done with George.
"We spoke to the Duchess about group play - George had never played with so many babies before.
"She said it was the most amount of babies they'd ever had in a room with George. He does see other babies, but not many in a group like this."
As a proud dad he could not resist comparing his son's development with that of the baby prince who will one day be king:
"We found out Lucas had more teeth than George so he's winning that race.
"George has got about four or five teeth coming through. Lucas has got his seventh coming on."
Gay parents Jared Mullen and Ryan Tunstall, whose baby daughter Isabella is adopted, also spoke about their encounter with the Duke and Duchess.
Jared, from Oregon, US, and Ryan, from Australia, were chosen to represent the growing numbers of same-sex couples in New Zealand who use Plunket's parental support services.
Mr Mullen said: "Isabella and George had a little play together, they were chums.
"In a way all we did was talk about babies.
"The Duke and Duchess were lovely, they were both very relaxed and we chatted about our experiences as first-time parents.
"He is a lovely little boy, very intrepid. The whole thing has been a huge privilege.
"It was lovely to meet the Duke and Duchess and share our beautiful children with them. They are both very lovely and loving parents."
Whether Paige got her wooden toy back was unremarked upon.
Register for free to continue reading
Registration is a free and easy way to support our truly independent journalism
By registering, you will also enjoy limited access to Premium articles, exclusive newsletters, commenting, and virtual events with our leading journalists
Already have an account? sign in
Register for free to continue reading
Registration is a free and easy way to support our truly independent journalism
By registering, you will also enjoy limited access to Premium articles, exclusive newsletters, commenting, and virtual events with our leading journalists
Already have an account? sign in
Join our new commenting forum
Join thought-provoking conversations, follow other Independent readers and see their replies