The world's most bizarre YouTube star Taher Shah is from Pakistan. Here's the proof
Meet the world's most unlikely YouTube sensation.
Max Bearak
Tuesday 12 April 2016 08:02 Comments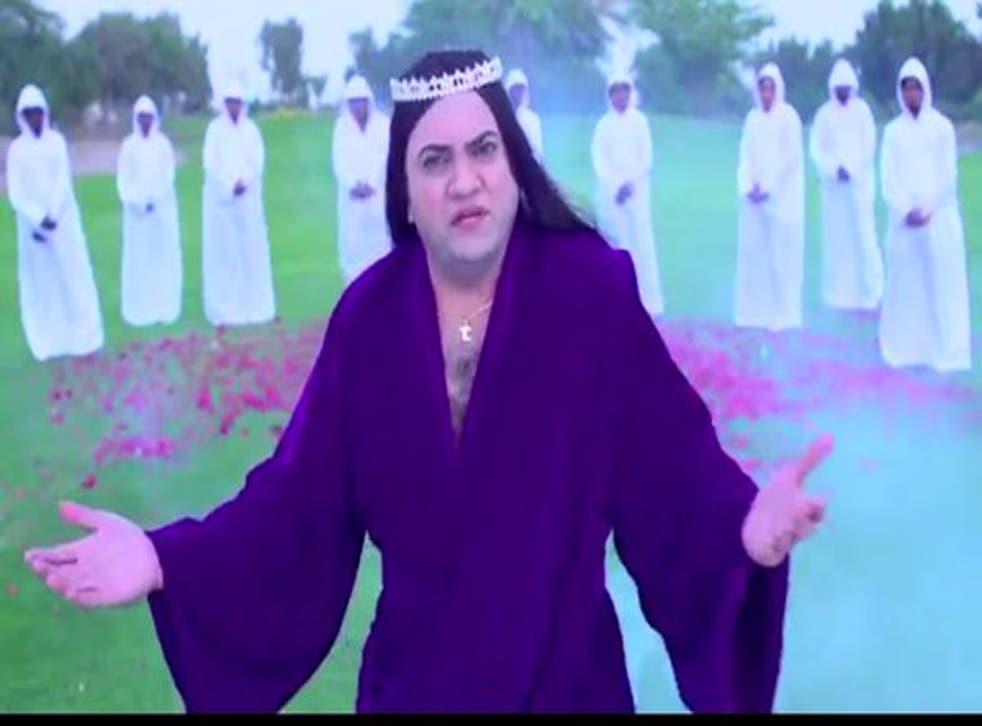 At a time when Pakistan finds itself in the news for grisly bombings and a soaring rate in executions, an unexpected angel has swooped in with a message of peace, love and harmony.
Two years after "Eye to Eye" baffled the country by giving birth to a huge cult following, the Pakistani singer Taher Shah returned this weekend with a second music video, "Angel," that has gone viral. Topping Twitter's trending list in India and Pakistan (and ranking third across the globe) and racking up millions of plays, this new classic may cement Shah's position as the world's most unlikely YouTube sensation.
Shah is a businessman from the port city of Karachi and doesn't seem to be a trained singer. His voice and the bizarre aesthetic of the videos have led some to believe that his shtick is an elaborate ruse. For most of the new video, Shah walks around a golf course wearing a tiara and a purple gown (bathrobe?), showing off his chest hair. One of the top commentors on the video for the song joked, "That awkward moment when you think you are an angel, but in reality u r a brinjal," using a common South Asian term for eggplant.
With anything this weird, it is probably good to hold on to a bit of skepticism. But in interviews, and in a blog post on the "ideology" behind "Angel," Shah comes off as a genuine believer in his power to inspire humankind's better side.
"Mankind is a beautiful 'Angel,' " he writes on his blog. "All humans' internal and external elements should be like an 'Angel' and spread their essence like a flower as an 'Angel' along with all of the world's entre [sic] value with respect so all 'Angel' like humans together can make their own and family world heavenly."
Shah's Urdu is immaculate, but his English, which he uses for some publicity and for his lyrics, is the source of much mirth. The two songs are filled with lyrical gems, but one of the most memorable from "Eye to Eye" is: "Without you/I am a butterfly/without fly."
The sudden star looks as if he could be Pavarotti's pudgy nephew, though with lovelier locks of curly hair and without the sonorous voice. His orchestra is made up of synthetic flutes, saxophones and percussion -- as if straight from Kenny G's vault. The songs are tormentingly easy to get stuck in your head. So much so that many on Twitter -- especially in neighboring India -- have alluded to their weaponization:
For his part, Shah explained in a TV interview in Pakistan that the message behind his music is one of great optimism. "Please, please, please be entertained," he said in English, before switching to a mix of English and Urdu. "Be positive and feel the good things in your heart. When you feel good, then definitely you will be able to portray yourself better."
The world needs that message, and by extension, these songs. Here's hoping someone does a dance remix.
Washington Post
Register for free to continue reading
Registration is a free and easy way to support our truly independent journalism
By registering, you will also enjoy limited access to Premium articles, exclusive newsletters, commenting, and virtual events with our leading journalists
Already have an account? sign in
Join our new commenting forum
Join thought-provoking conversations, follow other Independent readers and see their replies